UCLA softball drops first Super Regional matchup to Virginia Tech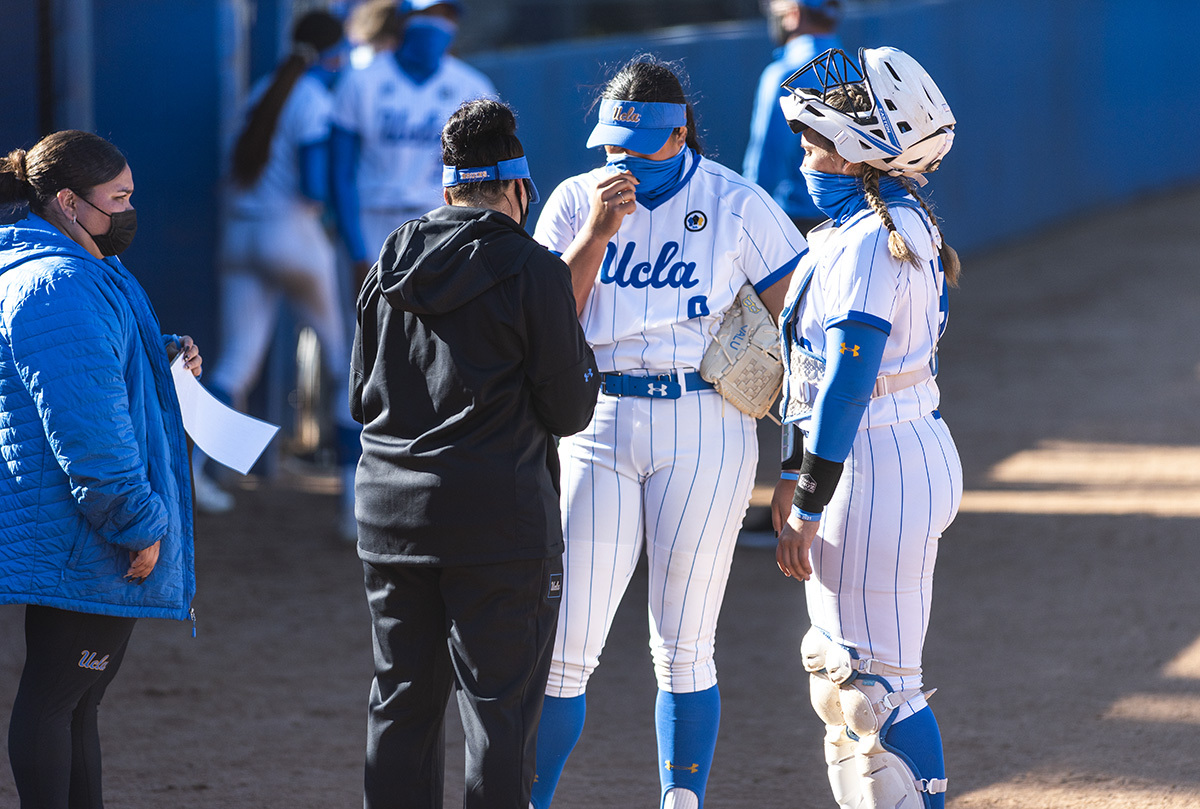 Redshirt sophomore pitcher Megan Faraimo (center) pitched two innings in relief in No. 2 seed UCLA softball's loss to Virginia Tech on Thursday – the team's first Super Regional loss since 2016. (Christine Kao/Daily Bruin staff)
Softball
---
| | |
| --- | --- |
| Virginia Tech | 7 |
| No. 2 seed UCLA | 2 |
This post was updated May 27 at 10:23 p.m.
The Bruins' road to Oklahoma City just got a little longer.
No. 2 seed UCLA softball (44-5, 19-2 Pac-12) dropped game one of its NCAA Super Regional series against Virginia Tech (37-13, 23-11 ACC) on Thursday evening, 7-2. The Bruins' defense recorded five errors and each UCLA pitcher hit a Hokie batter with a pitch en route to their first loss of the postseason.
"We've got to remind ourselves that (we've) got some good stuff (and) we have to keep using it," said redshirt senior catcher Jenavee Peres.
In the fifth inning, redshirt freshman utility Maya Brady – UCLA's first base runner of the night – pulled a walk and advanced to third on a double from redshirt junior infielder Kinsley Washington that slipped past the Virginia Tech shortstop's glove.
Peres entered the game for the first time in almost three weeks to bat in the Bruins' only runs with a single to the left-field corner.
"It was a very tough game against Virginia Tech tonight," Peres said. "To be able to come through for the team and to clutch up was a very humbling and really good feeling as a player."
Virginia Tech sent six batters to the box in the top of the first, placing two runners in scoring position with two outs when Hokie infielder Kelsey Bennett landed a triple against the right-field wall – and redshirt junior outfielder Aaliyah Jordan and Brady collided while trying to catch it.
UCLA went down in order in its half of the inning and remained scoreless for four innings while holding Virginia Tech at two runs until the top of the fourth. Hokie outfielder Emma Ritter was hit with a pitch to be the inning's first baserunner, advanced to second on a single and reached third on a bases-loading fielding error by redshirt junior shortstop Briana Perez.
A full-count left-field single by Hokie infielder Cameron Fagan and subsequent error by UCLA redshirt sophomore outfielder Kelli Godin scored two Virginia Tech runners – including Ritter.
"We've got to come up with a game plan for next time," said coach Kelly Inouye-Perez. "We needed to play our brand of softball."
The fifth inning brought more trouble for the Bruins, with the first three Hokie batters singling to increase their lead to five and force UCLA to pull redshirt senior pitcher Rachel Garcia and bring in Megan Faraimo. The redshirt sophomore pitcher struck out three to end the inning – but only after another single loaded the bases for Virginia Tech and a second hit-by-pitch brought the score to 6-0.
Redshirt senior utility Bubba Nickles entered the contest at the same time as Faraimo, returning to center field for legitimate playing time for the first time since March 21.
Inouye-Perez said she will continue to use Nickles in the series.
"She's limited with what she can do defensively right now," Inouye-Perez said. "The plan is to give her the opportunity to get in. Bubba is a huge part of UCLA softball, and to have her come back does nothing but build confidence for this team."
Despite recording a fourth fielding error in the sixth inning, UCLA escaped further damage before being sent down in order in its half of the inning.
Redshirt junior pitcher Holly Azevedo was sent to the mound to start the final inning for the Bruins, where she walked and hit the first two Hokies she faced before striking out the following two. A line drive by Hokie outfielder Kelsey Brown to Azevedo's head made it to shallow center field and allowed another Virginia Tech run to score before the UCLA pitcher could end the half-inning with another strikeout.
Two more Bruins reached base in their final inning – one on a single and another on a hit by pitch – though they were unable to halt the Hokies' 7-2 victory.
UCLA went down in order in five out of seven innings and tallied three hits in the game while allowing 11 for Virginia Tech. The Bruin offense sent 26 batters to the plate, and the UCLA pitching staff faced 39.
The Bruins will play the second game of the best-of-three series Friday night at 6:30 p.m.
"Our focus tomorrow is to execute our game plan against a pitcher that we now, thankfully, know a little bit more about," Inouye-Perez said.
Hunt is currently a Sports staff writer on the softball and women's soccer beats. She was previously a reporter on the gymnastics, women's water polo and swim & dive beats.
Hunt is currently a Sports staff writer on the softball and women's soccer beats. She was previously a reporter on the gymnastics, women's water polo and swim & dive beats.