Women's golf finishes season without 4th NCAA championship trophy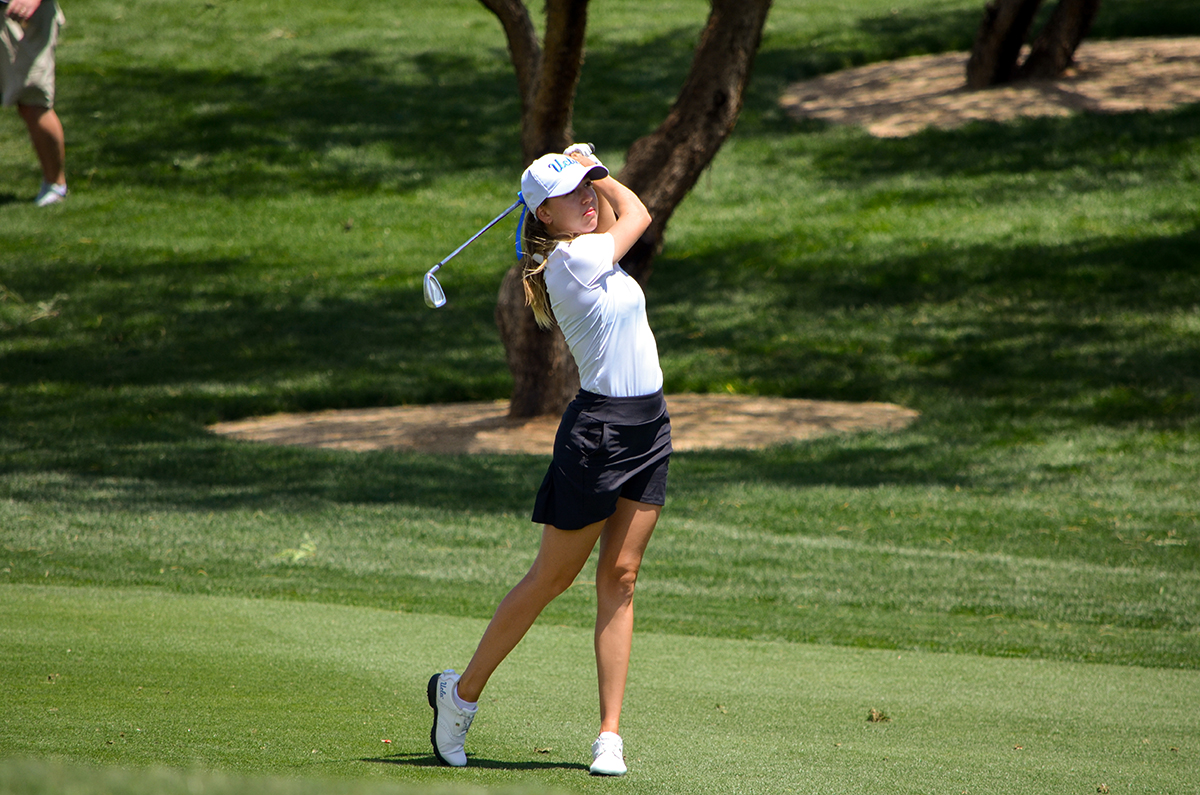 Sophomore Emma Spitz's day four 4-under 68 – tied for the low round of the day – earned her a solo second finish at the NCAA championship, where UCLA women's golf wrapped up in 15th place as a team. (Courtesy of UCLA Athletics)
The Bruins' quest for a fourth national championship has come to an end.
UCLA women's golf finished in 15th place in stroke play at the 2021 NCAA championship at Grayhawk Golf Club in Scottsdale, Arizona. The Bruins carded a 37-over 1189 over the four days, failing to advance to match play as one of the top-eight teams.
UCLA opened the tournament Friday with a 14-over 302 which put it in a tie for 15th place. The Bruins shot a 5-over 293 on Saturday – their best day of the tournament – moving them into a tie for 12th.
"It was weird. Day two was much tougher conditions – we played our worst golf in the much nicer conditions on day one," said coach Carrie Forsyth. "I don't know if because it was so windy the girls were more tuned in with their shot and where to land (their shots), or just being a little more precise because of the wind could have helped. I am just really amazed we played so well when it was so windy for us that afternoon."
Sophomore Emma Spitz led the Bruins' day two resurgence, improving upon her opening-round even-par 72 with a 2-under 70. UCLA also saw the addition of sophomore Emilie Paltrinieri's score to the team score after her first round was disqualified because she incorrectly filled out her scorecard.

"The first day I played pretty well, I just had a bad stretch where I played pretty poorly," Spitz said. "The second day I brought the same approach and just made a lot of birdies when it was really windy and it was pretty difficult to judge that, which made me a lot happier about my score."
UCLA took a step back on day three – carding a 12-over 300 – which put it back into 15th place but still earned it a spot in the final day of stroke play as the last of 15 teams to qualify.
The Bruins finished their tournament Monday afternoon with a 6-over 294, keeping them in 15th place. The blue and gold were unable to reach the top eight, officially eliminating them from the tournament.
"We knew coming into the last day we were going to need to shoot a really low number, which is something we haven't done all year," Forsyth said. "We kind of took the attitude to just go for it and make as many birdies as we could. At the end of the day, we just didn't execute the way we needed to."
Despite the Bruins' middle-of-the-pack finish, Spitz finished the tournament in second place, just one stroke shy of becoming the first UCLA women's golfer to win an individual national championship.
Spitz began play Monday in a tie for third place, seven strokes back of Stanford's Rachel Heck. The sophomore then carded her lowest score of the tournament – a 4-under 68 – which put her just one stroke behind Heck.
Heck finished her tournament with six straight pars to clinch the national championship, not giving up the top spot she had held since day one.
"I felt like I did really well and I am quite happy with second place," Spitz said. "I tried my best and gave myself a really good chance (Monday). I honestly did not think I would get close because Rachel has been playing so well all year, and it has been a really long time since she shot over par on a round."
The rest of UCLA's starting lineup failed to see the same success as Spitz did. After Paltrinieri's day one score was disqualified, she went on to finish the tournament 7-over 223. Sophomore Annabel Wilson – an All-Conference Honorable Mention – carded a 9-over 297, which put her in a tie for 51st in the field of 80 at the conclusion of the weekend.
Following Wilson, the Bruins saw a drop-off in the scores of their last two starters. Junior Simar Singh recorded a 28-over 316 which put her in 80th place. Sophomore Yuki Yoshihara finished the tournament with her best performance – a 4-over 76 score on day four – but was unable to overcome her first three days, finishing with an overall score of 23-over 311.
"I fully believe that we have a couple of players on the team right now that can eventually rise to (Emma's level)," Forsyth said. "It might be a year or two away, but I feel like they just need to sharpen their skills a little more and get a little more exposure to some more competitive tournaments. I am excited to have them for the next few years and see them … develop and improve as a team."
Although the Bruins did not finish their season raising a fourth national championship trophy, Forsyth said she considers the season a success with everything her players overcame and the performances and hard work they put forth all season long.
"I just couldn't be prouder of the girls for everything they did this year," Forsyth said. "We only had six players all year, we could barely find places to play and practice and it was an overall hard year. I think we are all exhausted, but I don't know if I have ever had a better team in all my years of coaching."
Fenn is currently a Sports reporter on the women's soccer beat. He was previously a contributor on the beach volleyball and men's and women's golf beats.
Fenn is currently a Sports reporter on the women's soccer beat. He was previously a contributor on the beach volleyball and men's and women's golf beats.