Week eight: UCLA plans for fall reopenings, Israeli-Palestinian violence sparks demonstrations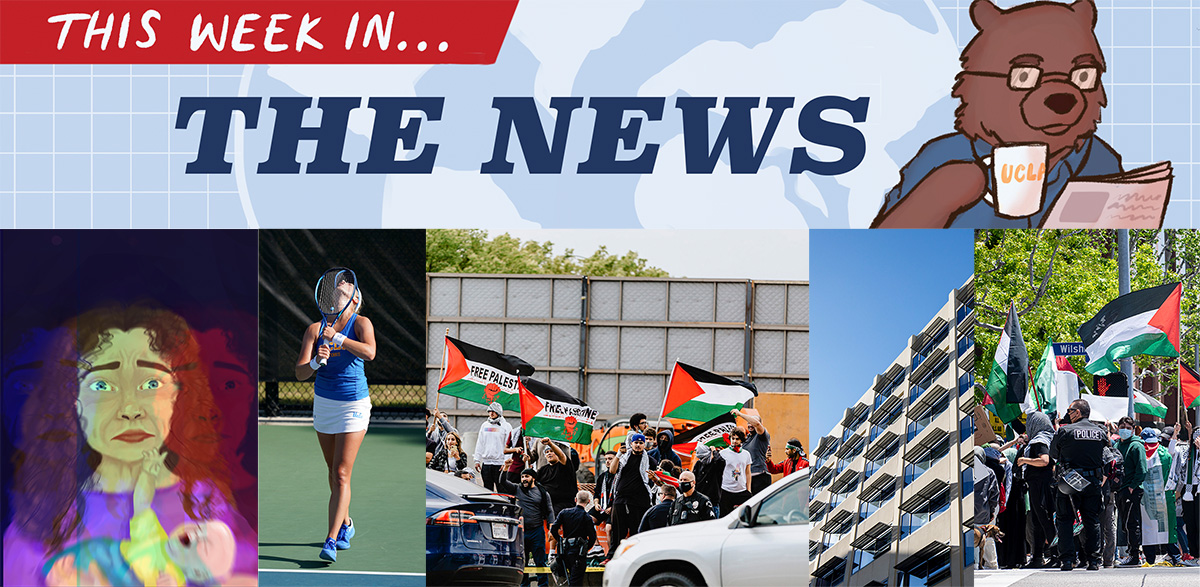 (Left to right: Ella Stapleton/Daily Bruin, Courtesy of Manuela Davies/USTA, Michael Vigman/Daily Bruin, David Rimer/Daily Bruin staff, Chelsea Westman/Daily Bruin)
This Week in the News serves as The Quad's space for reflection on current events at and around UCLA. Every week, Daily Bruin staffers will analyze some of the most significant stories to keep readers up to speed.

From plans to open campus for housing and classes to nearby demonstrations in protest of the Israeli-Palestinian conflict, week eight brought Bruins closer to both finals and campus.
Several updates regarding the status of fall classes and on-campus housing were released Monday in a campuswide email from Chancellor Gene Block and Executive Vice Chancellor and Provost Emily Carter.
Amid easing public health restrictions and a proposal for COVID-19 vaccine requirements for students and faculty, triple capacity rooms in on-campus housing will be offered to priority groups – incoming freshmen and transfer students, current first-year students including transfer students, foster youth, veterans and students who qualify under the institutional need category.
Block and Carter also announced that roughly 80% of courses, as well as most labs, will be offered in person. Large lecture classes will likely be held remotely.
Remote courses will also be available to students unable to return to campus.
Approximately 100 individuals supporting either Israelis or Palestinians gathered near the Wilshire Federal Building on Sunday in protest of the recent escalating Israeli-Palestinian violence.
While the Israeli-Palestinian conflict has been ongoing since 1948, according to the Associated Press, recent rises in violence and the forcible eviction of Palestinian people have increased international scrutiny.
The Westwood protest was the second to occur that weekend near Wilshire. Hundreds of demonstrators also gathered Tuesday in front of the Israeli consulate building to protest forced Palestinian evictions and Israeli attacks.
At the Israeli consulate building, speeches from organizers continued until 1 p.m. and were followed by demonstrations as the crowd raised signs down Wilshire Boulevard until approximately 4 p.m. Members from the Palestinian Youth Movement and the Stop LAPD Spying Coalition attended the event, chanting, "Not another nickel, not another dime, no more money for Israel's crimes."
On May 4, for Maternal Mental Health Awareness month, Los Angeles City Council members introduced legislation in an effort to raise accessibility and awareness of perinatal and postpartum mental health.
According to an emailed statement by LA City Council member and co-author of the legislation Paul Koretz, the motion will require health plans to cover increased access to telehealth consultation for pregnant and postpartum women as well as create an informational campaign on mental health and perinatal depression.
On a national level, about one out of eight women experience symptoms of postpartum depression, according to the CDC. Meanwhile, in LA County, the Los Angeles County Department of Public Health reports that one in four women report feelings of depression following the birth of their baby.
LA City Council president Nury Martinez said in a press release that the prevalence of postpartum depression must be normalized in order to inform women that they are not alone in their struggle.
No. 4 seed UCLA women's tennis lost in the semifinal round to No. 5 seed Pepperdine amid adverse weather conditions in Florida.
The final outcome was decided in a match between senior Vivian Wolff and Pepperdine's Shiori Fukuda. Although Wolff had initially staged a comeback over the course of her quarterfinals match, it was Fukuda who won the third and deciding set 6-2.
Despite the loss, coach Stella Sampras Webster said the team prepared and played as well as it could have.
While the Bruins are finished as a team, three of the team members will continue on to the NCAA singles and doubles competitions.