3 beach volleyball players receive recognition as AVCA All-Americans after NCAA run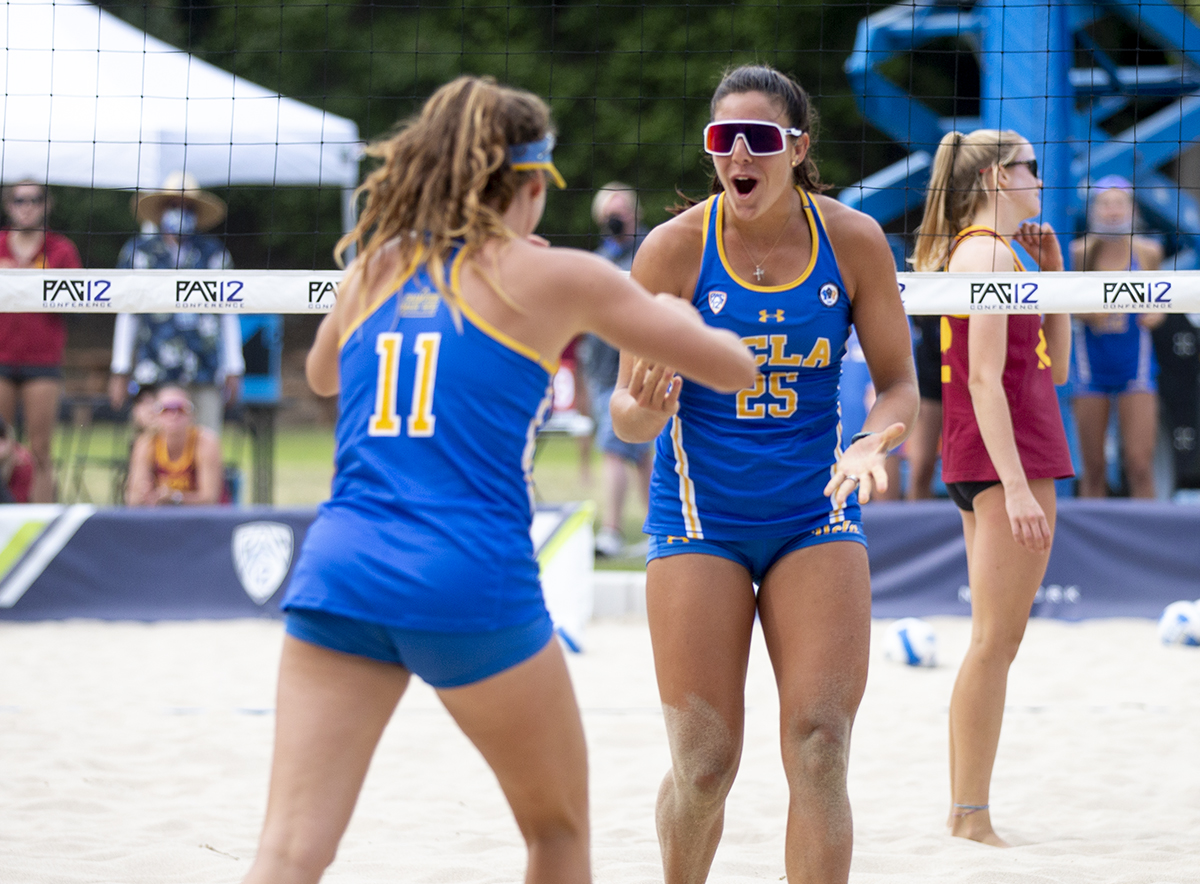 Freshman Lexy Denaburg and graduate student Savvy Simo spent the season on court one for UCLA beach volleyball and were named to the AVCA Collegiate Beach All-America First Team. (David Rimer/Daily Bruin staff)
The Bruins may have come up short in the postseason, but the accolades poured in anyways.
After No. 2 seed UCLA women's beach volleyball was defeated by No. 1 seed USC in last month's national championship, its coach said there were positive takeaways despite the loss in Alabama.
"I am super proud of where we started and where we got to in terms of process and improvement for a team," said coach Stein Metzger. "Nobody did a better job than our group, and I am looking forward to the steps forward for the following season."
Nothing signified this more than the Bruins having three players named to the American Volleyball Coaches Association Collegiate Beach All-America teams. Graduate student Savvy Simo and freshman Lexy Denaburg – the first court duo which won 28 games this year – were named to the first team, while junior Lea Monkhouse was named to the second team after playing on four different courts this season, going 22-12 overall.
All three All-Americans said the accolades were not as significant as the memories they made and the lessons they learned from their COVID-19-challenged season and NCAA tournament run.
"(The honor) is definitely really cool, but I don't think it will be something that I really remember," Monkhouse said. "The amount of improvement our team as a whole had this year, what we went through all year and how we came together, in the end, is what I will remember most."
Simo said being paired with Denaburg this season taught her a variety of lessons, even outside of volleyball. The graduate student said the season could not have been possible without Denaburg by her side, so it only felt right she was named an All-American as well.
"(The title) is super rad, it's always something I wanted to be and it's super cool to end my collegiate career as one," Simo said. "It would not mean anything to me if Lexy was not an All-American as well. It is a team sport and I feel like we did it together. With her being a second year and getting honored like this is just incredible."
The trio of players also said the coaches had a sizable impact on not just their respective awards, but also in helping the team reach a third-consecutive national championship match.
UCLA has been led by Metzger – a two-time AVCA National Coach of the Year – since its inaugural season in 2013. Metzger went on to hire former Bruin and Olympian Jenny Johnson Jordan and beach volleyball Hall of Famer Jose Loiola to round out his coaching staff and help him develop his young players.
"The coaches at UCLA have so much experience and they have taught me so many things that I would never have thought of," Monkhouse said. "My teammates also push me every day to be better, and I feel like playing with them every day has just pushed me to play at a high level."
While Simo will be saying goodbye to Westwood this year, Denaburg and Monkhouse are expected to return to the Bruins next season in search of the program's third national championship.
Denaburg said the accolades will give her confidence going into the coming campaign, but she will continue to work as hard as she had before.
"Even though I was named an All-American there is so much more I need to get better at, and that is how I see it every day," Denaburg said. "It does help with confidence but it doesn't change how much work we put in because there is always something that we can get better at."
Fenn is currently a Sports reporter on the women's soccer beat. He was previously a contributor on the beach volleyball and men's and women's golf beats.
Fenn is currently a Sports reporter on the women's soccer beat. He was previously a contributor on the beach volleyball and men's and women's golf beats.