Remembering Jan Reiff, beloved history professor and champion for education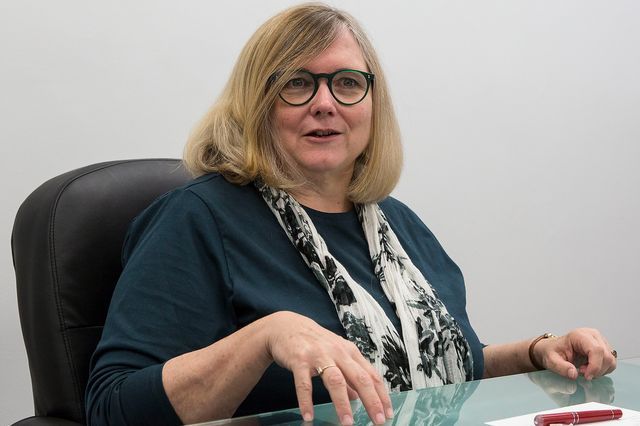 (Courtesy of Reed Hutchinson/UCLA)
Jan Reiff valued every moment she had, said Terrance Reiff, her brother.
Jan, a UCLA professor of history and member of the COVID-19 Response and Recovery Task Force, died May 4 at the age of 71.
During her time at UCLA, Jan kept herself involved with the community. She was a member of the Academic Senate for years and served as the senate's chair from 2013-2014.
Jan was also a passionate educator and won the Academic Senate's Distinguished Teaching Award in 2009.
Jan is survived by her siblings Margaret Reiff-Laird and Terrance Reiff and her five nieces and nephews.
Originally from the small town of Sterling, Illinois, Jan graduated as valedictorian of her high school before attending Northwestern on a full scholarship with plans to become a doctor. However, while attending Northwestern, Jan developed a love and passion for history that ultimately influenced her career.
In 1992, she arrived at UCLA and immersed herself within the UCLA community where she co-founded Cluster 60: "America in the Sixties: Politics, Society and Culture, 1954-1974." She continued to stay involved with the yearlong program for first-year students, which combines history, political science, English and musicology, until she passed away. Jan also worked on the course "Los Angeles: The Cluster," which taught students about the larger Los Angeles community and the history of the city.
Jan was an integral part of the transition to remote operations during the pandemic as the special assistant for online teaching and learning for the COVID-19 Response and Recovery Task Force, said Michael Beck, the administrative vice chancellor and fellow member of the task force.
Jan was also part of the team working to launch a new learning management system, which would transition UCLA courses from the current Moodle system to Canvas, Beck said.
"Jan was really the vision and the face of the LMS project," Beck said.
Jan embraced collaboration and used her background in statistics to bring technology into her research and her teaching, said Max Baumgarten, the public policy program manager at the Pat Brown Institute for Public Affairs at California State, Los Angeles.
Jan was Baumgarten's dissertation chair when he received his Ph.D. from UCLA, and he became one of her teaching assistants after taking her class.
"She was very much involved with and on the forefront of online learning … (and) how we can use the digital space to teach history to students and to the general public," Baumgarten said.
"She is one of the innovators in digital history as not just a teaching tool but also as a tool for conducting research," Baumgarten added.
In addition to being widely involved in the UCLA community, family and colleagues said Jan's top priorities as a professor were her students and teaching.
"Jan, at a research-intensive university, was a champion for education. She was a champion for students, and she was a champion for faculty," said Linda Sarna, the dean of the School of Nursing, who worked alongside Jan in the senate.
Baumgarten said she was an advocate for her students and took pride in their accomplishments. Jan pushed the history department to be more intentional about the subjects it teaches, he added.
Before meetings for his dissertation, Baumgarten and Jan would always spend the first 20 minutes catching up, he said. She was kind and even gave him her office in the Charles E. Young Research Library for his work.
"She was a passionate educator who was dedicated not just to the intellectual but (also) emotional well-being of her students," Baumgarten said.
Jan volunteered on the South Side of Chicago while at Northwestern. While volunteering, she developed her passion for urban history and cities that influenced her work and research during her career, said Terrance.
Jan loved cities and studying how they developed and changed over time, said Lynn Vavreck, the Marvin Hoffenberg professor of American politics and public policy. Vavreck worked with Jan in the cluster program.
In 2004, Jan co-authored one of her key works, "The Encyclopedia of Chicago." The book gives an in-depth history of Chicago, including its neighborhoods, ethnic groups and historical figures.
While Jan dedicated much of her life to service at UCLA, she loved spending time with her family, especially when traveling with her nieces and nephews, Terrance said.
"She wanted them to see history and feel it differently than they could read it," said Margaret.
Terrance said Jan would take time away from teaching to visit for holidays and flew in from LA to take care of him after his back surgery.
Margaret and Terrance saw her as their rock.
"She will be greatly missed. There is a hole that no one else can quite fill," Margaret said.
Jan is remembered by her colleagues not only for her passion and service but also for her sense of humor. She could always find the humor in tense situations on the senate, Sarna said.
"She would always get this very slow smile that would build little by little by little," Vavreck said.
Jan was passionate about photography, movies and books and loved to use music and films in her teaching, Terrance said.
Vavreck recalls a time when Jan used music to wrap up her lecture on the women's right's movement from the 1950s to the 1970s.
"I will remember her standing in the middle of that big lecture amphitheater, blaring that Carole King song," Vavreck said. "That is how I will always think of her."