The Quad: Hustle craze and the lasting effects of the pandemic on work life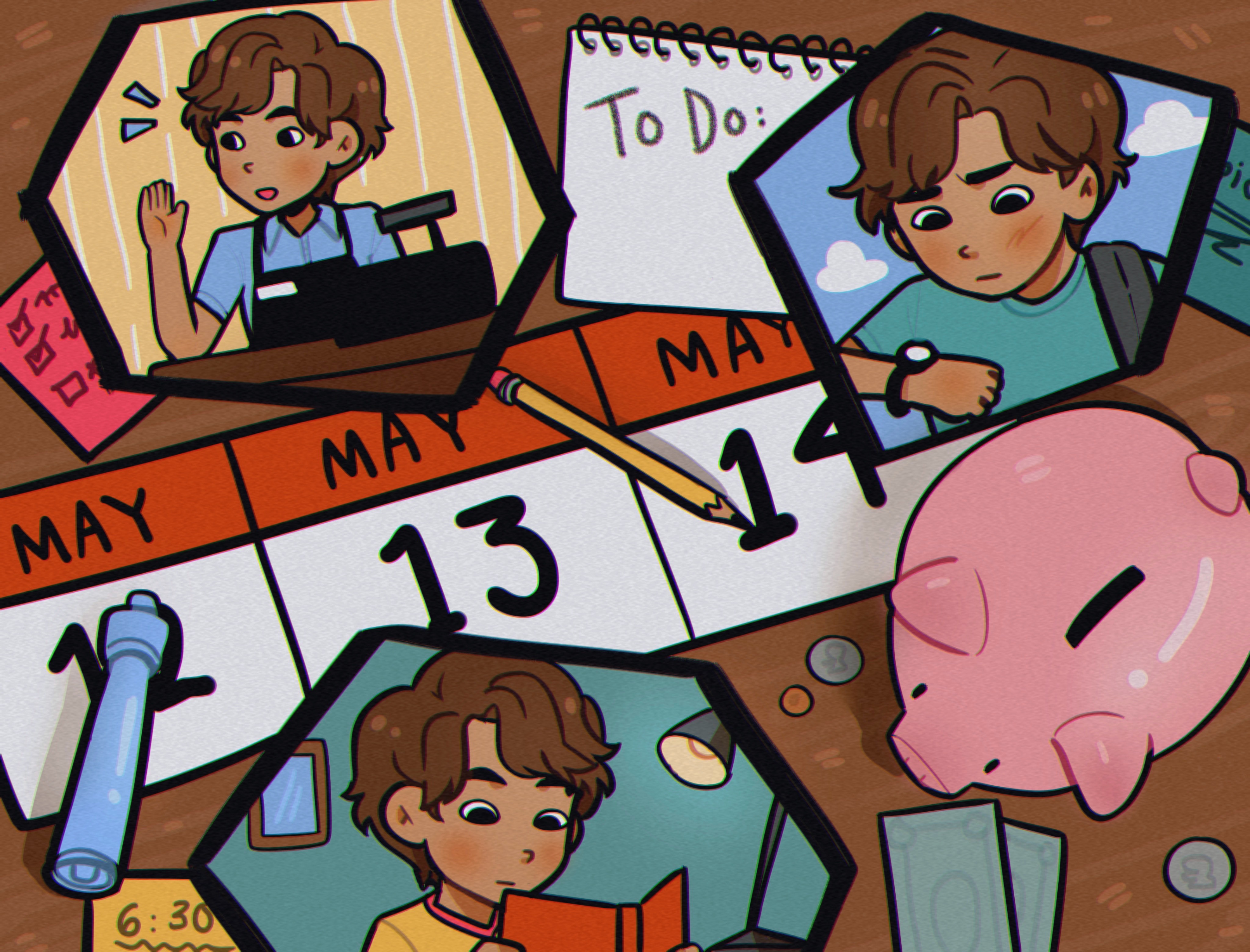 (Katelyn Dang/Daily Bruin)
Not only has the pandemic changed the way we work, it has transformed the way we think about work.
Hustle culture is defined as a craze where people place professional aspirations at the forefront of everything else. Hustle culture has always been a part of our lives – the more you work, the more you make and supposedly, the happier you will be. For some, the COVID-19 pandemic has provided a glimpse of what life would be like without the usual rush. For others, the pandemic has intensified hustle culture – either out of necessity or because of increased free time.
Information studies professor Ramesh Srinivasan said it is important to be aware of the different types of hustle.
"We can use that term hustle in a couple ways. One is you're hustling because it's a matter of life and death. Another is you're hustling because you're excited to kind of create new innovations of different forms, new services, new technologies, new things, new products. That's completely different," Srinivasan said.
Bridget Callaghan, an assistant professor of psychology, said the pandemic has provided some people more time to reflect on their lives.
"The dead time essentially that COVID has provided, I suppose has just allowed us to step back a little bit from the rush of life and to assess what is really important and meaningful," Callaghan said.
Chemistry doctoral student Doran Pennington said the looming pressure of work makes taking time for himself feel like procrastination.
"It never feels like downtime. It feels like procrastination. You know, anytime I'm like, doing something that's just chill, I always have that pressure in the back of my head," Pennington said. "It's like, 'Why aren't you doing this because you're already like two days past.'"
We have all complained about running off of five hours of sleep, only to have a friend brag about their three hours of sleep. It seems working harder even at a detriment is celebrated, Callaghan said.
This can be toxic especially for people at the beginning stages of their careers, and it has to do with the fact most young adults have more hours and less commitments, Callaghan said.
While life amid COVID-19 is slower paced than our pre-pandemic lives, the typical college life stressors remain the same.
"Young people in the workforce, they have the ability to work really long hours. They realize that they can progress their careers more quickly when they do that, and they don't have a lot of outside commitments. So it might just be kind of organic as a result of that," Callaghan said.
But for many, it is hard to consider scheduling a healthy work-life balance when getting secure work is so difficult.
According to a post by the Federal Reserve Bank of St. Louis, young workers were negatively affected by recessions, as 35% of workers age 16 to 19 years and 30% of workers age 20 to 24 years lost their jobs from February to April 2020.
"A lot of people who probably thought their jobs were relatively safe bets in terms of bringing in a stable income, or certainly for students who were working towards a job that they thought was fairly safe and secure position, might have seen that a lot of jobs aren't safe and secure when it comes to a pandemic," Callaghan said.
A glaring result of the pandemic is the light it shed on job security – or the lack thereof.
"People are working more hours for less security than ever before, particularly during a pandemic," Srinivasan said.
Security, including economic security which fundamentally influences health and other aspects of life, no longer exists the way it used to, Srinivasan said, as working a certain number of hours does not guarantee sufficient income to take care of basic needs.
"So for me, that term, hustle culture, I would just describe as kind of an unfortunate response that people have to engage in at a time when the sort of basic terms of dignity of labor and what that brings to you economically don't exist," Srinivasan said.
While moving back home or staying in because of the pandemic may allow for more hours in the day to relax, increased downtime can also have the opposite effect, allowing more work to be done in those hours.
"Amidst COVID we're working more than ever, not less, because Zoom is just allowing us to kind of move between one meeting to the next without even an excuse of needing to drive places and so on," Srinivasan said. "So I think what it's done is it's kind of intensified our experiences of work in a certain way."
Pennington shared a similar sentiment as he said the time he normally uses to drive to class or walk somewhere for work is now dedicated to extra work time, making the pandemic feel busier.
"It's quite something that in a country that has so much wealth, where so much wealth is being accumulated by so few, that so many have to hustle out of almost a sense of desperation and survival," Srinivasan said.