Op-ed: UC student researchers union would protect LGBTQ+ rights, ensure adequate wages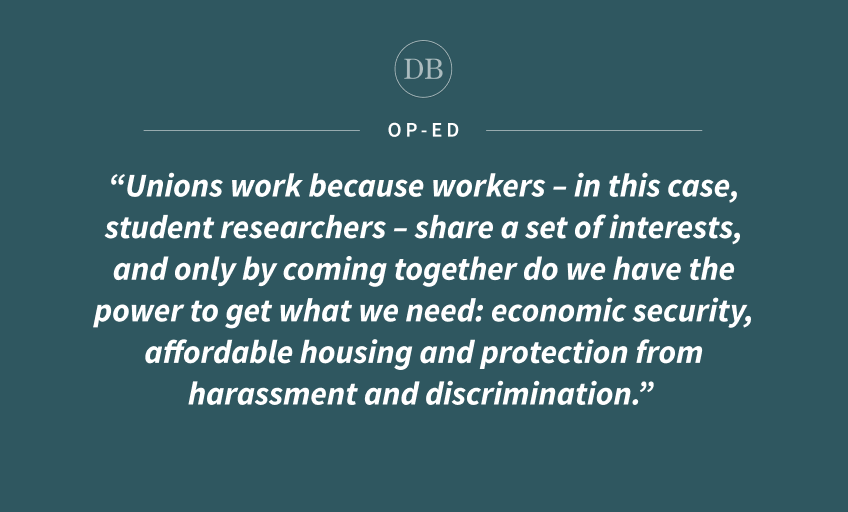 As a graduate student researcher in the Molecular, Cellular and Integrative Physiology graduate program at UCLA, I spend my days studying sleep.
Recently, I've been spending my nights working on another project important to me both as a worker and also as a person who has begun transitioning from male to female: forming a union for student researchers at the University of California. I became involved in organizing this union because I see the need that student researchers have for more formal mechanisms to protect ourselves from low wages, high rents and harassment from supervisors, and because I've experienced our collective precariousness through my individual experiences as a trans person.
As a neuroscience researcher, social equity has not always been my focus. I was born in Mexico and like so many others, came here when I was very young. The first steps in my journey were taken by my parents, as they left Mexico toward a better life in California. I became interested in science because in a way, it makes me feel connected to my past in Mexico since scientific issues are universal – no matter where you are.
And of course, there were many other steps along the way. My parents enrolled my brother and me in California public schools. Thanks to the support of my family, community and teachers, I was proud when I enrolled at the University of California, Irvine. At UCI, I was encouraged to take part in a program for underrepresented communities that focused on careers in STEM research. I have always been fascinated with circadian rhythms, the behind-the-scenes biological processes that govern so much of our well-being. That led to my current position as a graduate student researcher at UCLA, focused on uncovering the mysteries associated with sleep and how we might harness them to build healthier people and communities.
Now, I am taking another step towards becoming my full self by transitioning from male to female. Being a part of union organizing has helped connect me with others and drive away some of the loneliness of this period in my life. And like everything that came before, I am so grateful that I am not taking this step alone – because negotiating the world as someone in the process of transitioning comes with a set of challenges that others don't experience or appreciate.
For example, I work in a large building at UCLA. I no longer feel comfortable using the men's restroom, and I've had negative experiences when I've used the women's restroom. But the nearest gender-neutral bathroom is far away, and I pass the women's and men's bathrooms on the way. Hurrying through the halls to get there and back on my break feels like a walk of shame.
Sometimes the people I work with don't use my preferred pronouns; probably, it's a genuine mistake, but I hesitate to correct them in case it isn't. I don't want to become the person in the lab making others "uncomfortable." Without a union to protect my rights against discrimination, it's dangerous for me to challenge others when my identity is disrespected. It could lead to me losing my job or being passed over for career advancement opportunities.
In the blue-state, red-state political shorthand of our times, equality for the LGBTQIA community is often understood in terms of attitudes and tolerance. Are the people in your area generally accepting, or are they generally intolerant and homophobic? But this way of understanding equality places queer people at the mercy of the prevailing social winds. Equally, if not more important, is equality in terms of the rights that queer and trans people have and whether or not we have the power to enforce those rights. For example, the right to use a restroom that reflects our preferred gender, the right against homophobic discrimination – even the right to affordable housing. These are rights that unions can – and have – enshrined in legally enforceable collective bargaining agreements.
Affordable housing is a serious problem for all student researchers with disproportionate effects on trans people. The University is both my employer and my landlord – and the rent they charge for a single-person studio comes to more than 52% of my income. I simply could not afford it, so I had to look for roommates in the general Westside housing market. That process came with a lot of anxiety: how would potential roommates react to my transition? Would they be homophobic and make me feel uncomfortable in my own space, or would they walk and leave me holding the bill? Luckily, I found good roommates who support me, but luck shouldn't have anything to do with securing basic necessities like housing for trans people – or anyone.
Unions work because workers – in this case, student researchers – share a set of interests, and only by coming together do we have the power to get what we need: economic security, affordable housing and protection from harassment and discrimination. These issues affect me in a particular way as a trans person, but I only have power to secure these rights when I join with my coworkers, who in turn need me. That kind of solidarity not only gives us more power vis-a-vis our employer, the UC but results in a more united and supportive working environment.
Together, student researchers can join postdocs, teaching assistants and a score of other unionized workers to make UC a truly equitable and inclusive University for everyone.
Moncada is a graduate student in Molecular, Cellular, and Integrative Physiology.