Advocates, commuter students push for improved safety on LA Metro system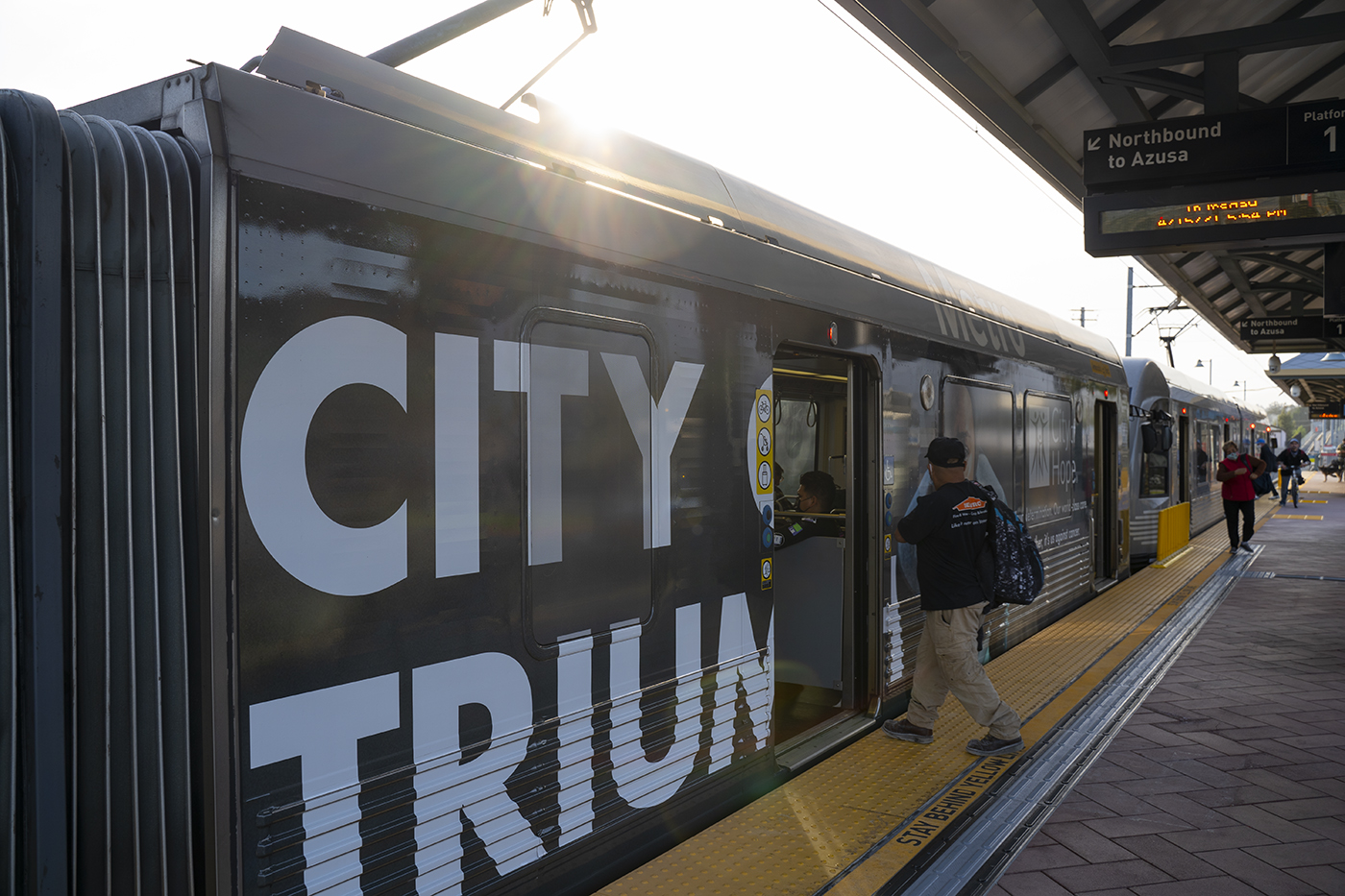 LA Metro discussed ways to increase public safety on their transit services as many report sexual harassment incidents aboard public transit. (Esther Ma/Daily Bruin)
For fourth-year psychobiology student Kriseira Lamas, her commute to UCLA on LA Metro's transportation lacks guaranteed safety.
Her experience is not uncommon; many UCLA commuter students face crimes ranging from inappropriate groping to assaults while commuting to and from campus via public transportation.
A 2020 study by the UCLA Lewis Center for Regional Policy Studies found 72% of bus passengers and 48% of rail users reported instances of sexual harassment. The authors surveyed students from UCLA and other universities in Los Angeles County.
Although LA Metro users can report sexual harassment cases through Metro's 24/7 counseling hotline or LA Metro's Transit Watch app, these channels are not the most effective way to intake reports, said Madeline Brozen, a co-author of the study.
"People don't want to respond because nothing will happen," said Brozen, who is also the deputy director of the UCLA Lewis Center for Regional Policy Studies. "I do not think transit agencies have figured out a way to provide that type of support to victims."
From January 2019 to March 2021, LA Metro received 254 sexual offense reports from Transit Security, according to data compiled by the Daily Bruin.
Lamas, a survivor of sexual assault aboard public transit, said she was unaware of the Transit Watch app, where victims can report incidents through texting and calling.
In 2019, the man seated beside Lamas on rail transit began to mutter lewd comments, she said. Then, he groped her breasts and bottom as she attempted to escape. Lamas said she did not report the assaulter because she had seen the same man on that route and feared his reaction if he knew she alerted authorities.
LA Metro could create a real-time texting service so victims can accurately describe the perpetrator's identifying details and connect with a response team at the next stop, Brozen said.
Lamas said she would have felt anxious calling a stranger about her experience, and if she decided to report, she would have preferred texting instead of calling.
Regular patrols also deter crimes, said UCLA alumnus Jesus Reyes, who has been robbed, called homophobic slurs and sexually assaulted on LA Metro services.
"If that would have been implemented in those times I'd been harassed … I would not have to deal with that," Reyes said.
In 2017, LA Metro signed a five-year security contract with several law enforcement agencies, including the Los Angeles Police Department, which decreased the occurrence of major crimes, said Dave Sotero, LA Metro's communications manager, in an emailed statement. LA Metro's policy dispatches about 314 police officers to patrol the system over a 24-hour period.
"We effectively doubled the presence of system security on our system and greatly improved response times to incidents," said Sotero in an emailed statement. "In 2020, we reached a five-year low in major crimes."
On average, on a scale of one to 10, where 10 meant feeling the safest, public transit users rated their satisfaction with personal security at night to be 4.6 and 4.5 on buses and trains respectively, according to the 2020 Customer Experience Survey.
However, some UCLA students said a heavy police presence does not create a secure environment.
"I honestly don't trust the police," Lamas said. "People who carry guns scare me."
UCLA alumna Susy Zamora, who was physically assaulted at a poorly lit South LA bus stop, said police officers disproportionately target minority populations.
"There would be heavy police (presence) … in minority communities like Central LA, South LA, East LA," Zamora said. "But, then you have Culver City and Santa Monica that are not heavily policed. … You can see the disparity."
Black Lives Matter protests last summer prompted LA Metro to reconsider its safety model. The LA Metro Board of Directors unanimously approved a motion funneling $40 million toward the creation of a transit ambassador program, dispatching mental health specialists and constructing Blue Light stations with emergency phones.
"We need to invest in a system that makes sure everyone can feel safe using Metro and that is going to mean reimagining what we think of as public safety," said Liz Odendahl, District 4 Supervisor Janice Hahn's communications director, in an emailed statement.
However, some city council members have raised concerns about the motion's lack of specificity.
"What do ambassadors mean?" said Glendale Councilmember Ara Najarian, at the LA Metro Board of Directors meeting on March 25. "These are great aspirational points but … I feel left behind."
Inglewood Mayor James Butts said at the meeting he agreed with councilmember Najarian and added that transit ambassadors should receive the same training as sworn police officers.
Reyes said there are also varying levels of security and safety across different forms of Metro transportation.
"There is more security using the rail line than the Metro (buses)," Reyes said. "People are aware of that, so people behave a little bit better."
In February 2021, a UCLA alumna – who wished to remain anonymous – witnessed two bus passengers exchange racial slurs, which escalated into a violent altercation. On a separate occasion, she said, the alumna experienced sexual harassment on the bus.
"For the year and a half that I did take the bus, I felt unsafe," the alumna said. "My safety was threatened, everybody's safety on the bus was threatened."
The LA Metro Board passed a motion in June 2020 that created a 15-member Public Safety Advisory Committee consisting of community members and Metro riders; PSAC will recommend safety measures to the LA Metro Board. LA Metro will renew its security contract in May for the 2022 fiscal year by incorporating PSAC's approved solutions, although it did not specify which law enforcement agencies it would enter into an agreement with.
High-risk environments could become safer by increasing the frequency of transportation to minimize wait times and installing lighting at dim bus stops or stations, Brozen said.
The current safety model does not sufficiently offer protection to vulnerable passengers in risky situations, Lamas said.
"I wish that … transportation services … (could) provide safety ambassadors rather than police officers," Lamas said. "They have signs on the buses and the trains that say 'if you see it, say something.' But, no one ever says anything. A lot of people don't know where or who to say it to."