Men's tennis ends season with loss to Northwestern in 1st round of NCAA tournament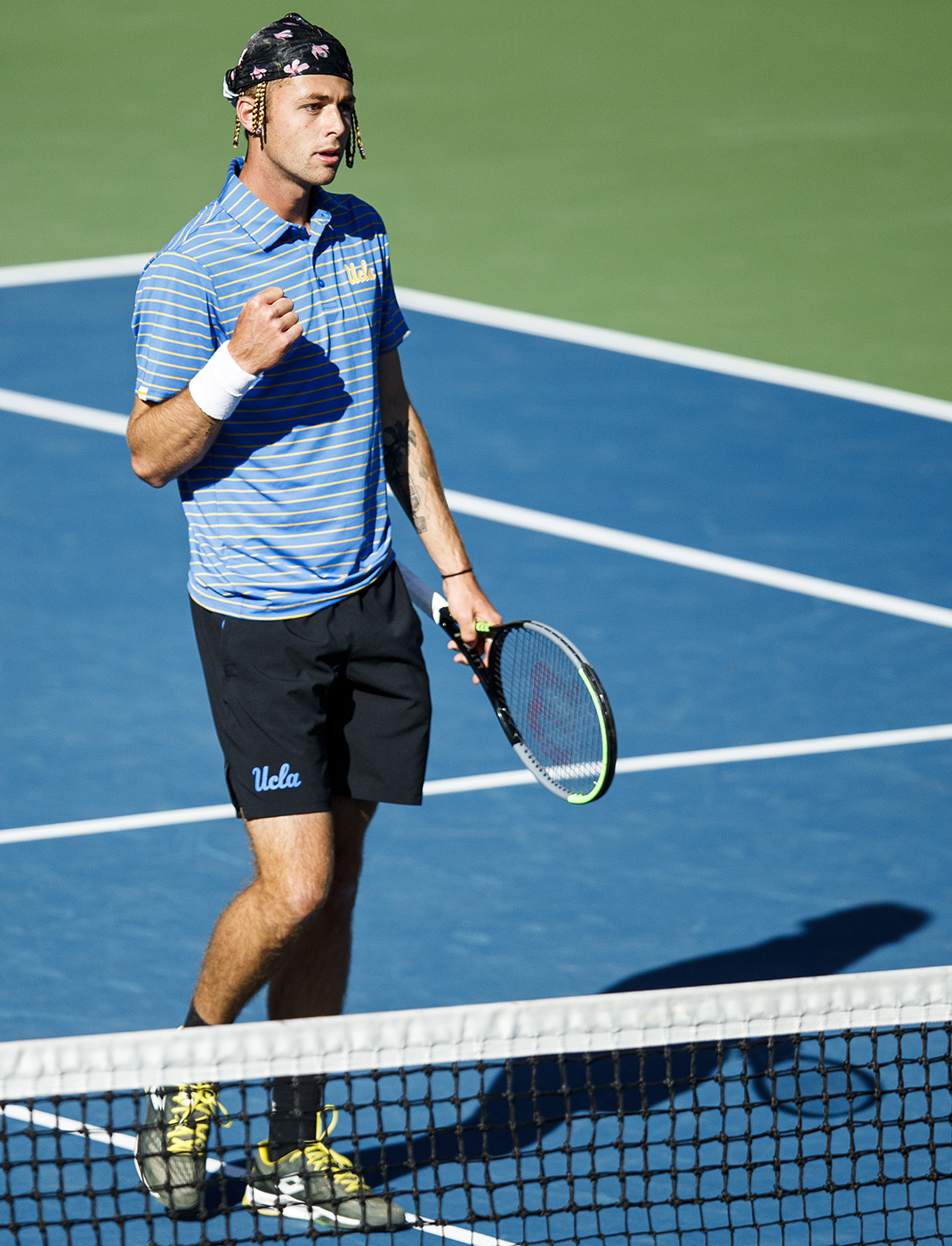 Sophomore Drew Baird contributed to UCLA men's tennis' only point in its NCAA tournament loss Saturday, winning his double match with partner junior Govind Nanda. (Andy Bao/Daily Bruin staff)
The Bruins made a habit this season of making history in the wrong ways, and on their biggest stage yet, they continued to do just that.
This time, it came at the cost of their season.
UCLA men's tennis (13-7, 4-3 Pac-12) was upended 4-1 by Northwestern (14-7, 11-5 Big Ten) in the Austin regional of the NCAA tournament, bringing an end to its 2020-2021 campaign. Before Saturday, the Bruins hadn't lost in the first round of the NCAA tournament since 1988 and have appeared in every tournament since.
The loss caps off a season in which multiple streaks were snapped in Westwood. A 68-match home winning streak, 33-match conference winning streak and a streak of four consecutive Pac-12 regular-season titles were all busted.
UCLA failed to gain the 1-0 advantage in its previous bouts against Arizona State and Washington in the Pac-12 tournament but regained its doubles footing against Northwestern.
Sophomore Drew Baird and junior Govind Nanda delivered the first win of the day for the blue and gold, triumphing 6-3 over Simen Bratholm and Nick Brookes on court one. Senior Bryce Pereira and junior Patrick Zahraj couldn't follow suit on court two, falling 6-4 to Chris Ephron and Dominik Stary and ceding the clinching opportunity to the junior tandem of Roscoe Bellamy and Mathew Tsolakyan.
Up 6-5 and on serve with the game tied at 40-40, the duo was broken by Steven Forman and Natan Spear, which forced the doubles point to come down to a tiebreaker. Bellamy and Tsolakyan eventually claimed the match 7-6 (2) and put UCLA on the board first. It would later mark the fifth of UCLA's seven losses this season that came after winning the doubles point.
Bellamy said sustaining their level of play was key for controlling the tiebreaker.
"I knew if we wanted to close it out, we had to continue what we were doing, making first serves, getting aggressive at the net and winning points ourselves," Bellamy said. "I think we both did a good job making our first serves and playing points the way we wanted to, and that was ultimately what got us that doubles point in the end."
In the early going of singles play, the Bruins were on pace to take the three additional points necessary to advance. Two first sets stood at 4-1 and another at 3-0﹣each in favor of UCLA﹣but then Northwestern started breaking back. When all six first sets were completed, the Wildcats boasted five of them.
Coach Billy Martin said he was baffled by how the first sets turned out.
"I'm still trying to go over in my own mind trying to figure out what the hell happened, quite honestly," Martin said.
Court five was the first to go final, as Bellamy was dealt a 6-4, 6-3 defeat by Trice Pickens, knotting the score at one apiece. Baird also failed to get a set on his opponent, dropping a 6-4, 6-1 decision to Stary on court two.
Northwestern expanded its lead to 3-1 when Tsolakyan fell 7-5, 6-4 to Presley Thieneman on court six, with Tsolakyan unable to carry doubles momentum into his singles match.
To keep dancing, the Bruins needed Nanda, redshirt senior Ben Goldberg and graduate transfer Sam Feit to all come through on courts one, three and four, respectively. After losing the first set 6-2, Feit turned the tables to claim the second 6-2 and force a third. Goldberg took his first set 6-2 but faltered 6-3 in the second, and was also positioned to battle in the decisive third.
However, Nanda was overpowered 7-6 (5), 6-4 by Forman on court one. It was the final blow that sentenced UCLA to its earliest NCAA tournament exit in more than 30 years.
Martin said getting ahead of itself and a lack of experience were key determinants of his team's fate.
"It just seems like we started thinking that we were going to win this match fairly handily and just kind of relaxed and everybody thought the other guys were going to win and it really didn't matter," Martin said. "This is a special event and it's supposed to be a good reward for having a good year and whether you're not there mentally or too excited or whatever it might be, it really helps to have experience."
Following an abrupt end to its title hopes, UCLA will lose some of its experience by graduating six seniors but will also return more than half of its roster from this year.
The Bruins will enter the offseason coming off a historic loss, but the opportunity for new streaks to begin will arise next fall.
Nelson is currently a Sports contributor on the women's tennis beat. He was previously a contributor on the men's tennis beat.
Nelson is currently a Sports contributor on the women's tennis beat. He was previously a contributor on the men's tennis beat.