Beach volleyball falls to USC, fails to secure 3rd straight national title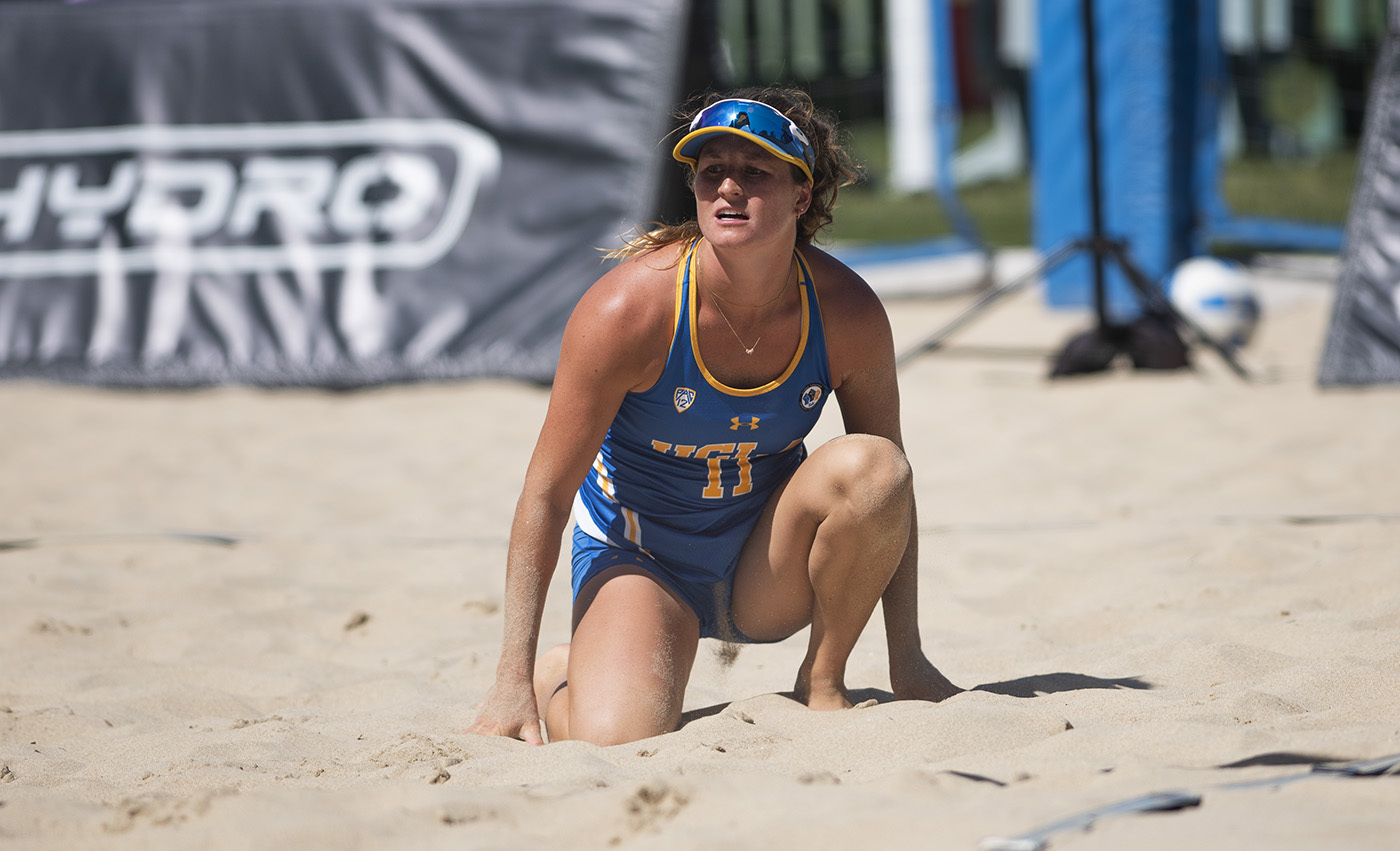 Graduate student Savvy Simo (pictured) and her partner freshman Lexy Denaburg fell on court one in straight sets in Simo's last match with UCLA beach volleyball. (Jefferson Alade/Daily Bruin)
Beach Volleyball
---
| | |
| --- | --- |
| No. 2 seed USC | 3 |
| No. 1 seed UCLA | 1 |
This post was updated May 9 at 6:24 p.m.
The Bruins' quest for a third consecutive national championship came to an end at the hands of their crosstown rivals.
No.1 UCLA beach volleyball (32-5, 10-0 Pac-12) was defeated by No. 2 USC (30-4) by a score of 3-1 to fall short of a third consecutive national championship. With the win, the Trojans avenged their 2019 loss to the Bruins in the national championship to the Bruins.
UCLA and USC had met five times previously this year, with the Trojans' holding a series lead 3-2. The Bruins captured the most recent two matches, clinching them the Pac-12 championship with a 3-2 defeat over their crosstown rival May 1.
Coach Stein Metzger said even though his team came up short in the end, he was proud of how the Bruins battled throughout the entire tournament and how they progressed through the season as a whole.
"I thought the team showed a lot of grit and toughness," Metzger said. "I am super proud of where we started and where we got to in terms of process and improvement for a team. I think nobody did a better job than our group, and I am looking forward to the steps forward for the following season."
Sophomores Abby Van Winkle and Lindsey Sparks entered their match with an undefeated record in the tournament so far and were attempting to record the most match wins in an NCAA tournament.
Van Winkle and Sparks quickly fell behind in the first set 14-9 and were unable to make up the difference, losing 21-14 on court three in their first set loss of the tournament. USC's Haley Hallgren and Hailey Harward once again took a 14-9 lead in set two and defeated Sparks and Van Winkle by a score of 21-17 to give USC a 1-0 lead in the dual.
Redshirt freshman Jaden Whitmarsh and freshman Rileigh Powers faced off on court five against USC's Audrey and Nicole Nourse, who held a 27-3 record on the year but an 0-2 record against Whitmarsh and Powers.
Whitmarsh and Powers took an early 11-5 lead in the first set and closed it out by a score of 21-13. The second set went back-and-forth between the two pairs, with Powers and Whitmarsh having four match points, closing out the Trojan duo by a score of 26-24.
After the match, Whitmarsh and Powers were named to the NCAA All-Tournament Team for court five, something Powers said would not have been possible without their teammates' support all year long.
"It is definitely really exciting, and we are really thankful for the recognition," Powers said. "It was great, but none of this could have been done without our teammates."
Graduate student Savvy Simo and freshman Lexy Denaburg were 28-7 on court one this year but had a 2-3 record against USC. Their Trojan counterparts were Tina Graudina, who will be representing Latvia in the Tokyo Olympics this summer, and Megan Kraft, who was Volleyball Magazine's No. 1 overall beach recruit out of high school.
Graudina and Kraft went on to defeat Simo and Denaburg in straight sets by scores of 21-16, 21-17. The match gave USC a 2-1 lead in the dual and put it one win away from the national championship.
Simo said she was appreciative of how the Bruins competed in the tournament, and even though they came up short in the end, she could not be happier to call any other athletes her teammates.
"We did everything we could, and we fought to the very end," Simo said. "(USC) just got the best of us today. It is hard to not only beat a team twice but three times in a row, so we knew today was gonna be a tough day."
Junior Lea Monkhouse and freshman Devon Newberry were defeated in the first set by Julia Scoles and Sammy Slater by a score of 26-24 when Slater had two aces to clinch the set. Monkhouse and Newberry then quickly fell behind in the second set 16-10 and were eventually defeated 21-15, with USC clinching the national championship 3-1 with the second-set win.
Graduate student Jacqueline Quade and junior Megan Muret, who were 2-2 so far in the tournament, overcame a 13-8 deficit on court four to tie Delaynie Maple and Joy Dennis 17-17. Quade and Muret then had five set points, taking the fifth for the duo to outlast their Trojan counterparts by a score of 24-22.
Quade and Muret opened the second set with an 8-3 deficit and eventually dropped the set 21-16. The match was going to a third set when play was suspended because of the 3-1 USC victory.
The 3-1 victory gives USC its third beach volleyball national championship, edging UCLA for the most all-time.
Fenn is currently a Sports reporter on the women's soccer beat. He was previously a contributor on the beach volleyball and men's and women's golf beats.
Fenn is currently a Sports reporter on the women's soccer beat. He was previously a contributor on the beach volleyball and men's and women's golf beats.