UCLA men's tennis to begin NCAA tournament play against Northwestern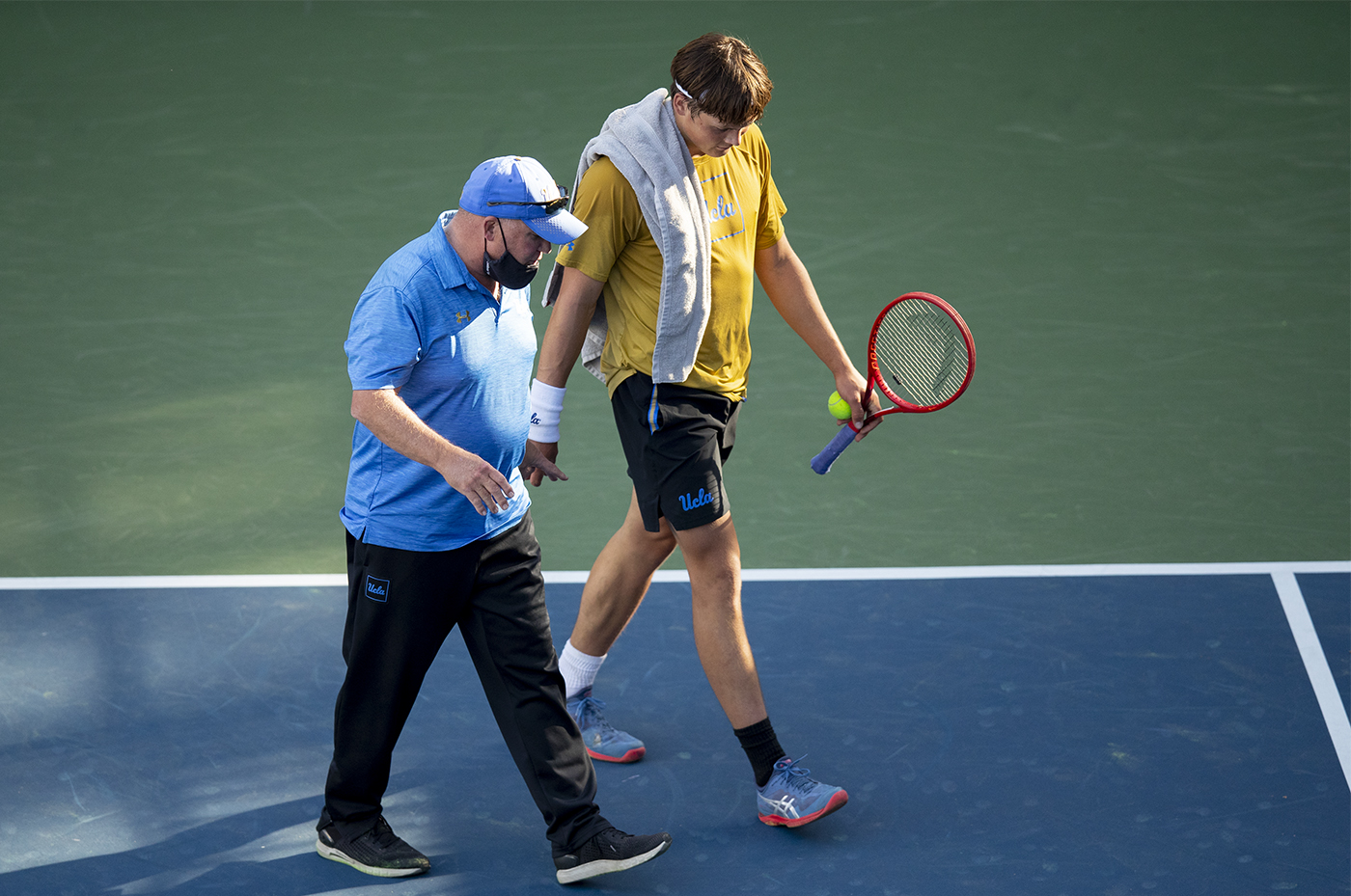 UCLA men's tennis coach Billy Martin has led the Bruins to the NCAA tournament every year since he was hired as head coach in 1994, including the program's 44th-straight year making it this season. (Andy Bao/Daily Bruin)
Men's tennis
---
Northwestern
Saturday, 7 a.m.
Texas Tennis Center
Texas Live Stream
---
TBD
Sunday, 10 a.m.
Texas Tennis Center
Texas Live Stream
The Bruins will face an unfamiliar foe in the first round of the NCAA tournament.
After a first-round loss to Arizona State in the Pac-12 tournament, UCLA men's tennis (13-6, 4-3 Pac-12) will square off against Northwestern (13-7, 11-5 Big Ten) in Austin, Texas, in just the second-ever matchup between the two schools. Their first matchup was back in 1997 when the Bruins defeated the Wildcats 4-0 to open NCAA play.
Despite an early exit last time, coach Billy Martin said the team has been doing everything it can to be the best version of itself for the national tournament.
"I think you've got to learn from your losses or your experiences, whether it's in tennis or in life, and hopefully turn those things around come the next challenge," Martin said. "We've been working hard since the Pac-12 tournament. I think the guys are wanting to keep improving."
Although UCLA's top singles player senior Keegan Smith has been feeling better lately, Martin said he will miss the entire tournament. Smith posted on Instagram last week that he was in the hospital for eight days with a head injury.
"He's doing so much better quite honestly and we're all so relieved he's feeling better, but I would say just for his sake, it's just not going to happen unfortunately to get him back in time for the end of the season," Martin said. "We're just going to have to deal with that and move on and do it on our own without him. Still, the main thing is he's feeling a lot better."
Junior Govind Nanda has filled in as the No. 1 singles player since Smith's injury. He is 1-2 with one unfinished match since replacing the senior.
UCLA is the only program in the country to qualify for the NCAA championship every year since the format was first adopted in 1977, winning four NCAA team titles in that span. The team has also been one of the last 16 teams standing each year.
The last time the tournament was held, the Bruins advanced to the third round before being knocked out by then-No. 6 seed Baylor.
"The guys are excited, the coaching staff is excited," Martin said. "This is what we've worked and trained for all season. We're here and ready to do battle come Saturday morning."
First serve against the Wildcats will be at 7 a.m. on Saturday. If the Bruins win, they will face the winner of No. 4 seed Texas (20-5, 4-1 Big 12) and Big Sky champion Northern Arizona (8-8, 3-0 Big Sky) at 10 a.m. on Sunday.
Kepes was previously a Sports contributor on the men's tennis beat.
Kepes was previously a Sports contributor on the men's tennis beat.