Softball prepares for final stretch of season in game against Stanford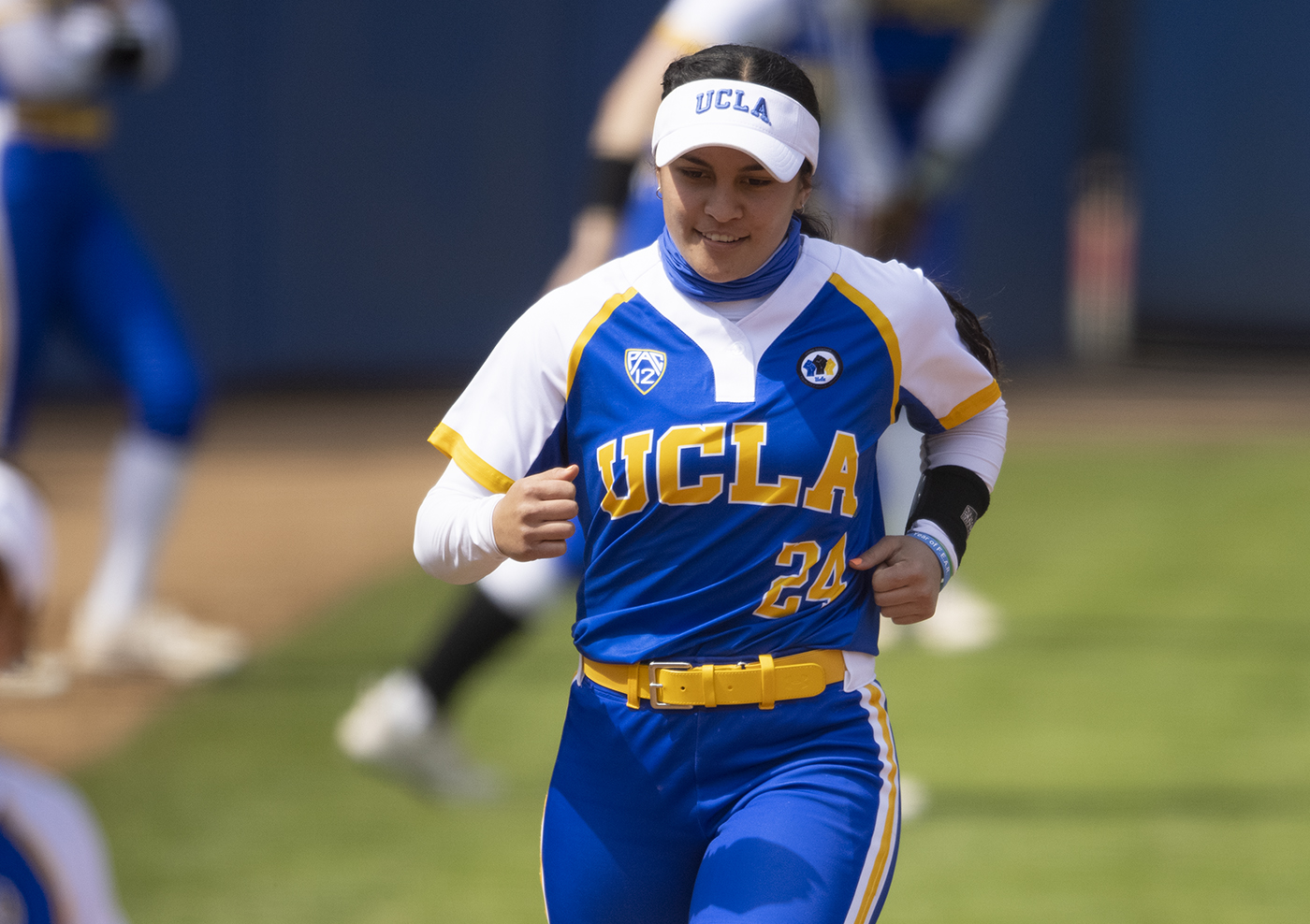 Freshman infielder Thessa Malau'lulu has played in every game in No. 2 UCLA softball's last three series and has hit safely six times in those contests. (David Rimer/Daily Bruin staff)
Softball
---
Stanford
Friday, 7 p.m.
Easton Stadium
Pac-12 Networks
---
Stanford
Saturday, 2 p.m.
Easton Stadium
Pac-12 Networks
---
Stanford
Saturday, 4:30 p.m.
Easton Stadium
Pac-12 Networks
---
Stanford
Sunday, 2 p.m.
Easton Stadium
Pac-12 Networks
The first-place Bruins have one last chance to defend their near-perfect record at home.
No. 2 UCLA softball (34-3, 13-2 Pac-12) will play its final regular-season series at Easton Stadium with a four-game set against Stanford (29-14, 8-7) beginning Friday. The Bruins enter the matchup against the Cardinal with a 21-1 record at home and sit atop the Pac-12 standings with eight conference games remaining on their schedule.
Though Stanford is not one of the five Pac-12 teams nationally ranked in the top 25, coach Kelly Inouye-Perez said her team must not overlook the Cardinal in order to win the conference title.
"Stanford is a team that if you take them lightly, they can easily get you," Inouye-Perez said. "Our goal is to be able to go in and win that first one so that we can get after the sweep. We are getting after having the opportunity to win the Pac-12. It starts on game one on Friday against Stanford."
The Bruins are 23-0 against unranked teams this season and all but two of those wins were decided by more than three runs. Both of those close games were away from Easton Stadium.
Stanford, on the other hand, is 3-9 against ranked teams and will finish its season with eight straight games against top-10 opponents, with a four-game series against each UCLA and No. 5 Washington. The Cardinal are 7-6 in their last 13 Pac-12 games since suffering a four-game sweep to the Bruins' final opponent of the season, No. 7 Arizona.
UCLA is coming off of a makeup doubleheader in which it swept Long Beach State on Wednesday.
Though her team will only have one day of rest because of the makeup series, redshirt sophomore utility Anna Vines – who hit her second home run of the season during the second game of the doubleheader – said she's focused on keeping the momentum rather than the quick turnaround.
"(I'm focused on) having good at-bats, quality at-bats (and) putting myself in a good position to score for my team," Vines said. "Anything that's gonna help my team win and give us momentum (against Stanford) and into the next week when we play Arizona."
Vines had not appeared in the starting lineup in the eight games prior to Wednesday's home run, and her other home run came back Feb. 20. Her ability to step in and perform falls in line with what Inouye-Perez said is the dynamic UCLA will rely on to finish out the regular season.
"It is a culture for us to have everyone be prepared to play," Inouye-Perez said. "We don't have the same lineup every single game. We're not that team because I have the fortunate opportunity to play a lot of different people. Everyone's ready to do whatever they can to help this team win, and that's what makes this culture so special."
Both UCLA and Stanford have played just 15 conference games each this season – only California has played fewer in the conference – because of COVID-19-related game cancellations.
As a result of the limited number of games played, the Bruins sit tied in first place with Washington in the conference win column despite having two fewer Pac-12 losses than any other team in the conference.
While the COVID-19 cancellations have taken games away from UCLA and potentially made the Pac-12 title race closer than the team may have wanted, its players indicated they are ready to enjoy the final stretch of the regular season.
"(We're going to be) talking it up and having a good time because this season's gonna come to an end soon," said freshman infielder Thessa Malau'ulu. "We want to make sure all of us are just having a good time together."
UCLA will open its series against Stanford at Easton Stadium on Friday at 7 p.m.
Carlson is currently a reporter on the women's basketball beat. He was previously a contributor on the softball beat.
Carlson is currently a reporter on the women's basketball beat. He was previously a contributor on the softball beat.