UCLA beach volleyball enters NCAA championship after series of victories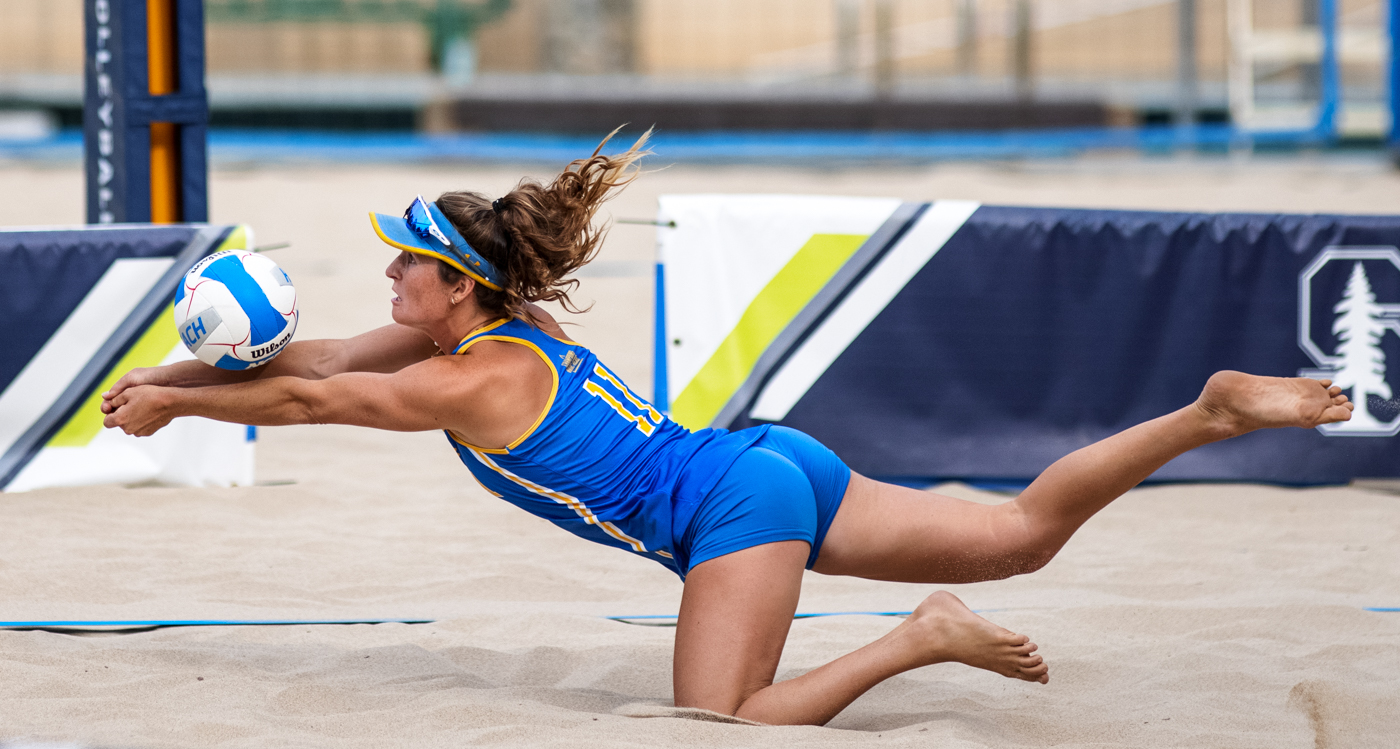 An NCAA championship in 2021 for graduate student Savvy Simo would be the third in her collegiate career and the third consecutive title for No. 1 seed UCLA beach volleyball. (David Rimer/Daily Bruin staff)
Beach Volleyball
---
No. 8 seed TCU
Friday, 7 a.m.
Gulf Shores, Alabama
ESPNU
The Bruins' quest for a third consecutive national championship will take place in Alabama.
UCLA beach volleyball (28-3, 10-0 Pac-12) will begin the NCAA women's beach volleyball tournament Friday as the No. 1 seed when it will face No. 8 seed TCU (26-8, 17-4 Coastal Collegiate Sports Association) in Gulf Shores, Alabama. The Bruins are making their fifth appearance in the tournament – which has only been hosted for five years – while the Horned Frogs will be making their first tournament run.
The two-time defending national champions are coming off a Pac-12 championship, where the team defeated two top-10 teams, including No. 2 seed USC twice. TCU is coming off a defeat in its own conference tournament to No. 4 seed LSU in the semifinals.
Coach Stein Metzger said he is proud of where the team is heading into the tournament after the Pac-12 title victory.
"I feel good, I feel like that is the best volleyball we have played," Metzger said. "In terms of the team's connection and level of play, we are peaking."
Graduate student Savvy Simo, a member of the two previous national championship teams, said the top-ranked Bruins will not underestimate the Horned Frogs despite them being the lowest seed in the tournament.
"We aren't going to let the rankings or seeds cloud our judgment and affect us," Simo said. "TCU is super legit. We need to lock it in with our scouting and be ready for them."
If UCLA can defeat TCU, it will face the winner of LSU and No. 5 seed Loyola Marymount, both of which the Bruins have defeated multiple times this season.
Metzger said he thinks the Bruins' biggest challenge in the tournament would be the Tigers – a team boasting 11 seniors to UCLA's five.
"If there was one team in the bracket I would be most concerned about, it would be LSU," Metzger said. "The experience factor is huge on this kind of stage. LSU has got a ton of seniors that have been here and done that and have a lot of experience in this tournament."
On the lower part of the bracket is No. 2 seed USC, a team UCLA has gone 2-3 against this season after taking the two most recent matches. No. 3 seed Florida State, No. 6 seed Stanford and No. 7 seed Cal Poly round out the tournament, and UCLA has a combined record of 7-0 against that trio of teams.
The Bruins touched down in Gulf Shores on Tuesday and were met with rain, wind and thunderstorms.
Metzger said UCLA's inability to practice on the courts and experience the wind and sand firsthand might hurt the two-time defending national champions if they were to face a team like LSU, which has already played at Gulf Shores this season.
Despite the weather conditions, Metzger said he is confident his team will be able to persevere but will need to deal with the pressure of the tournament just like every other team there.
And according to a two-time champion in her final season in Westwood, the blue and gold's run for a "three-peat," beginning Friday at 7 a.m. against TCU, feels different because of the team's hiatus from the tournament.
"It doesn't feel like we are defending national champions because we haven't been here in two years," Simo said. "I think I feel more excitement than pressure just to be back out here again."
Fenn is currently a Sports reporter on the women's soccer beat. He was previously a contributor on the beach volleyball and men's and women's golf beats.
Fenn is currently a Sports reporter on the women's soccer beat. He was previously a contributor on the beach volleyball and men's and women's golf beats.