USAC recap – April 27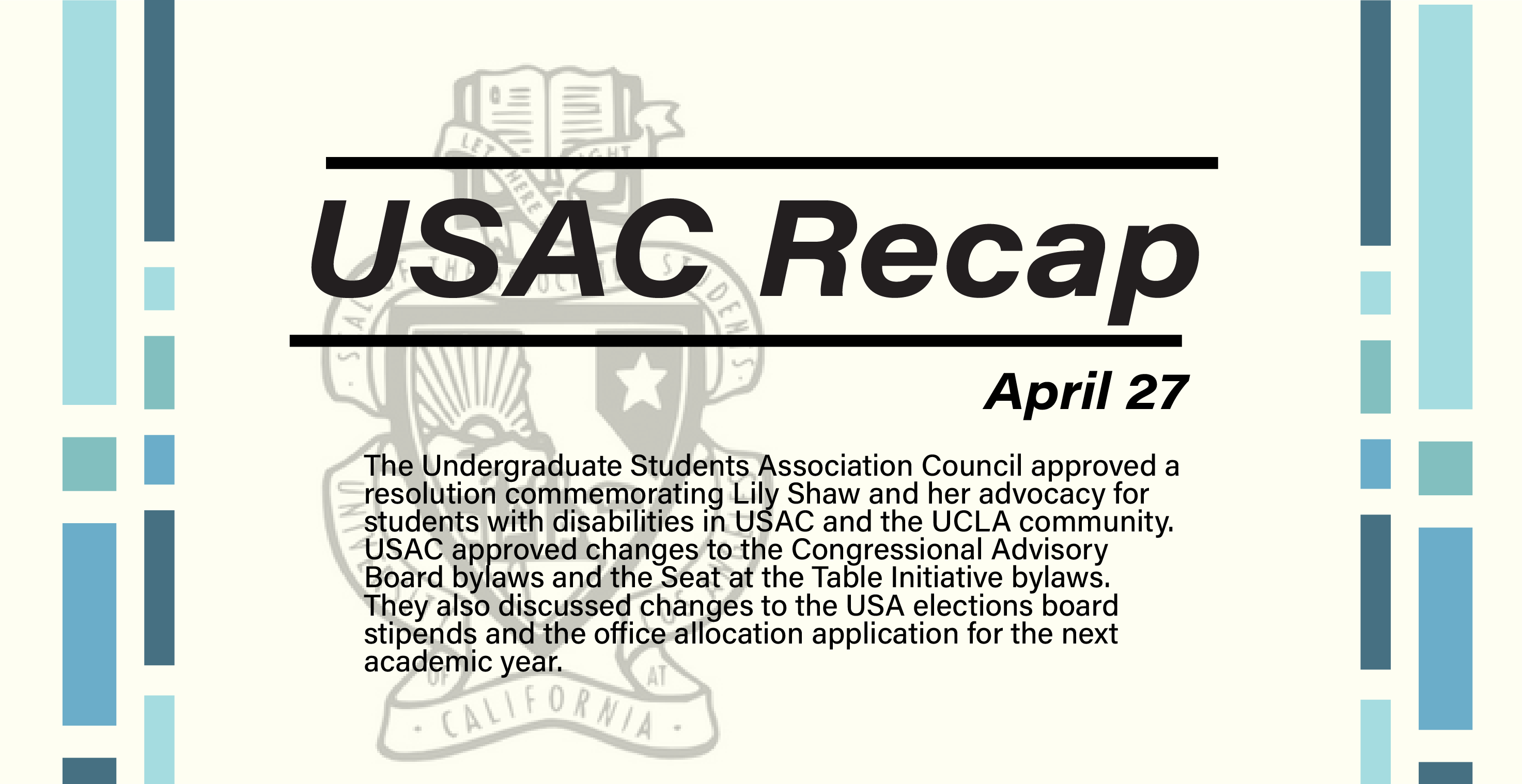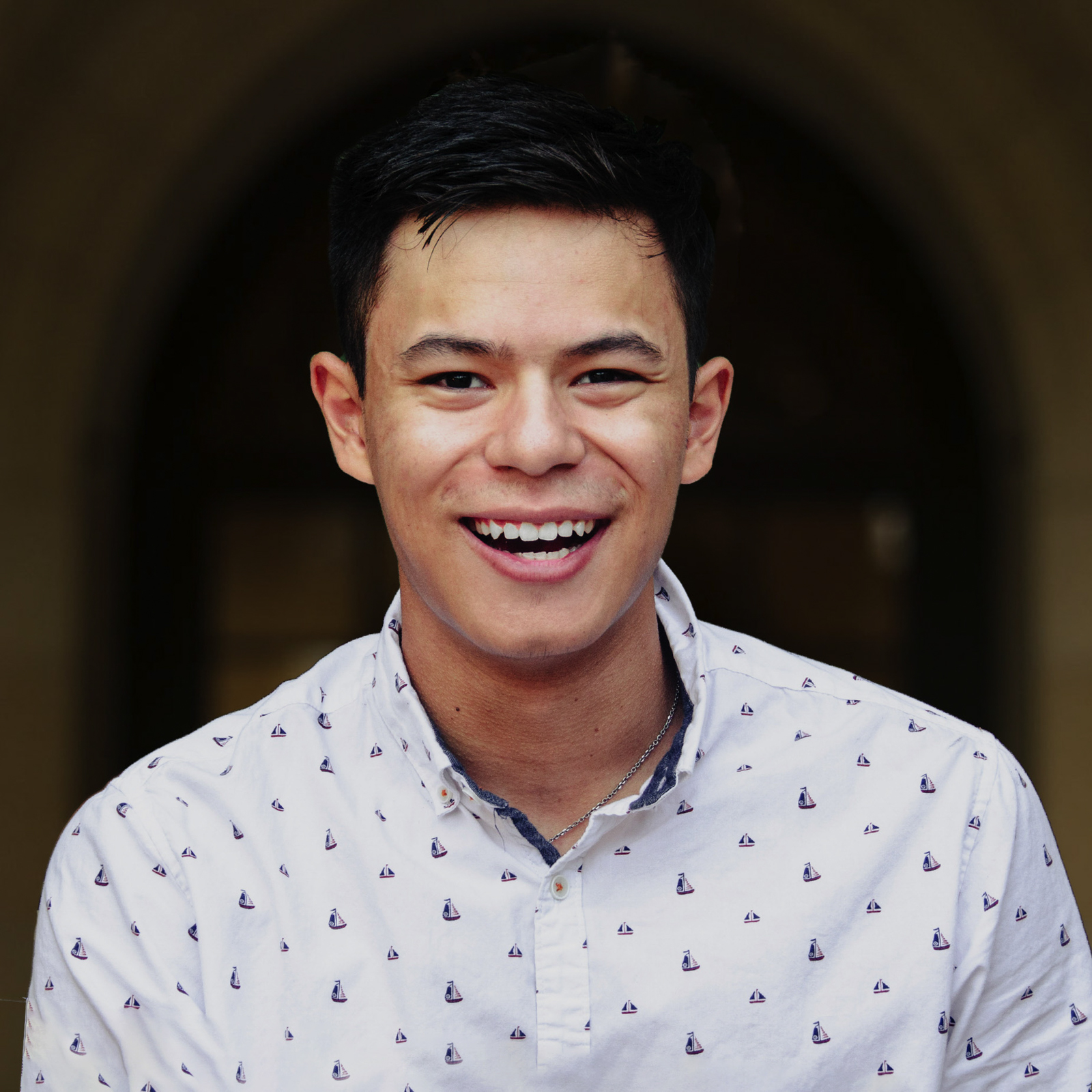 The Undergraduate Students Association Council approved a resolution commemorating Lily Shaw and her advocacy for students with disabilities in USAC and the UCLA community. USAC approved changes to the Congressional Advisory Board bylaws and the Seat at the Table Initiative bylaws. They also discussed changes to the USA elections board stipends and the office allocation application for the next academic year.
Public Comment:
Rodrigo Vazquez, who is a formerly incarcerated and a social welfare graduate student, said formerly incarcerated students need an office space on campus. Vazquez said there are currently no resources for formerly incarcerated students at UCLA, and a proper space would provide students with support in higher education.
Michelle Servin, a fourth-year geography/environmental studies student and an organizer for the Bruin Underground Scholars Program, an advocacy program for formerly incarcerated and system impacted students, said Underground Scholars found it difficult to find a stable meeting space. Servin said the university is losing system-impacted students to other universities that offer resources. Servin said the group is currently requesting a full center while looking for a temporary space in Kerkhoff.
Quinn O'Connor, a third-year theatre student and co-founder of the Disabled Student Union, said Lily Shaw had a significant impact within the community of students with disabilities on campus. O'Connor urged USAC officers to support the resolution and push for systemic change towards being more inclusive.

Laura Gong, the undergraduate representative for the Research Continuity working group within the COVID-19 Response and Recovery Task Force, said there were no major updates on COVID-19 measures for researchers. Gong said undergraduate researchers are able to return to campus as long as their labs are approved by the principal investigator. She added that the vaccine requirement for next fall is not applicable to the rest of the 2020-2021 academic year.

Radha Patel, the newly elected chapter chair for the California Public Interest Research Group Students, said Governor Gavin Newsom recently banned oil drilling in California. CALPIRG is initiating a campaign to ban fracking, said Patel. She added that the chapter held a statewide climate action summit to urge California legislators to commit to 100% clean energy by 2030. The group is urging students to register for the upcoming elections in California, including USAC elections, North Westwood Neighborhood Council elections and the election for state assembly district 54, Patel added.
Special Presentations:
Hannah Regan, the Office Space Allocation Committee chair, presented changes to the office allocation application for the next academic year. Regan said the committee lowered eligibility requirements and introduced new application questions on organizations' social media engagement. The application will also introduce a requirement that current occupants of offices attend one OSAC office hour to ensure organizations are given the proper resources. Regan added that the form will switch to an online format, and the committee is considering expanding the time applicants have to appeal OSAC decisions. General Representative 2 Justin Rodriguez said he agreed with the committee's changes but questioned whether OSAC can take in more applications. Facilities commissioner Sachi Cooper said OSAC faces limits as a student-run committee and urged the UCLA administration to provide space for students.
Agenda:
Alfred Tun, a fourth-year economics and political science student and the USA Elections Board chair, said elections board members should receive increased stipends. Tun said the elections board staff received the lowest compensation for their work compared to council members and said board members need adequate incentives to keep their jobs. Rodriguez, President Naomi Riley and External Vice President Aidan Arasasingham said they supported increased stipends for elections board staff.
The council discussed and approved changes to the bylaws of the Congressional Advisory Board, a board made up of student organizations to advise the council's policies. The updated bylaws established the CAB chair would be appointed by the USAC president, approved by the council and formally selected by CAB and its sponsoring organizations. The changes included an added requirement for the board to approve each meeting's agenda. The bylaws also distinguish the founding members of the advisory board and delegated council officers as non-voting representatives.
The council approved changes to the bylaws of the Seat at the Table Initiative, which aims to bring more student organizations to USAC to present on their groups. The bylaw change established that the President and their committees will host the initiative each week to provide clubs and organizations a space to present their goals and concerns to USAC.
Resolutions:
The council voted unanimously to pass a resolution commemorating former Facilities Commissioner Lily Shaw and her contributions to disabled student advocacy in USAC and the greater UCLA community. The resolution urged all future councils to remember and honor Shaw's contributions. It added that USAC supports active efforts to establish the Lily Shaw Disability Cultural Center on campus.
The council voted to pass a resolution in support of doubling the maximum award for the federal Pell Grant to $13,000.
Allocations:
The council allocated $600 to the UMMA Volunteer Project, a project providing preventative health education to students in South Los Angeles.

The council allocated $500 to Bruins for Accessible Education, an organization that provides weekly tutoring and mentorship to youth experiencing homelessness, for virtual tutoring sessions.

The council allocated $500 to Nursing Students at UCLA for a virtual banquet.

The council allocated $100 to the Life Sciences Student Association, an organization that provides UCLA life sciences students with resources and career opportunities, for its Zooming into Cookies and Cram event.

The council allocated $100 to the Taiwanese American Student Association, for its TASA Sings event.

The council allocated $1,088 to SLAM at UCLA, an organization that provides music education to students from underserved schools across LA, for a Zoom retreat and T-shirts.

The council allocated $628 to Students for Integrative Medicine, an organization that spreads awareness for integrative approaches to medicine and health, for its wellness challenge.

The council allocated $1,300 to the Afro-Latinx Connection for its self-care series.

Jonathan Wisner, the Community Service commissioner, said the Supplemental Fund for Service allocated $1,626 to two Community Service Commission groups and two groups outside of the CSC.

Christina Read, Student Wellness commissioner, said the SWC programming fund allocated $799.81 towards three events, including the Asian Mental Health Awareness Week and a wellness challenge.
Office Reports:
President Naomi Riley said her office is finishing the transition process to the next USAC council members. Riley said she discussed campus safety and returning to campus in her meeting with the University of California President Michael Drake. She said she advocated for a longer period for identity theft protection after the UC-wide data breach. Riley urged the other offices to pay attention to the Gold Book Letter, a proposal demanding that the UCLA Academic Senate and UCLA Administration publicly voice their opposition to the proposed revisions to university-wide police policies and administrative procedures, also known as the "Gold Book." Riley added that they are waiting for a response from the university administration. Riley urged student leaders to attend the Campus Honorary Naming Committee hearing, where students can participate in discussions to rename and uname campus infrastructure.

Internal Vice President Emily Luong said her office held an event with the Asian American Studies department to provide a healing space for students. She added that her office held a student worker know-your-rights training in partnership with the UCLA Labor Center. Luong said her office is concluding their Drive Down Rent awards that will provide rent relief for students affected by the pandemic. She added that her office will host a panel about abolition with the Campus Safety Alliance.

External Vice President Aidan Arasasingham said his office is preparing for the elections taking place in Westwood and the upcoming USAC elections in May. He said his office will publicize details on the elections to encourage voter registration. He also said his office is working on the transition to next year and compiling resources for the next administration. His office will be working on a federal week of action focused on doubling the Pell Grant, immigration reform and Title IX issues, he said. Arasasingham said he is preparing for a meeting with all the EVP across the UCs and Drake to discuss tuition and affordability, campus safety and plans for fall reopening.

General Representative 3 Elijah Wade said his office is continuing their "but I thought" social media campaign that presents information on the conditions for student-athletes on campus to address misconceptions.

Academic Affairs Commissioner Breeze Velazquez said her office is currently reading Books for Bruins applications. Velazquez said her office is working on their final workshop to educate high school students on pathways into higher education.

Community Service Commissioner Jonathan Wisner said the Robert S. Michaels Leadership in Service Award, which gives $1000 scholarships to 10 undergraduate students who are not graduating this year, is accepting applications. The scholarship would also award $250 to a service organization of the recipient's choice.

Facilities Commissioner Sachi Cooper said she is working on possible changes to FAC bylaws and chances to The Green Initiative Fund grant application guidelines. Cooper said her office is working to ensure project continuity by changing the timeline of committee appointments.

Financial Supports Commissioner Noe Garcia said his office launched the second round of the COVID-19 relief fund. He announced that the recipients should expect their awards in the summer. Garcia said the committee has received over 100 applications since its launch and urged members to publicize the application. The office also recruited readers to finalize applications.

Transfer Student Representative Zuleika Bravo said her office met with the Committee on Teaching to discuss students' return to campus. Bravo said she attended a meeting with the Transfer Leadership Coalition and Vice Chancellor of Student Affairs Monroe Gorden to advocate for transfer housing security. Bravo said the administration agreed to partner with local apartment communities to accommodate transfer students in need of housing. Bravo also said her office hopes to sponsor a Transfer Summer Bridge program, which will support incoming transfer students.