Bruins Adelante Coalition seeks bipartisanship within student government

(From left to right: Courtesy of Lizeth Chimal, courtesy of Herman Luis Chavez, courtesy of Laura Laubach)
This post was updated May 5 at 8:06 p.m.
A new political slate in the undergraduate student election seeks to break down partisan barriers within the student government.
The Bruins Adelante Coalition was formed to address the politicization of the Undergraduate Students Association Council and work toward bipartisanship by being practical and action oriented.
BAC is committed to creating a system that encourages collaboration among everyone on council and casts aside ideological differences, said Laura Laubach, one of the coalition's co-founders and the current USAC general representative 1.
"I don't want to be represented by a partisan council," said Laubach, a fourth-year political science student. "I want to make sure that a council is working together and is united and is making the best decisions based on what the student body needs."
USAC council members should work together regardless of political ideologies or slate affiliation to serve the student body, said Herman Luis Chavez, the current BAC transfer student representative candidate and a third-year comparative literature and ethnomusicology student.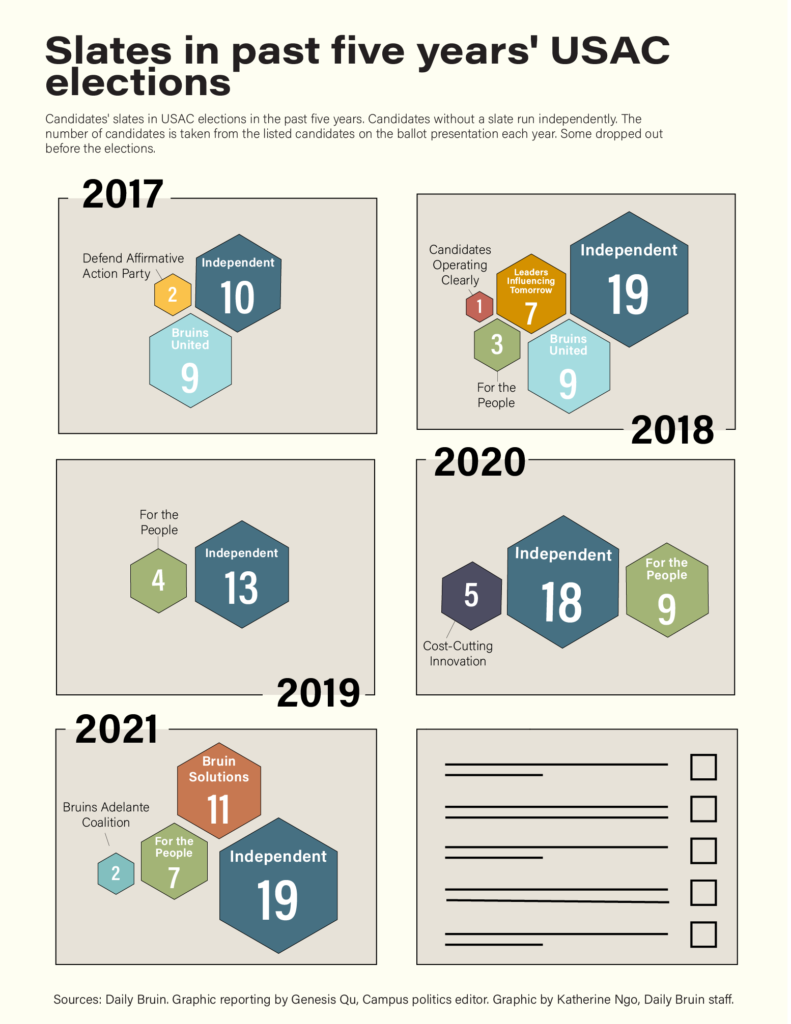 JeiRonemo Thomas, a co-founder of BAC and second-year political science student, said his experience with another slate discouraged him in the past from running for an elected position. BAC provided a renewed sense of belonging and value, Thomas added.
Chavez, a co-founder of BAC, said many students believe USAC is exclusive and is gatekeeping its membership, preferring students who have had previous experience within USAC. BAC aims to expand equitable access to USAC by ensuring those participating in student government reflect the student body, Chavez said.
Lizeth Chimal, the slate's academic affairs commissioner candidate in the current election and co-founder of BAC, said BAC strives to prioritize student organizations by collaborating on matters that are important to them and USAC.
In an effort to improve inclusiveness, the coalition seeks to identify communities of students that have not had a voice in student government, Chavez said. The need to be inclusive also extends to South Campus students, as the majority of current council members are North Campus students, Chavez added.
Chavez said that as a candidate, he is committed to hiring students with disabilities as part of his office's cabinet. Chimal, a third-year communication and gender studies student, said she hopes to expand accountability outside of the AAC office by designating a day for students to share their academic experiences with their professors.
Chavez said he is willing to work with independent candidates or candidates from other slates to establish and meet joint objectives.
"Oftentimes the relationships that council members have with each other is detrimental to the progress of student success," Chavez said. "We wanted to be intentional about creating a slate that removed those basic barriers of polarization of putting candidates or representatives first and return the idea of council to speak for students."
BAC's goals are intended to be implemented within one year, said Alyssa Hemler, co-founder of BAC and a third-year English student. Chimal added that future slate candidates should prioritize practicality when making their platforms, as terms for all council positions are just one year.
Laubach said BAC plans to create a long-lasting foundation through this year's election season.
"BAC, it's like a movement that we want to continue to extend and expand," Laubach added. "We're here to really leave a legacy that will support students, even when we're not here."