UCLA women's soccer looks to improve early play for third-round Clemson matchup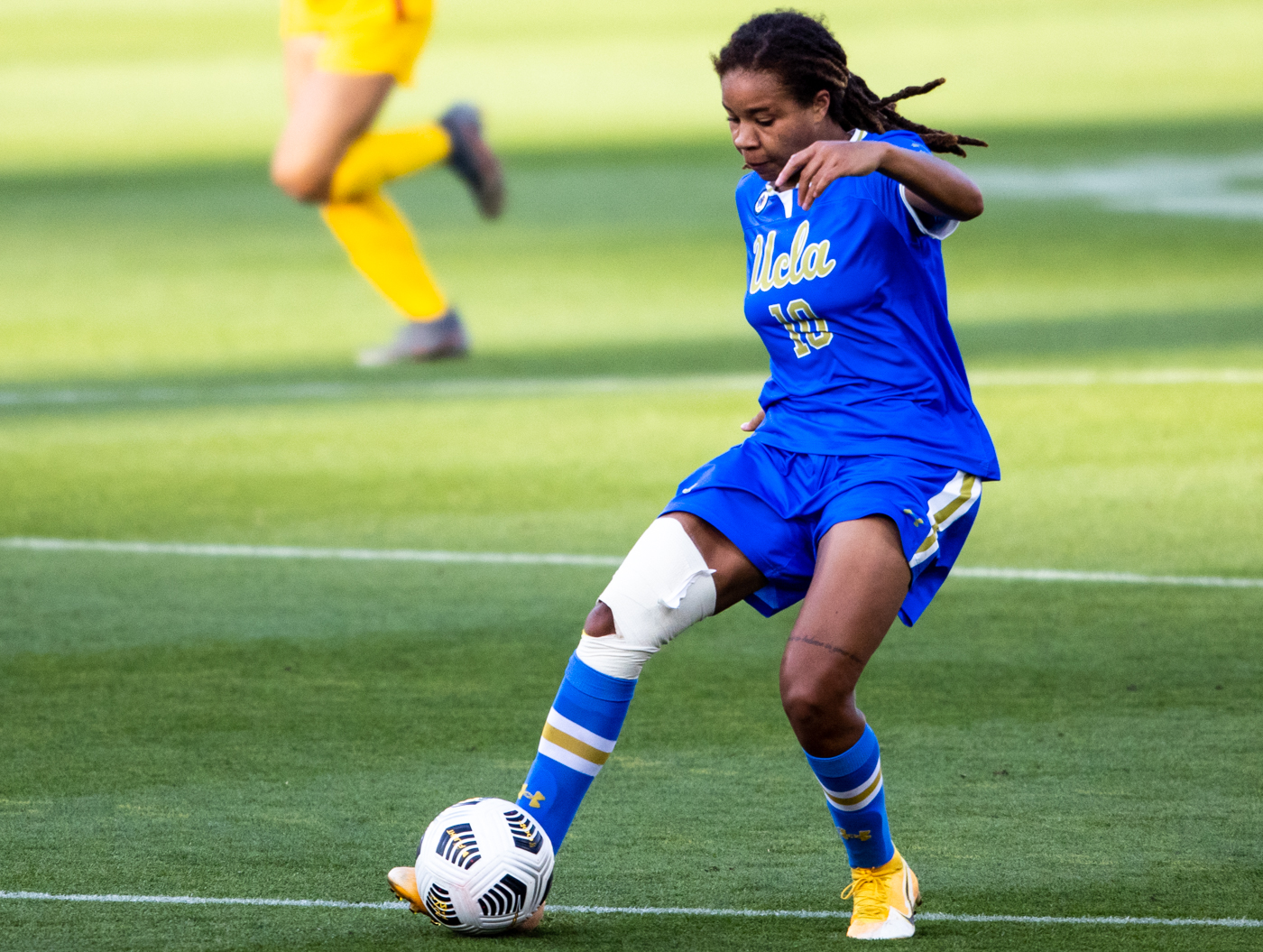 No. 3 seed UCLA women's soccer is in action against No. 14 seed Clemson on Wednesday in the third round of the NCAA tournament. Sophomore forward Mia Fishel scored two of the Bruins' five goals when the two teams met in 2019. (David Rimer/Daily Bruin staff)
Women's soccer
---
No. 14 seed Clemson
Wednesday, 3 p.m.
Cary, North Carolina
Livestream
For the fifth season in a row, the Bruins are headed to round three.
No. 3 seed UCLA women's soccer (13-1-2, 9-1-1 Pac-12) will meet No. 14 seed Clemson (12-4-1, 5-3-0 ACC) in the round of 16 of the NCAA College Cup on Wednesday. The Bruins advanced to the third round of the tournament after a last-minute win Friday in North Carolina.
"We survived," said coach Amanda Cromwell. "We've had a great couple of days; we've seen that anything can happen. We can't take things for granted. It's time for us to compete."
Wednesday's fixture will mark the second straight year the Bruins will meet the Tigers on the road to an NCAA championship. UCLA posted a 5-0 shutout over Clemson in round two in 2019 before it lost to the eventual champion, Stanford, in the semifinal.
This year, Clemson advanced to round three for the first time since 2016 following a 5-3 penalty kick victory over Rutgers on Sunday. Clemson forward Maliah Morris had scored near the 27-minute mark before the Tigers failed to find the back of the net for the remainder of regulation.
"(The Tigers) are a much different team than they were the last time we saw them," Cromwell said. "They're a better team. They're very dangerous and organized. I'd love to say it will be another 5-0 game, but it's going to be a battle."
The Bruins – who earned a first-round bye – also advanced in dramatic fashion, with freshman forward Reilyn Turner scoring two goals in the final six minutes of regulation in round two, turning a 1-0 deficit into a 2-1 victory. UCLA did not allow a score after Iowa's lone goal in the sixth minute.
Senior defender Karina Rodriguez said the experience the team had in round two has caused it to focus on its early gameplay in the third round.
"We know we've got to be ultra-aware of the first 10 to 15 minutes," Rodriguez said. "We have been thinking – can we be the team that dominates? Can we be the team that puts our opponents down a goal early?"
The Bruins have allowed four total first-half goals in 16 games this season – two of which ended in regular-season draws.
However, UCLA's two most recent opponents have taken the lead in the first 10 minutes of regulation, forcing it to play catch-up early to avoid a loss.
Sophomore forward Mia Fishel said the Bruins have learned from trailing in their last two games.
"I've seen that when we go down, we get that energy to score a goal," Fishel said. "We want to have that energy when the game starts. For us, it's going to be about shifting our focus early and making it last through the whole game."
Like UCLA, Clemson also had a first-round bye, and has been riding a seven-game winning streak into the round of 16, only allowing five goals across those games. The Bruins have had five goals allowed in their last four matches, despite owning seven clean sheets on the season.
Cromwell said UCLA will hope to use its bench creatively to dominate in Wednesday's game.
"We have a lot of depth," Cromwell said. "We're going to use that to our advantage and hopefully we'll be the team flying around in the first 20 minutes this time."
The Bruins' game will be one of eight single-elimination matches played Wednesday to decide the women's soccer Elite Eight and will kick off at 3 p.m. on Wednesday afternoon.
"Every game counts," Fishel said. "We need to be a better team than last game because that wasn't who we are. We have more to prove and we need to set the foundation for the rest of the tournament."
Hunt is currently a Sports staff writer on the softball and women's soccer beats. She was previously a reporter on the gymnastics, women's water polo and swim & dive beats.
Hunt is currently a Sports staff writer on the softball and women's soccer beats. She was previously a reporter on the gymnastics, women's water polo and swim & dive beats.