UCLA baseball clinches series victory against Oregon State with shutout win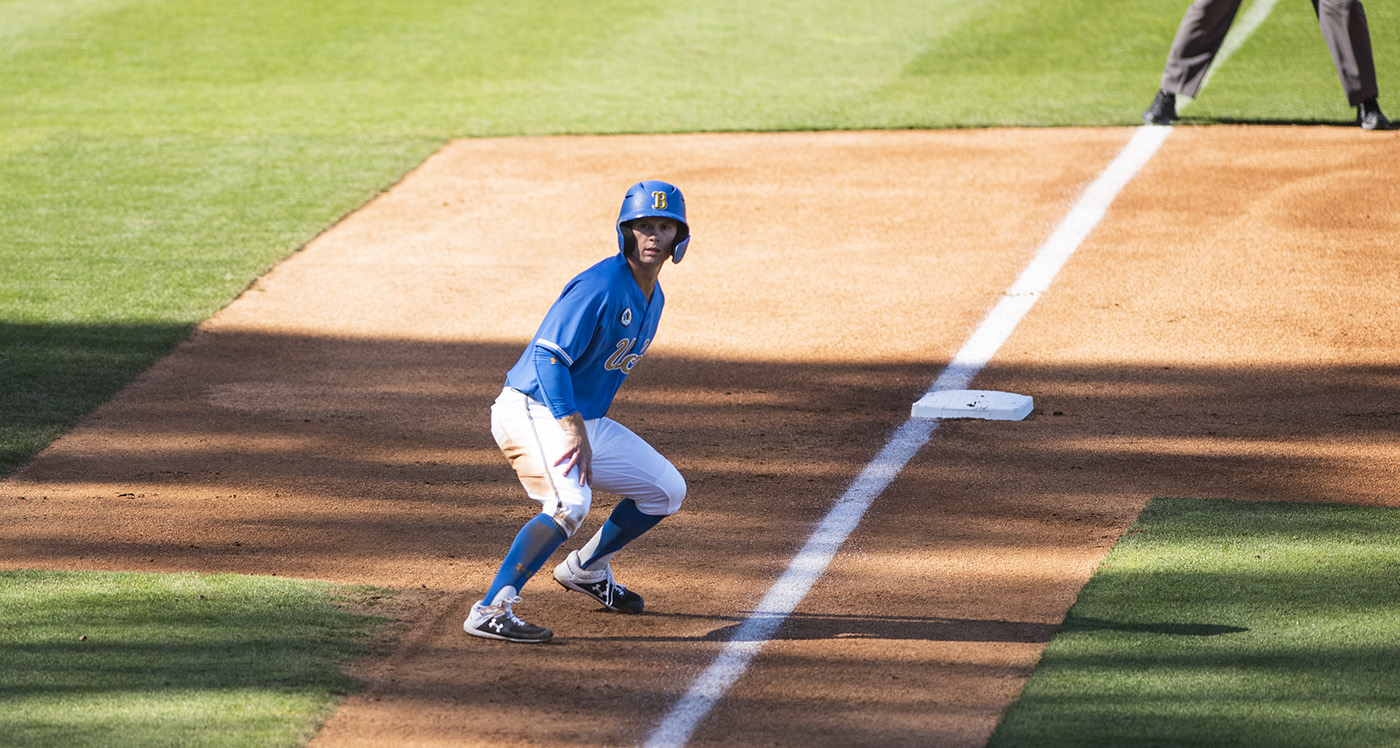 Junior shortstop Matt McLain stole a career-high three bases and scored both of UCLA baseball's runs against Oregon State on Saturday night en route to a series-clinching victory for the Bruins (Jefferson Alade/Daily Bruin)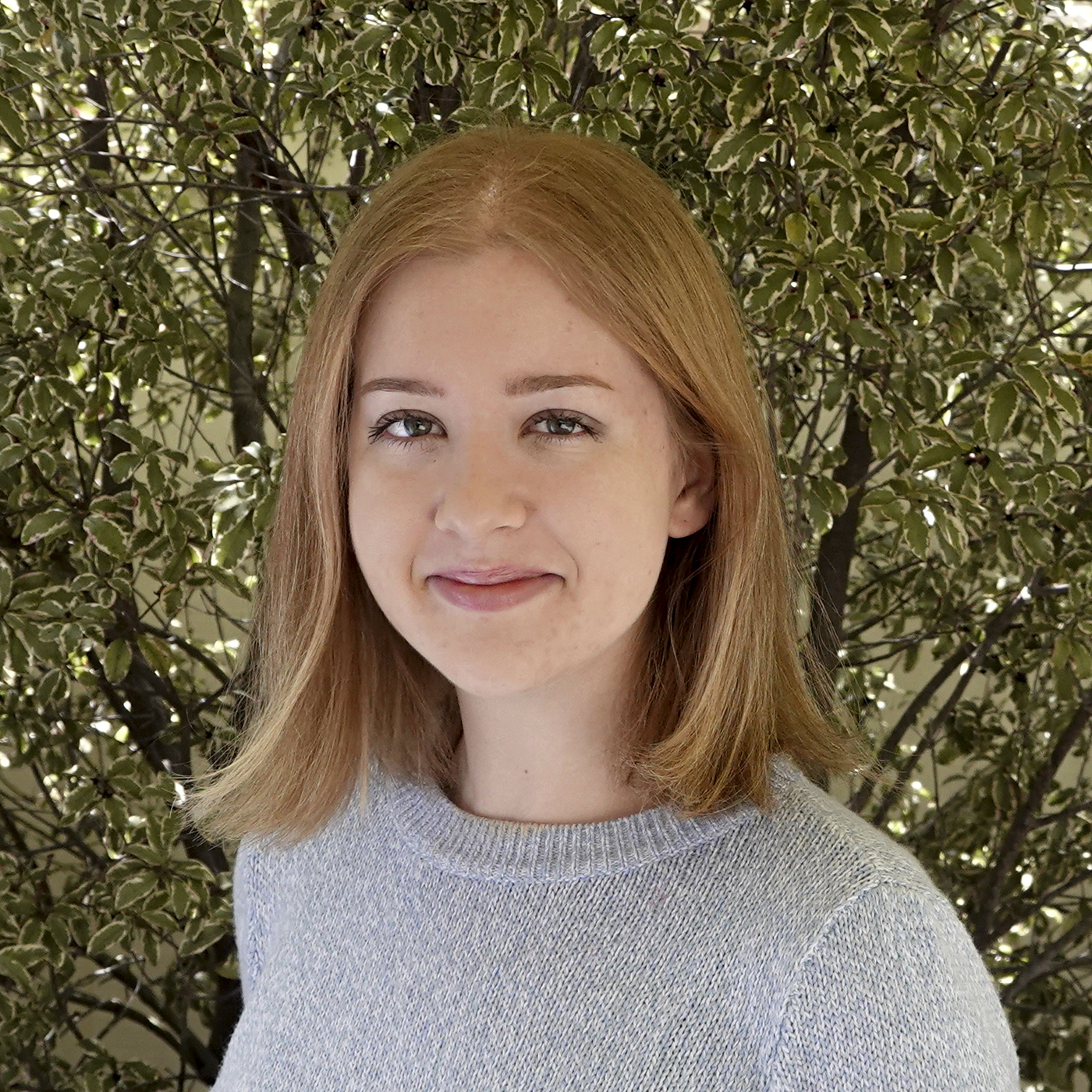 Following a four-hour balk-off win, the Bruins blanked the Beavers to clinch the series win.
UCLA baseball (25-13, 12-8 Pac-12) defeated Oregon State (28-14, 10-7) 2-0 on Saturday night at Jackie Robinson Stadium, taking the series victory with its third shutout of the season. After an extra-inning affair Friday that lasted four hours, Saturday's series-clincher finished 61 minutes quicker.
Keeping the Beavers at bay throughout the contest was junior right-hander Sean Mullen, who picked up his eighth win on the season. The Pac-12 wins leader tossed 5.1 frames, striking out five while also walking five.
"I was in a rhythm with the game," Mullen said. "I didn't have too much time in between innings in the dugout – which isn't a bad thing – just kind of getting into the dugout, getting three outs and going back out there, just trying to get in that rhythm and build it up. We kind of fell into the rhythm of the game. Thankfully, we got one run, and that was all we needed."
Junior shortstop Matt McLain's leadoff double in the fourth inning was UCLA's first hit of the ballgame and extended his team-best hitting streak to 16 games. McLain stole third base – his second steal of the night – then scored on a wild pitch to give the Bruins a 1-0 lead.
Toeing the rubber for Oregon State was left-hander Cooper Hjerpe, who threw a career-high 106 pitches in 6.2 innings. Hjerpe allowed only three hits, including McLain's fourth-inning double, while punching out nine.
"(Hjerpe had) pretty good stuff," said coach John Savage. "Left-hander, has a very good fastball, competes, he's in the zone, he's got deception. He's pretty darn good. We were fortunate to get a run. It was a wild pitch that got us a run basically, and then he strikes the next two guys out, so I think we were pretty fortunate to get that run across."
McLain led off the bottom of the eighth with his fifth walk of the series. The shortstop stole his third base of the night to advance to scoring position and bring his perfect steals record to 9-for-9 this season. Redshirt senior left fielder Kyle Cuellar singled McLain home to double the Bruins' lead to 2-0.
"I'm just trying to get a good jump off the pitcher like I was earlier in the game," McLain said. "I thought I could get a good jump off that guy and get to second for Kyle to hit me in from second. I was trying to get in a good position for him to hit me in and he did. He did a great job."
UCLA's four relievers combined for only two hits, no walks and five strikeouts, maintaining the Bruins' lead.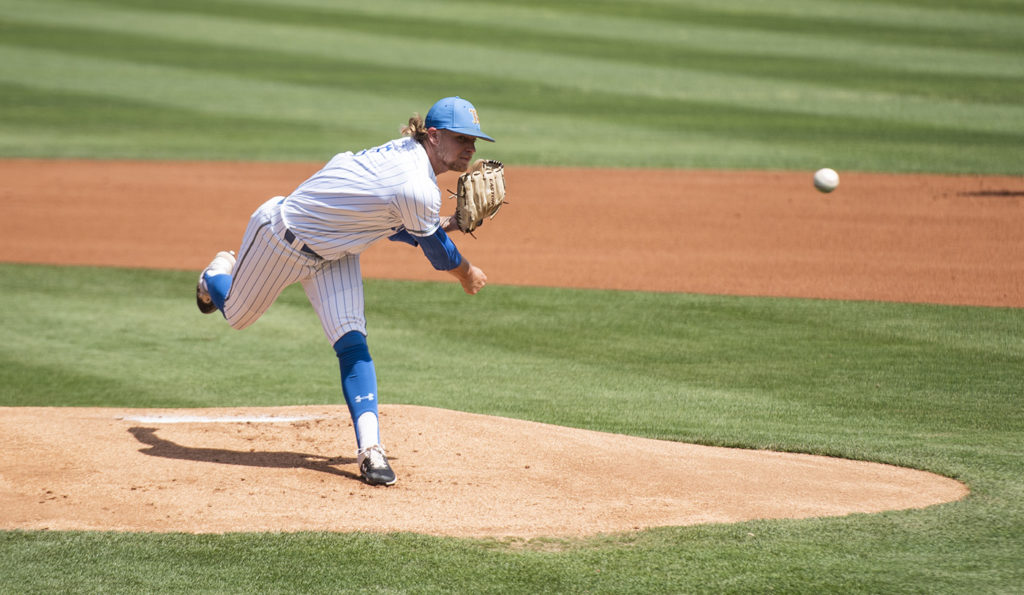 "Those guys in the bullpen don't get talked about enough for what they do and how hard it is to succeed and do what they do night in and night out," Mullen said. "I've been really impressed with how the bullpen's been throwing. Those guys don't get enough credit for what they do and tonight was just another example of that."
While the Bruins entered the ninth inning down 4-1 in Friday's series opener, it was the Beavers who found themselves in a hole with only three outs to go in the Saturday contest. Catcher Troy Claunch knocked in a leadoff single, advancing to second on a ground out.
Freshman right-hander Max Rajcic, however, stifled any attempt at a comeback and struck out pinch hitter Kyle Froemke to secure the save and the series win for the Bruins.
"It was good to get two wins under our belt against a good Oregon State team, but now we're just looking forward to tomorrow," McLain said. "Friday and Saturday are behind us and now we're just looking forward to playing Bruin baseball tomorrow coming up, ready to go from pitch one."
Simons is currently a reporter on the baseball and women's tennis beats.
Simons is currently a reporter on the baseball and women's tennis beats.