UCLA baseball stages 5-run comeback to seize home victory over Oregon State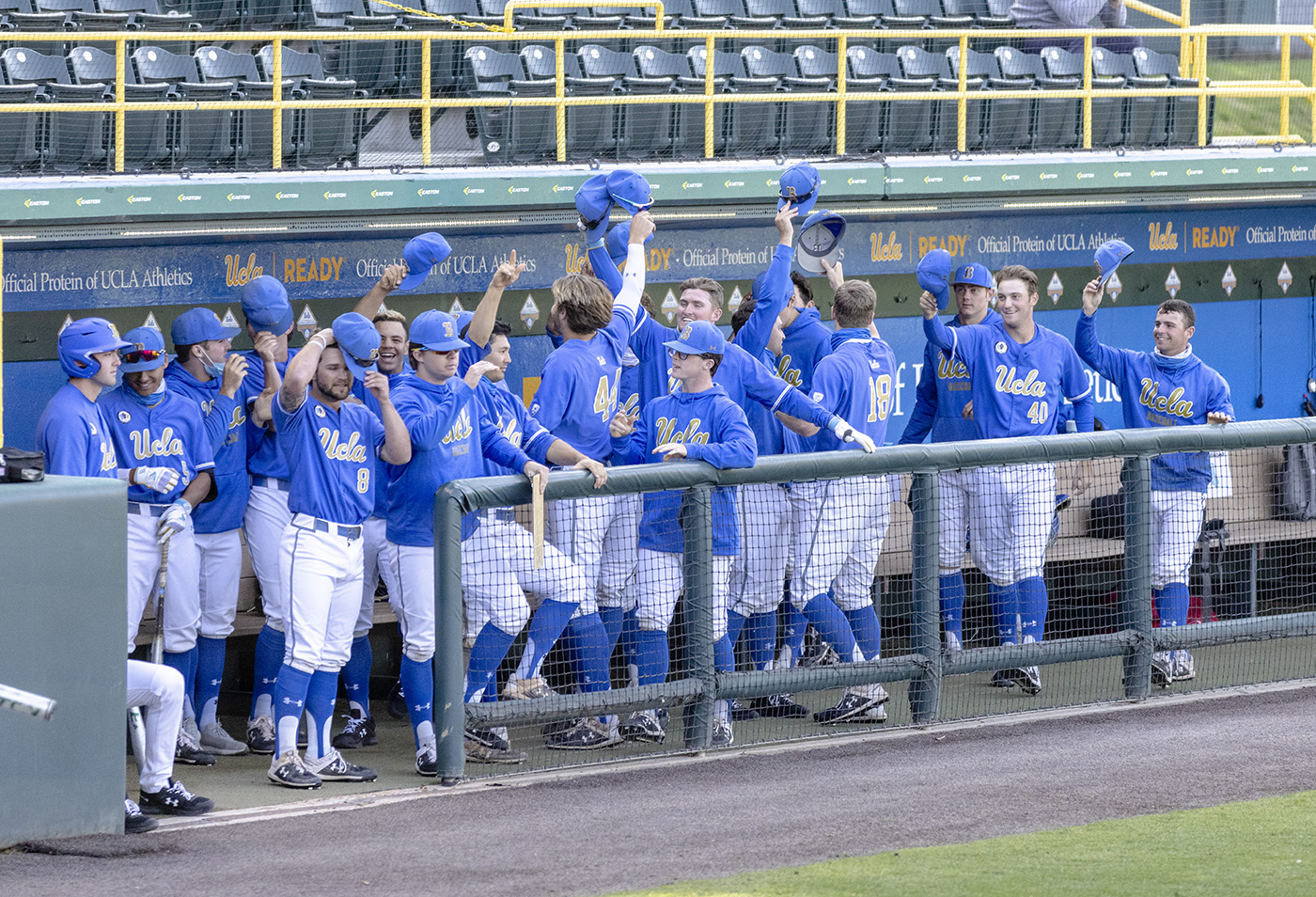 UCLA baseball got a gift from Oregon State in the bottom of the 10th inning as the Bruins came from behind to walk-off the Beavers – with a bases-loaded balk. (David Rimer/Daily Bruin staff)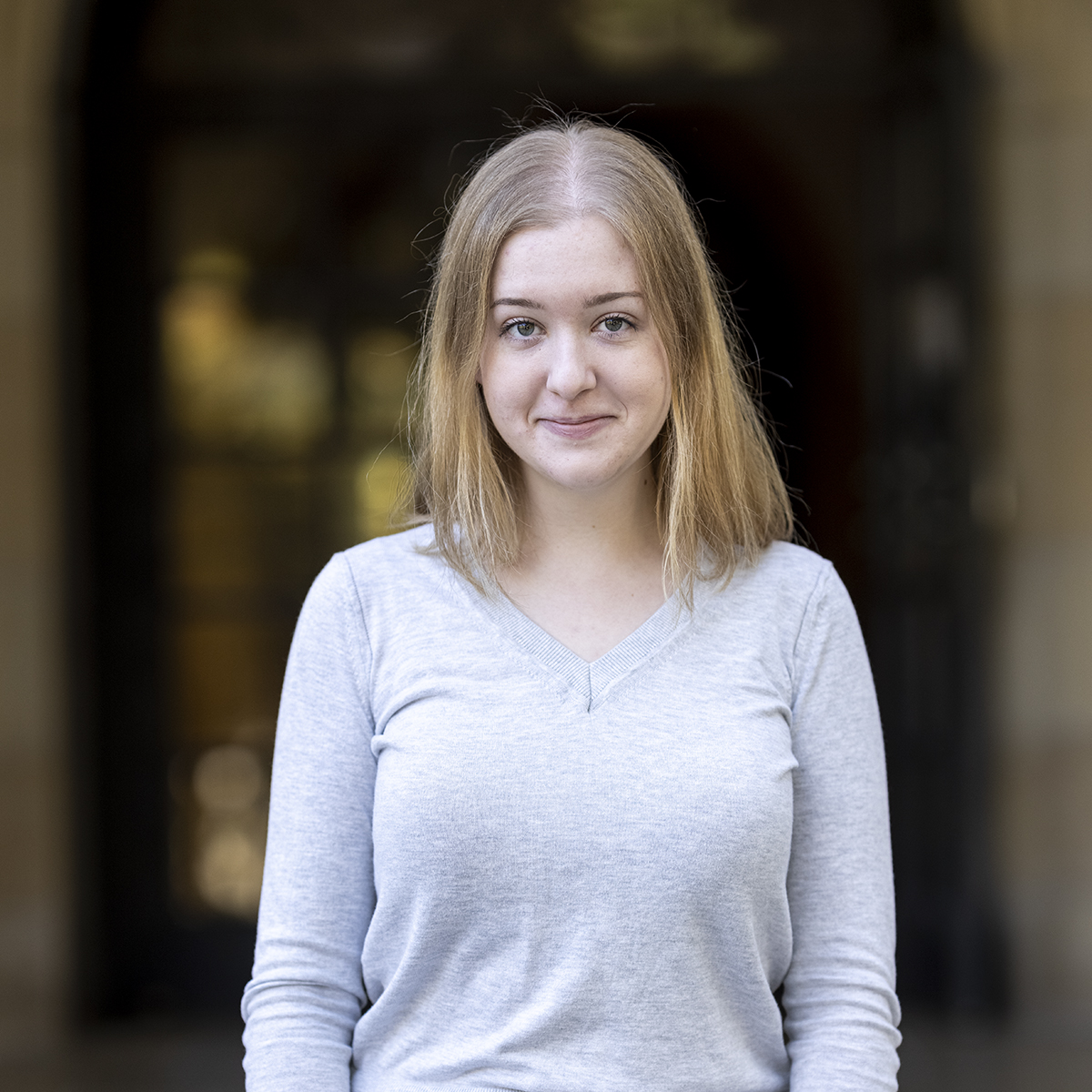 The Bruins recorded only two hits through eight innings.
Five hits, two innings and an intentional walk later, the blue and gold stormed out of the dugout to swarm a player who did not even see a pitch in his lone plate appearance of the game.
Down four runs in the ninth, UCLA baseball (24-13, 11-8 Pac-12) staged a five-run comeback over two frames, all culminating in a walk-off balk, with freshman second baseman Daylen Reyes standing in the box to take the first contest of the series against Oregon State (28-13, 10-6) 6-5 on Friday night at Jackie Robinson Stadium.
"It was a crazy game," said coach John Savage. "It was a pretty clean game really for about the first six or seven innings and then it got a little crazy in the last two or three innings."
In a last-ditch effort to save the game, the Bruins loaded the bases on three consecutive singles in the bottom of the ninth, good for their third, fourth and fifth hits of the night. Redshirt sophomore first baseman JT Schwartz earned a free pass to bring UCLA within three.
With only one out left in the contest, Savage called on junior designated hitter/pitcher Jack Filby – the walk-off hero twice earlier in the season by taking four straight balls – to pinch hit. Instead of taking a free base, Filby lined a double to right-center, clearing the bases and tying the contest at five runs apiece.
"It was obviously a great feeling," Filby said. "I couldn't have done it without my teammates getting on base, having great at-bats but just trying to do the best that I could and trying to get the best swing that I could and just see what happened. So obviously that felt great to tie the ballgame and give the team a chance to win."
Freshman right-hander Max Rajcic kept the Beavers from taking the lead in the 10th, giving the Bruins another shot at victory.
Freshman third baseman Kyle Karros led off the bottom of the 10th with a single, followed by a walk to redshirt junior center fielder Kevin Kendall. With runners on second and third and one out, Oregon State intentionally walked junior shortstop Matt McLain – giving McLain his fourth base on balls on the night – in favor of pitching to Reyes.
Pitching in his second inning of relief, right-hander Jack Washburn flinched while he was coming set, balking home the game's winning run.
"This year has been crazy," Filby said. "We want to win in any fashion if that's including a balk, which is fun. Our priority is winning ballgames and putting together good at-bats and I think we did that throughout the night for sure."
The Beavers opened up the scoring in the contest with a walk and a pair of singles to collect a run in the second, and UCLA mirrored Oregon State's performance, bringing home an unearned run on a base hit in the fourth. The score remained deadlocked at 1-1 for the next three innings.
First baseman Justin Boyd singled through the left side to lead off the seventh, bringing senior right-hander Zach Pettway's night to a close after 6-plus innings. Despite striking out a season-low one batter, Pettway managed to allow only four hits, only one of which went for extra bases, and no earned runs.
"It's about outs – it's always about outs – so he did a good job of putting the ball in play," Savage said. "He competed and that's all we're looking for on a Friday night. He's not a guy that's going to strike out 10 to 12 guys, he's not that type of pitcher. He didn't have his best stuff tonight, clearly, but he got through six innings… so you got to tip your hat."
Oregon State's first two batters in the eighth both reached base, and back-to-back extra-base hits off senior right-hander Michael Townsend gave the Beavers their second lead of the night, 4-1 after eight.
An RBI double by second baseman Ryan Ober in the top of the ninth gave Oregon State an extra cushion, but between UCLA's four-run bottom of the ninth and bizarre walk-off in the 10th, the lone run was not enough to steal the first game of the series.
Friday night marked the Bruins' third consecutive extra-innings game, and Pettway said the momentum leading up to this win started in their last series against Oregon.
"I think it kind of started in Oregon," Pettway said. "If you watched the Saturday and Sunday games when we were out there, we played really well. Saturday's game had nothing to show for it but Sunday's game we came back, so I think we're doing a really good job of just staying with games, kind of outlasting teams so it's nice to see us kind of do that and get a win on Friday."
Simons is the 2022-2023 managing editor. She was previously an assistant Sports editor on the baseball, women's tennis, men's tennis, swim and dive and rowing beats and a reporter on the baseball and women's tennis beats.
Simons is the 2022-2023 managing editor. She was previously an assistant Sports editor on the baseball, women's tennis, men's tennis, swim and dive and rowing beats and a reporter on the baseball and women's tennis beats.