The Quad: Pre-med students switch educational paths, explore different careers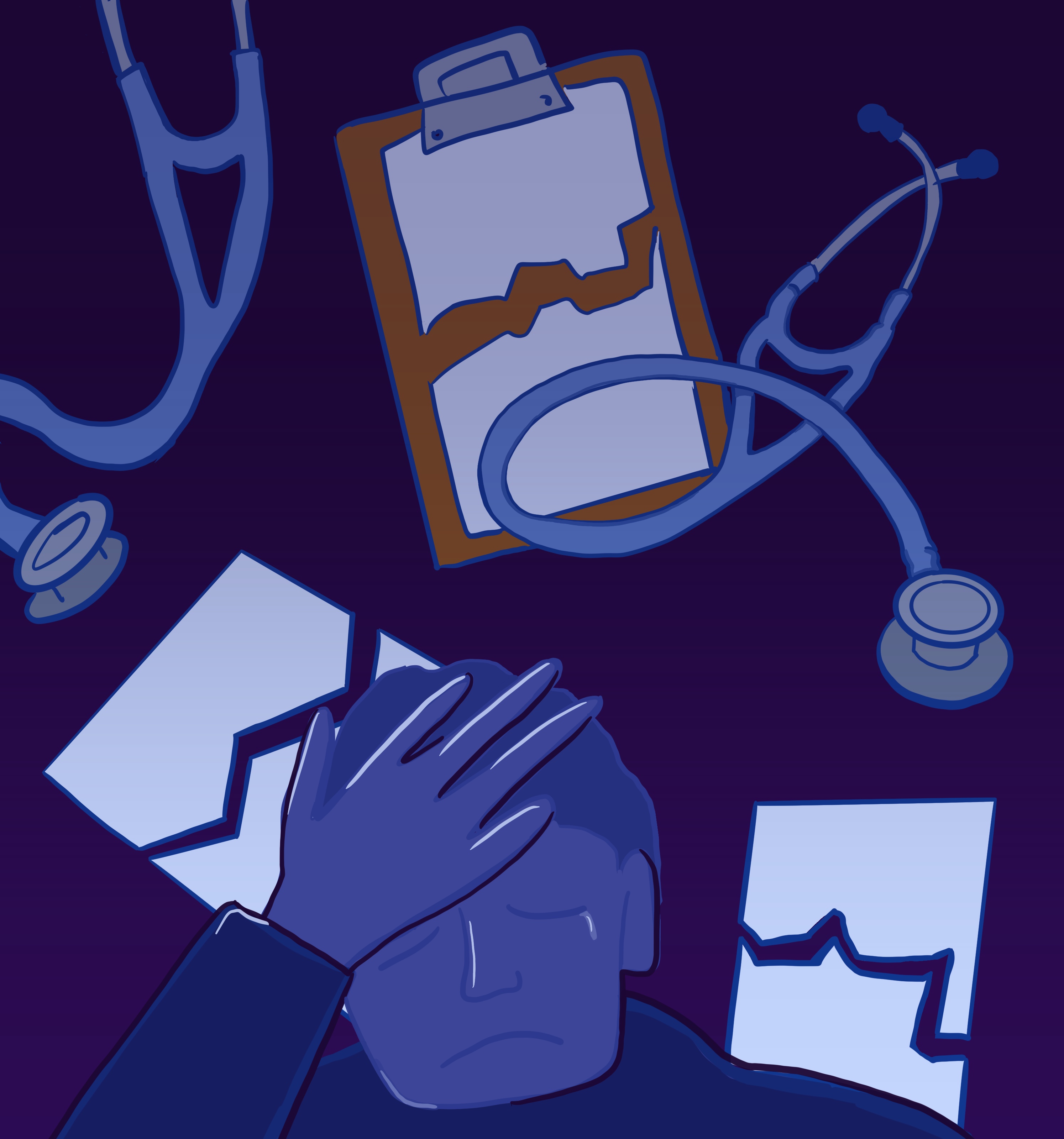 (Emily Dembinski/Illustrations Director)
As daunting as it may seem to pick a career path fresh out of high school, the good news is you can always change your major – around 30% of UCLA students do.
But when it comes to switching out of a career path like the pre-med track, the decision may hold more weight.
There certainly are a number of boxes to check on the pre-health path. From biology, physics and chemistry, classes and labs – all with their own prerequisites – to writing and humanities courses, students embarking on a pre-health path have a lot on their plate.
Anne Combredet, a first-year aspiring sociology student, started UCLA as a pre-med biology major but said she came to realize medicine was not right for her after dreading every class in the infamous Life Science 7 series, finding true enjoyment in a sociology course instead.
Combredet added that her family urged her to follow the pre-med path because of the vast options and opportunities it would bring her post-graduation.
"I just took their advice," Combredet said. "My parents always told me that if you do anything like English or anything social sciences really, 'How are you going to get a job?'"
Through actually taking pre-med classes, however, Combredet said she realized she didn't want to spend so much money on a degree she didn't even enjoy.
Mona Moshfegh, a second-year neuroscience student, said she has also dealt with the pre-med struggle. She said she doesn't feel as passionate about it as she thinks she should be.
"I feel like my whole life my parents really chose that I'm going to be pre-med," Moshfegh said. "So, I just didn't really think of anything else that I can do, but I am starting to research what other things I could do that I might be more interested in."
Kevin O'Donnell, a third-year integrative biology and physiology major, said he switched out of pre-med to pursue a career in medical engineering after a slurry of exploration.
As someone who had always been a fan of chemistry and biology, O'Donnell said he felt like he should go into pre-med partly because he wasn't aware of any other options.
"I also didn't really know of any other options at the time that this kind of major feeds into or the other opportunities associated with it – because for the most part, especially freshmen, everyone you talk to is pre–med," he said.
Like others at UCLA, O'Donnell said he was just unaware of the other career possibilities in his major.
Ultimately, O'Donnell said he was able to find the professional sector that melded his interest in science and making a difference, without needing to go to medical school.
That said, there are others who switch from being pre-med to an entirely new career path.
Alumna Graziella Cannarsa began her time at UCLA as pre-med and even graduated as a psychobiology major. While she said she hopes to somehow fulfill her passion for medicine in the future, she is currently the head of HR operations and finance at a start-up.
Cannarsa said her experience working in labs, and even in a hospital, helped her realize being a doctor was not something she'd want to do for the rest of her life, despite enjoying medicine.
"Before you decide on (medicine), fully explore other areas so that you can cross off as many alternatives as possible and feel more confident in your choice," Cannarsa said.
As Combredet was filled with the worry of making such a huge change in her education, she said she consulted fellow former pre-med students before making her decision.
"The main thing that I heard from everyone when I was thinking about switching from pre-med was, if you don't absolutely love it, you should not do it, because it's such a commitment," she said.
Fellow Bruins have realized a path is never set in stone. Whether you'll head to the hospital to clock in or just get your yearly check-up, know that the decision is yours to make.