International students express concern regarding vaccinations in home countries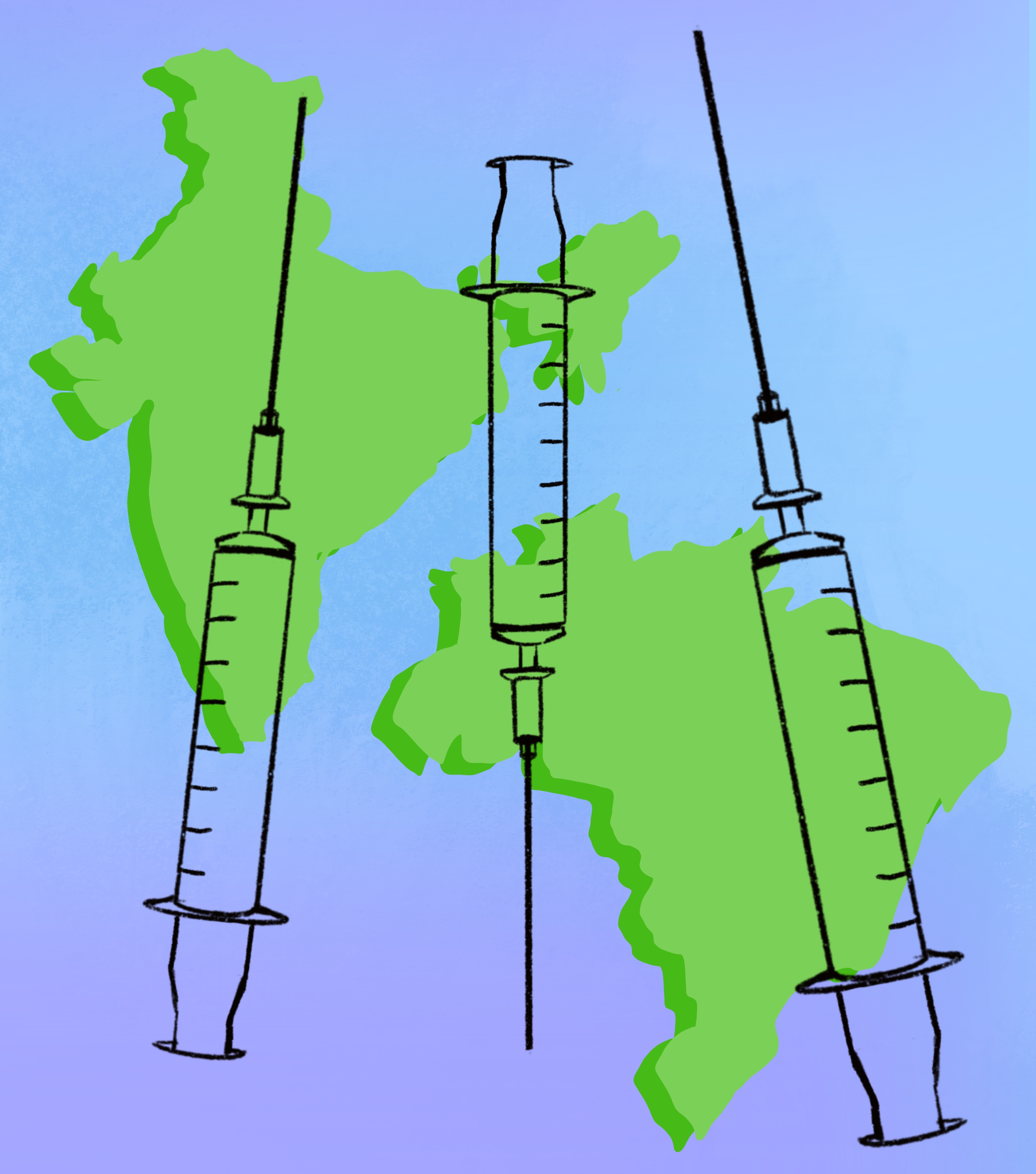 (Emily Dembinski/Illustrations director)

Bruins come from all around the world, from Colombia to Bangladesh. Because of the pandemic, many international Bruins are currently residing in their home countries. In "At a Distance," Daily Bruin writers will look at events around the world Bruins care about and give a student's perspective on the topics.
This post was updated May 2 at 9:15 p.m.
As COVID-19 cases begin to increase internationally, international students are worried about their home countries' responses to the disease and slow vaccine distribution.
The United States, India and Brazil are the three countries with the highest number of confirmed COVID-19 cases as of April. As of April 20, the U.S. has had over 32 million cases, followed by India with more than 17 million cases and Brazil with more than 14 million cases. However, India's daily number of infections passed the U.S. and Brazil on Thursday as the country was hit by a second wave and a new mutation of the virus.
Thursday, India reported more than 300,000 COVID-19 cases over the span of 24 hours, the highest daily number of infections on record globally.
Brazil is currently being affected by a new variant of the virus, which is suspected to be three times more contagious than previous strains of the virus.
Meher Kaur, a third-year business economics student and UCLA's international student ambassador from India, said there are shortages of medicine and hospital beds in India due to the increased caseload.
Kaur said two people can share a hospital bed, while medicine can cost up to 5,000 rupees, which is approximately $67. Medicine costs, which are supposed to be free, now cost more than what the average person makes in India, she added.
Many health experts believe India is facing a deadlier second wave of the virus, which seems to be affecting younger people, according to The Telegraph. Sixty-five percent of newly hospitalized patients in Delhi were below 40 years old. Oxygen supplies are also running low, according to The Guardian.
Additionally, Kaur said the Indian government is planning to make vaccines available for everyone aged 18 years and older by May 1. According to Indian Express, India's vaccination distribution was initially limited only to health care workers, but vaccine registrations for frontline workers were halted in April after several vaccination centers were found violating guidelines by vaccinating ineligible beneficiaries.
Similar to India, the new COVID-19 strain in Brazil is affecting younger people. In Brazil, patients less than the age of 40 now make up the majority of patients inside intensive care units. As of April 20, Brazil reported an average daily number of 65,000 new cases in the last seven days.
Ana Luiza Sardenberg, a first-year biochemistry student and an international student from Brazil, said the situation in Brazil is apocalyptic. She said her father, who is a lung surgeon and frontline health care worker in São Paulo, has to turn away his cancer patients because the operation rooms are filled with COVID-19 patients.
Many hospitals in São Paulo had to shut down their emergency rooms because of shortages of medical supplies, Sardenberg said. People who came seeking help for emergencies that are not related to COVID-19 are turned away because there is no space in the emergency rooms, she added.
Sardenberg said a lockdown is needed in Brazil right now, but complete closure cannot be implemented because it might endanger the lives of the people who rely on the minimum wage to live and provide for their families.
She said with the current distribution rate in Brazil, there is a possibility she might not get vaccinated until next year.
UCLA officials announced in a town hall Monday that international students would be provided vaccination upon arrival at UCLA.
According to CNN, Brazilian health officials initially announced they would manufacture AstraZeneca's vaccine in Brazil with a goal of producing 30 million doses in January. Brazil's vaccine control agency granted AstraZeneca's vaccine emergency use authorization Jan. 17, but a lack of an active ingredient needed to make the vaccine had caused a halt on the production of vaccines.
"A lot of us just can't rely on our own country's vaccination schedules," Sardenberg said. "I can't rely on the Brazilian government's vaccination schedule."
Students from Italy said they would not be getting the vaccine until August or September.
Costanza Boncompagni Ludovisi, a third-year communication and psychology student and UCLA's international student ambassador from Italy, said she feels the Italian government has not organized the distribution of vaccines well. Boncompagni Ludovisi, who is currently in Milan, said there are still many citizens above 70 and 80 years old that have not received the first dose of the vaccine.
She said the younger population in Italy might not get vaccinated until August or September.
"It's kind of very disappointing," Boncompagni Ludovisi said. "Especially seeing how many (young people) in the U.S. are already vaccinated."
Currently, Italy is one of the top-10 countries with the highest number of coronavirus cases.
Sardenberg said many people in First World countries do not understand that vaccines are a luxury in many parts of the world.
"The thing is, I want to get vaccinated," she said. "I want to get vaccinated so bad. If I could get vaccinated, I would be vaccinated 10 times already."
Emilia Paini, a second-year philosophy and sociology student and an international student from Italy, said she received the first dose of the vaccine in the U.S. after she returned from Italy during the beginning of spring quarter.
Paini said she did not expect to get the vaccine so soon because of her status as an international student. Currently, LA County does not require a U.S. citizenship to receive the vaccine.
"I'm so happy about it," she said. "I wasn't expecting it to be this quick."
Kaur added that she feels the vaccine distribution in the U.S. has been methodical and accessible. Kaur, who is currently in the U.S., said she has also received the first dose of the vaccine.
Sardenberg said the U.S. embassy in her hometown, São Paulo, has not announced when it would issue student visas, but if it is possible, she would love to go to the U.S. and get vaccinated.
"God, I'm so jealous, so envious," Sardenberg said. "If only I could be in the United States to get vaccinated right now."