Beach volleyball to compete in Pac-12 championships on home sand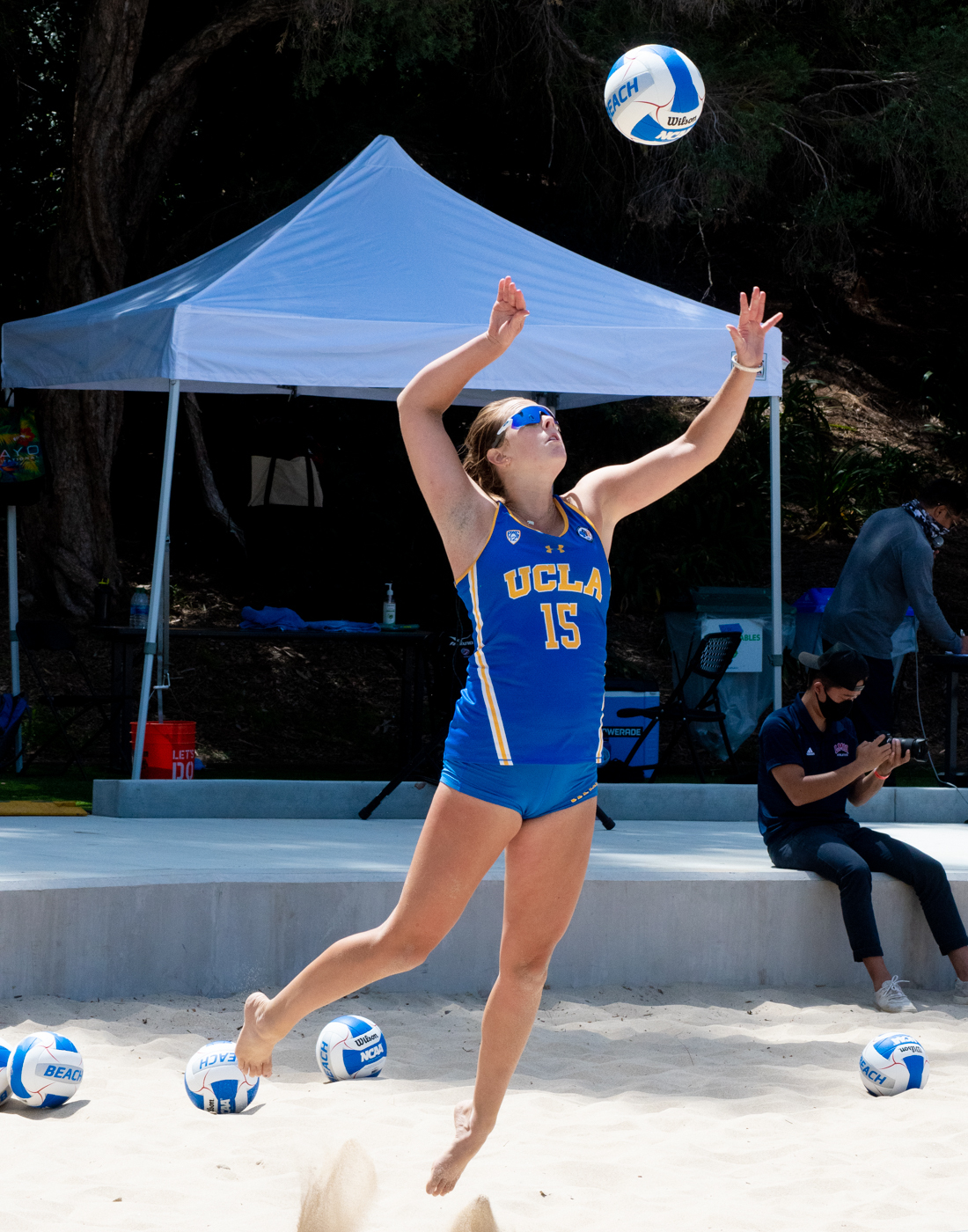 Coach Stein Metzger has two national championships for No. 2 seed UCLA beach volleyball under his belt, winning in 2018 after taking the Pac-12 title. The blue and gold lost the conference championship match in 2019, however, before the Bruins were crowned the country's top team. (Jefferson Alade/Daily Bruin)
Beach Volleyball
---
No. 7 seed Washington
Thursday, 9:45 a.m.
Mapes Beach
Pac-12 Networks
April 28, 2021 12:35 p.m.
Midterms haven't been the only thing these Bruins are preparing for.
Playing up to seven games in three days in a field of eight possible opponents, No. 2 seed UCLA beach volleyball (24-3, 10-0 Pac-12) may have another test ahead of it in the Pac-12 championships.
Facing No. 7 seed Washington (4-11, 0-7) on Thursday at Mapes Beach, coach Stein Metzger said his team anticipated its first-round matchup and the rest of the Pac-12 competition since the regular season ended.
"The preparation is not from scratch," Metzger said. "(The players are) ahead of the curve right now, plus it's midterms. They're shouldering a lot of homework, and they're doing a lot of the scouting reports now so they know (Washington) or (their opponents) better."
The Bruins will enter the conference tournament having swept at least once every lower-seeded team they faced during the regular season, including a 5-0 shutout of the Huskies at the Pac-12 North Invitational on April 11.
Should UCLA repeat its regular-season performance over Washington, it'll go on to face the winner of No. 3 seed Arizona and No. 6 seed Arizona State on Friday.
Regardless of the outcome, Metzger said the Bruins will be accustomed to any given team's schemes and personnel.
"We have scouting reports on everyone," Metzger said. "We've been updating them with information and comparing what their pairs look like – depending on how they were earlier."
The Bruins will also play at home for the duration of the tournament. After last season was cut short because of the COVID-19 pandemic, the blue and gold will have the chance to host the conference championship in the second year of playing at its new facilities.
For graduate student Savvy Simo, who will appear alongside her season-long court one partner freshman Lexy Denaburg, the familiarity of home court presents advantages in more ways than one.
"We play in the deepest sand you can get, which has been nothing but good for us," Simo said. "We get kind of a swirly wind up in Sunset (Canyon Recreation Center) so that can throw teams off because it switches a bunch. … Also when the sun hits behind the trees, there's spots that are kind of hard to see from."
Like the wind, the Bruins will also switch things up with a new court pairing. Metzger, who declared his lineup Monday along with the other Pac-12 teams, said he expects his starters to be set in stone for the tournament.
The postseason requires all schools to declare lineups days before the tournament to give time for teams to protest pairings.
After missing the past three matches, Lindsey Sparks will be likely to suit up alongside Abby Van Winkle on court three. The sophomores, who have yet to appear in a dual this season, went undefeated in 2019 and won the first-ever beach volleyball triple crown as high school teammates.
Junior Megan Muret will be returning to court four with graduate student Jacqueline Quade and said she prioritized building chemistry off her past few performances.
"Every practice I'm just coming in with a lot of intention to just get better no matter who I'm playing with," said Muret, who filled in for Sparks at court three to end the season.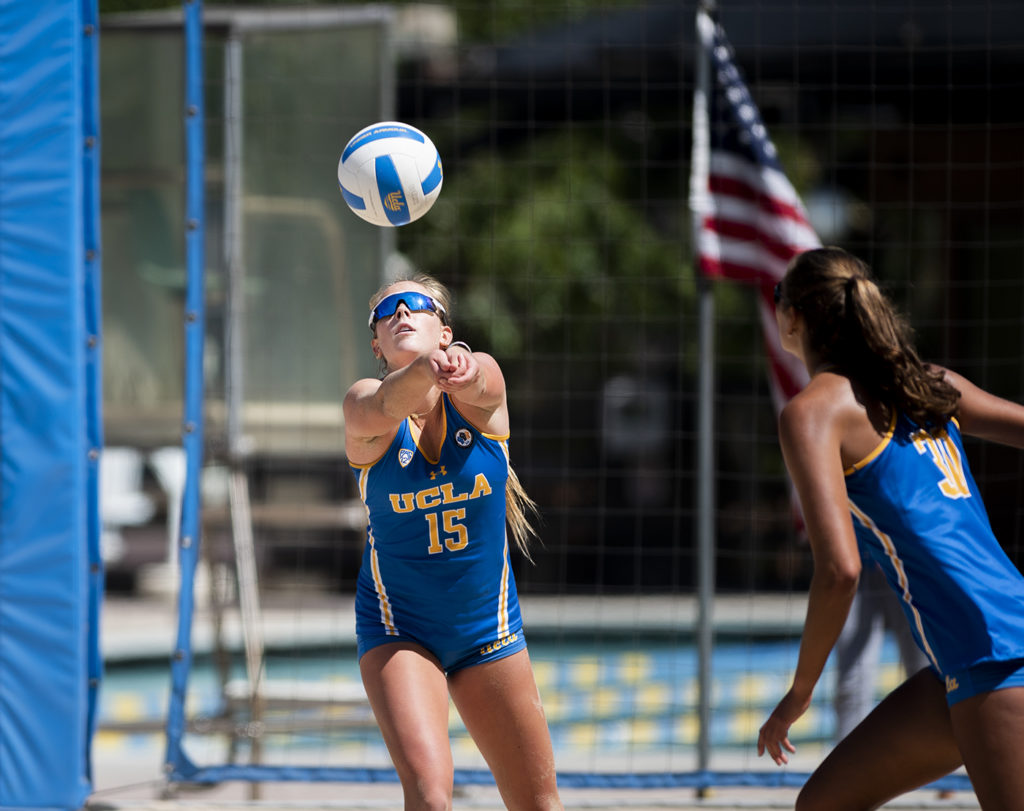 Expected to round out the rest of the lineup will be junior Lea Monkhouse and freshman Devon Newberry on court two along with freshman Rileigh Powers and redshirt freshman Jaden Whitmarsh on court five.
In order to capture a Pac-12 title, UCLA may have to beat the reigning conference champions USC. The Bruins would also be at full strength against the Trojans for the first time all season, after missing Van Winkle and Sparks on separate occasions.
Muret will be playing in her third and final conference tournament but said the national championship continues to hold precedent.
"I mean, winning Pac-12s would be awesome, but we've got to have our sights set on that national championship," Muret said. "So we're obviously gunning to win (the) Pac-12 (tournament), but if we don't, our sights set on the national championship."
The Bruins' first play from Mapes Beach will begin at 9:45 a.m. on Thursday against the Huskies.
Palmero is currently a Sports contributor on the beach volleyball and women's volleyball beats.
Palmero is currently a Sports contributor on the beach volleyball and women's volleyball beats.