UCLA women's golf falters in Pac-12 championship despite recent success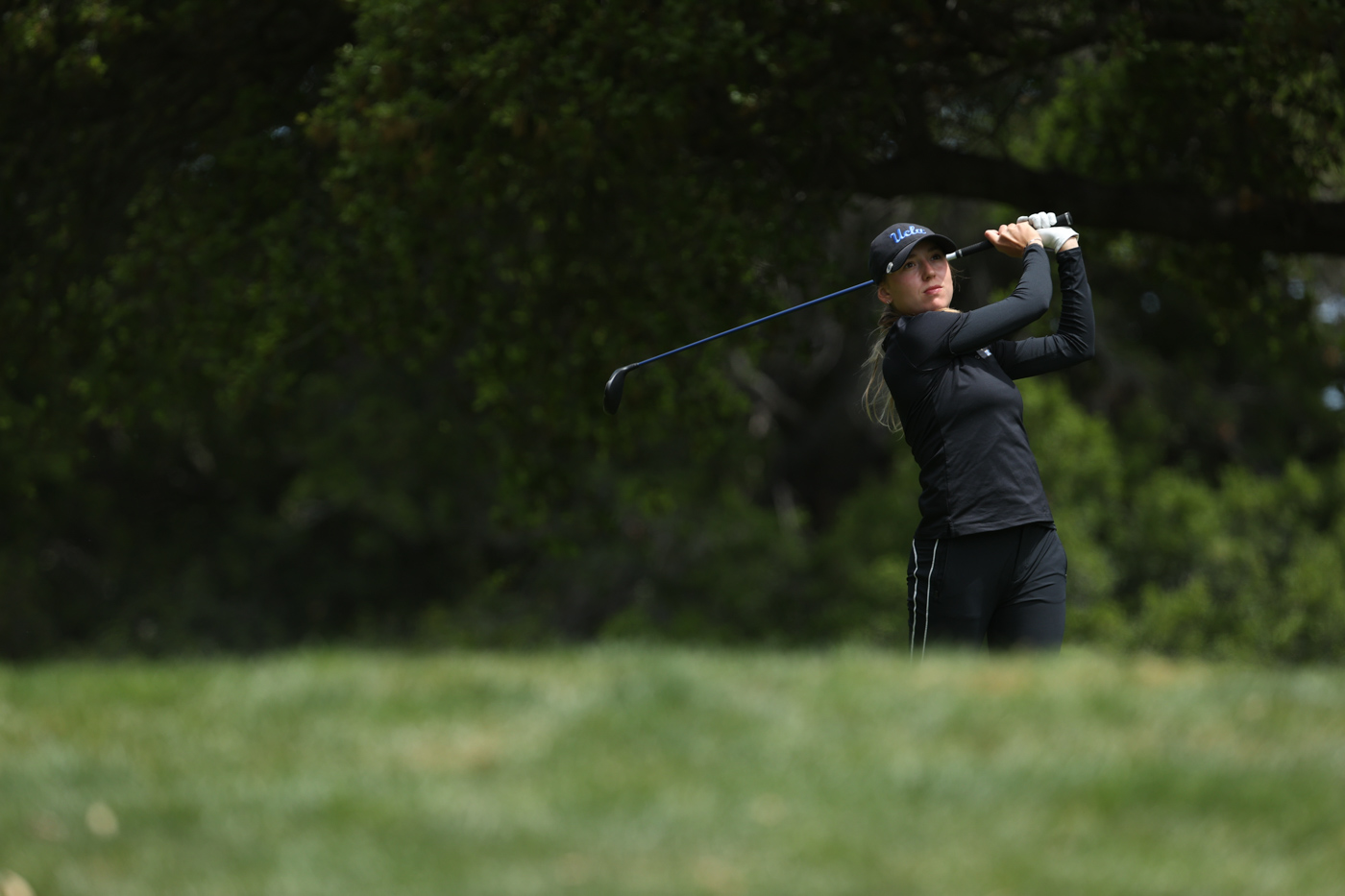 Sophomore Emma Spitz was the sole leader of the Pac-12 championship after two rounds but ended up barely cracking the top 10. UCLA women's golf finished in a tie for fifth place as a team. (Courtesy of Mike Rasay/Pac-12 Conference)
The Bruins' postseason start did not go as expected.
UCLA women's golf finished in a tie for fifth place at the Pac-12 championship after shooting a 23-over 875. Coming off a second-place finish at the Silverado Showdown on April 7, the Bruins were unable to carry their momentum into the first tournament of postseason play.
Finishing day one in a tie for third after shooting a 7-over 291, UCLA then carded its best day of the tournament on Saturday, shooting a 6-over 290. Nonetheless, the team moved down to a tie for fifth. The Bruins completed the tournament in that same spot, logging their worst round of the weekend with a 10-over 294 on Sunday.
Coach Carrie Forsyth said she was disappointed her team seemingly took a step back after its second-place finish just two weeks prior, but she was excited to see where the team is heading into NCAA regionals.
"After a nice finish at (the Silverado Showdown), we came (into the Pac-12 championship) and just did not execute," Forsyth said. "We are like an unfinished artwork – we are making progress and working hard, and when it's done, it's going to be beautiful, but for right now we are just not there yet."
Despite the team's poor performance, UCLA boasted a pair of top-10 finishers. Sophomores Annabel Wilson and Emma Spitz finished the tournament in a tie for seventh and a tie for 10th, respectively. Wilson finished the weekend with a 1-under 212 and Spitz ended with a 1-over 214.
Spitz entered the final round of the tournament with sole possession of first place, after posting a 6-under 136 through 36 holes. The 2020 Golfweek First Team All-American then carded one of her worst rounds in relation to par of the season with a 7-over 78 on day three.
The sophomore said she was disappointed in her final-round performance given how confident she felt about her game heading into Sunday.
"I played really well Friday and Saturday. I think it was probably the best golf I have played all season," Spitz said. "(On Sunday), just nothing went my way. I started off fine, but after a missed short putt on (hole) seven, I just started to hit some bad shots and lost some confidence in my game."
On the other hand, Wilson saw her best rounds come near the tournament's end. After shooting a 3-over 74 on day one, the Northern Ireland native carded scores of 1-under 70 and 3-under 68 on the final two days of the tournament, respectively.
Wilson said the adjustments she made with her physical approach helped her with the mental side of the game, which allowed her to have such a strong final day.
"I feel like I didn't have my best long game the first couple of days, so I just wanted to try to stay around par the first two days," Wilson said. "On (day three), I was able to find a little momentum and was able to make some birdies and gain more confidence in my overall game."
The remainder of the Bruins' lineup did not see the same success as Spitz and Wilson did. Sophomore Yuki Yoshihara shot a 17-over 230, which put her in a tie for 42nd. Sophomore Emilie Paltrinieri was just one shot above Yoshihara with a 16-over 229, and junior Simar Singh rounded out the starting lineup with a 12-over 225.
UCLA will wait to hear its name called Wednesday to see where it will head to play for the NCAA regional tournament. Forsyth said even though the team had a poor performance this past weekend, she cited the UCLA men's basketball team's improbable run to the Final Four as proof that anything can happen in the postseason.
"We are seeing good things, and we just need time," Forsyth said. "Our goal was to peak in May, and we are coming up on May, so hopefully it's time for us to start peaking."
Fenn is currently a Sports reporter on the women's soccer beat. He was previously a contributor on the beach volleyball and men's and women's golf beats.
Fenn is currently a Sports reporter on the women's soccer beat. He was previously a contributor on the beach volleyball and men's and women's golf beats.