Women's water polo ends USC's perfect season with Trojans' worst loss since 2001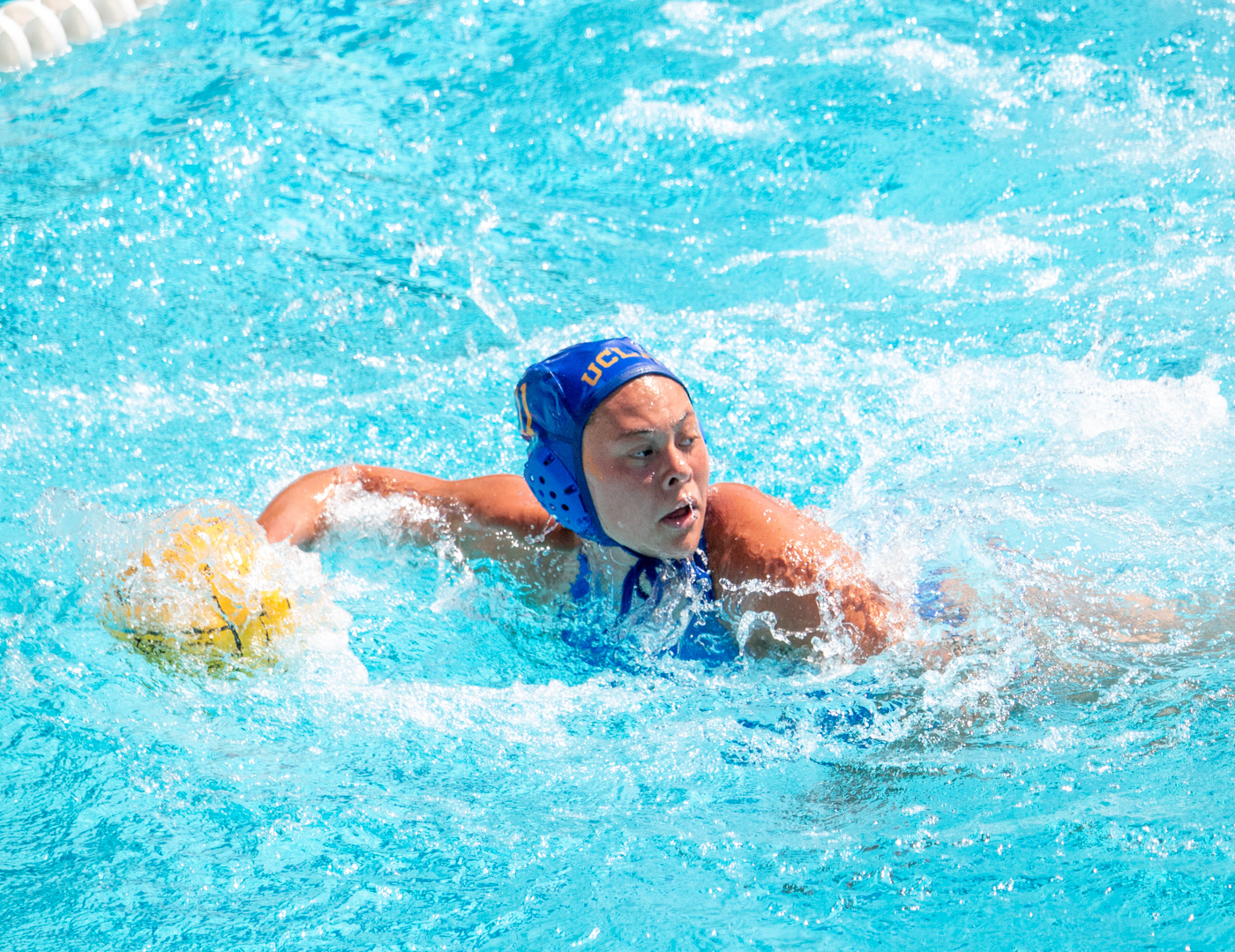 Led by a career-high four goals from junior attacker Val Ayala, No. 3 UCLA women's water polo handed formerly undefeated No. 1 USC its largest loss in 20 years.(Christine Kao/Daily Bruin staff)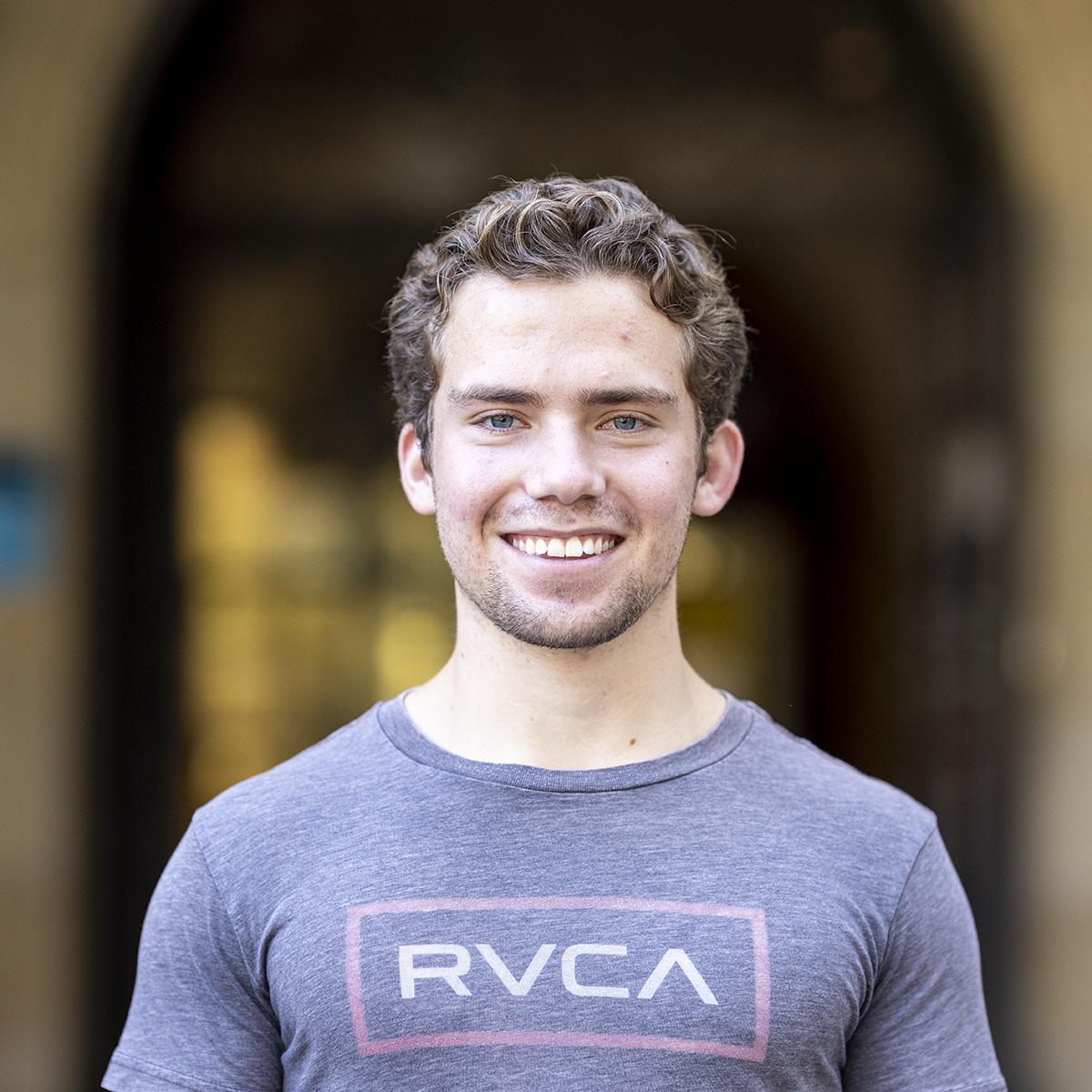 This post was updated April 25 at 7:14 p.m.
The Trojans had not lost by seven goals in 20 years.
That streak came to an end Sunday at the hands of their crosstown rivals.
No. 3 UCLA women's water polo (11-3, 9-3 MPSF) handed No. 1 USC (17-1, 11-1) its first loss of the season in convincing fashion with a 13-6 win at Spieker Aquatics Center on Sunday. The seven-goal deficit represented the worst loss for the Trojans since a 13-6 defeat to the Bruins in 2001.
Since falling to UCLA 7-5 a season ago, USC had rattled off 23 consecutive wins entering the game Sunday.
"It's a great win against a great program, but more importantly we grew from yesterday," said coach Adam Wright. "If we can keep growing each opportunity we have, then we're going to get close to the team that we ultimately want to be."
The Trojans struck first, but it was freshman attacker Anneliese Miller who kicked off a 3-0 run to give the Bruins their first lead of the weekend. After a back-and-forth first quarter, the Trojans cut the deficit to 3-2, but that would be the last time USC would come within striking distance.
As one of the four seniors being celebrated Sunday, defender Myna Simmons drew a penalty foul with two seconds to play in the first half, giving UCLA a chance to take a two-goal lead before the buzzer sounded. Junior attacker Val Ayala did just that, netting the five-meter attempt and sparking a 6-0 run that ran into the fourth quarter.
"I think that was definitely a really big boost of energy," Ayala said. "A big thing that we focus on is just resetting after each quarter and just knowing the past is in the past (and) we can only look forward."
Riding the momentum of the last-second goal, the Bruins trounced the Trojans 4-0 in the third quarter behind two more goals from Ayala, who would finish with a career-high four goals on the afternoon. The third quarter represented USC's worst of the season, while UCLA needed just eight minutes to outscore its three-goal performance from the previous day.
But the Bruins weren't done adding to their lead. Following a hat trick Saturday that left her with the team's only goals on the weekend heading into Sunday's matchup, senior attacker Lexi Liebowitz found the back of the net once more in the opening minute of the final stanza to give UCLA a 10-3 lead. Liebowitz finished with a team-high-tying five points and a season-high four assists.
Despite the offensive accolades, Wright commended the senior's versatility on the defensive end after junior center Ava Johnson found herself in foul trouble.
"We've asked her to do a lot of different things," Wright said. "For me, though, the most important thing was she just stayed focused and kept going and wasn't worried about when she made a mistake. And today, of course she was great on the offensive end, but more importantly, her defense was really, really good."
After holding the Trojans' top goal-scorers to a season-low shooting percentage in Saturday's loss, the Bruins did so once more, holding the team's top-three goal-scorers to 3-of-19 from the pool. UCLA also outstole USC in both games despite the Trojans averaging nearly 10 steals per game entering the contests.
While senior goalkeeper Jahmea Bent recorded 10 saves and two steals for the Bruins in Saturday's losing effort, redshirt sophomore goalkeeper Georgia Phillips got the start in the cage Sunday, handing in 11 saves and a win.
Wright said the two goalkeepers are extremely supportive of each other despite alternating starts for the better part of two seasons.
"I've never as a coach been in a situation like this – and it's a great situation, but it's a hard situation, too," Wright said. "Both of them have demonstrated and deserve to be playing. They're both doing a really, really great job. Jahmea yesterday was lights out, and then Georgia comes today and is lights out."
The commanding 10-3 lead early in the final quarter came without a goal from the team's leading scorer – sophomore attacker Hannah Palmer – who posted zero goals for the first time all season Saturday and had two exclusions in the first half. But behind a steal and a fastbreak effort early in the fourth period, the conference leader in points per game drew a penalty shot that she took herself for her first goal of the weekend. Palmer added one more goal in the final minutes, but it was Ayala who took player-of-the-game honors with her four-goal effort.
Putting up 13 goals against a team that gave up just over seven goals per game in a previously undefeated 2021 campaign, UCLA had nine different players score a goal Sunday.
"I think that's something that's been special about our program for the past three years that I've been at UCLA," Ayala said. "Everyone can step up and score. I think that shows our depth and our ability to just trust each other. We're not relying on this person or that person – everyone knows their role and steps into it and can finish in any given moment."
Despite the historic win, it was not a perfect outing for the Bruins, who tallied double their opponents' exclusions on the day with a season-high 16, including three penalty fouls.
Ayala said the team still has room to grow.
"We're not even close to reaching our full potential, which is really fun to think about," Ayala said.
With UCLA adding a win over the country's No. 1 team to its resume and USC's undefeated season off the table, both teams will begin preparation for the MPSF tournament in five days. After splitting the series, the Bruins will enter the tournament as the No. 2 seed, taking on No. 7 seed San Jose State on Friday.
"We still need to stay centered and grounded in how we've trained all season, but I definitely think that it makes the end goal feel much more real and achievable," Phillips said. "We've always seen it. We've known that we can do it. But having that win under our belt is really going to push us in this last stretch of the season."
Settleman is currently an assistant Sports editor on the gymnastics, women's soccer, women's golf, women's water polo and men's water polo beats. He was previously a contributor on the gymnastics and women's water polo beats.
Settleman is currently an assistant Sports editor on the gymnastics, women's soccer, women's golf, women's water polo and men's water polo beats. He was previously a contributor on the gymnastics and women's water polo beats.