USAC recap – April 20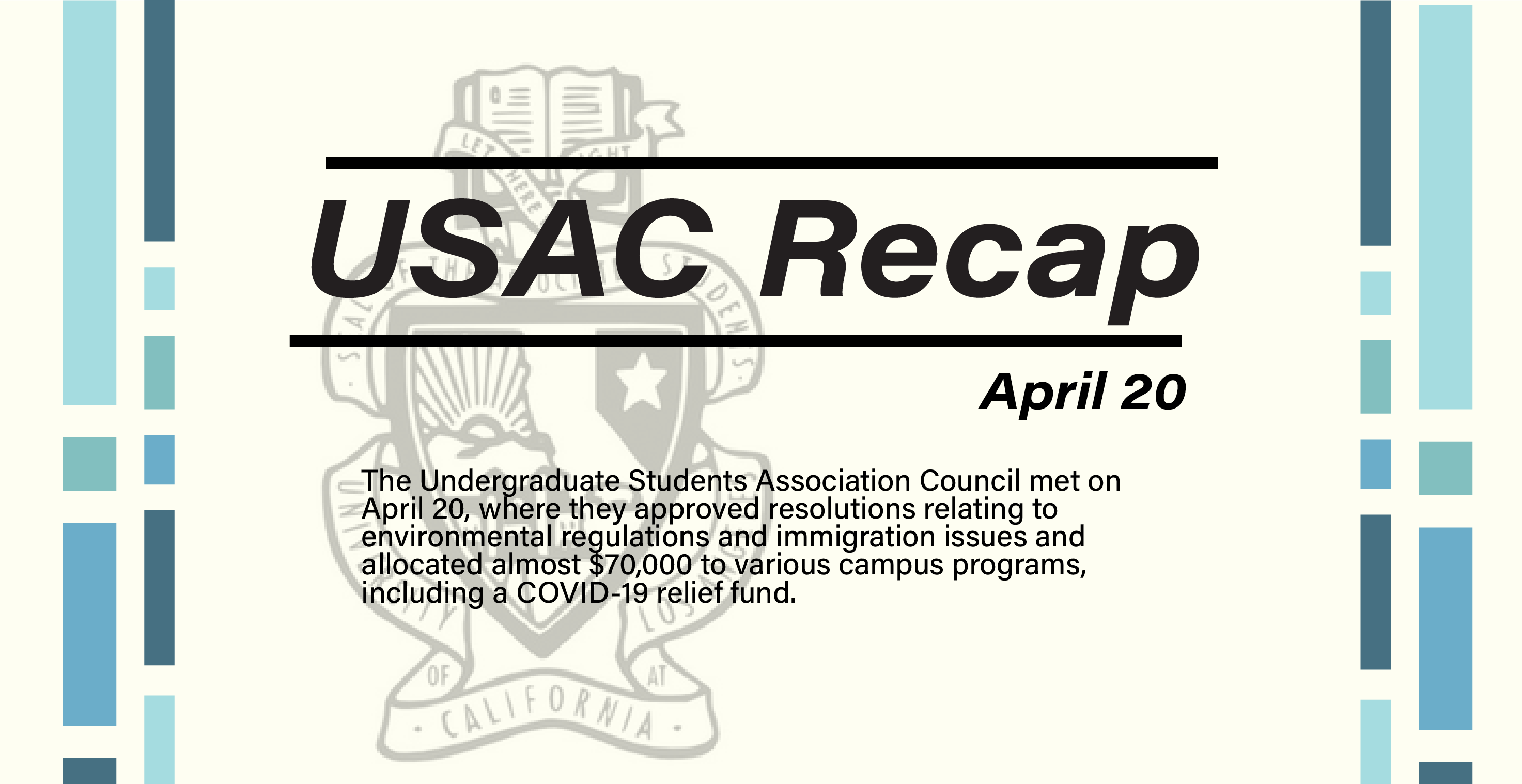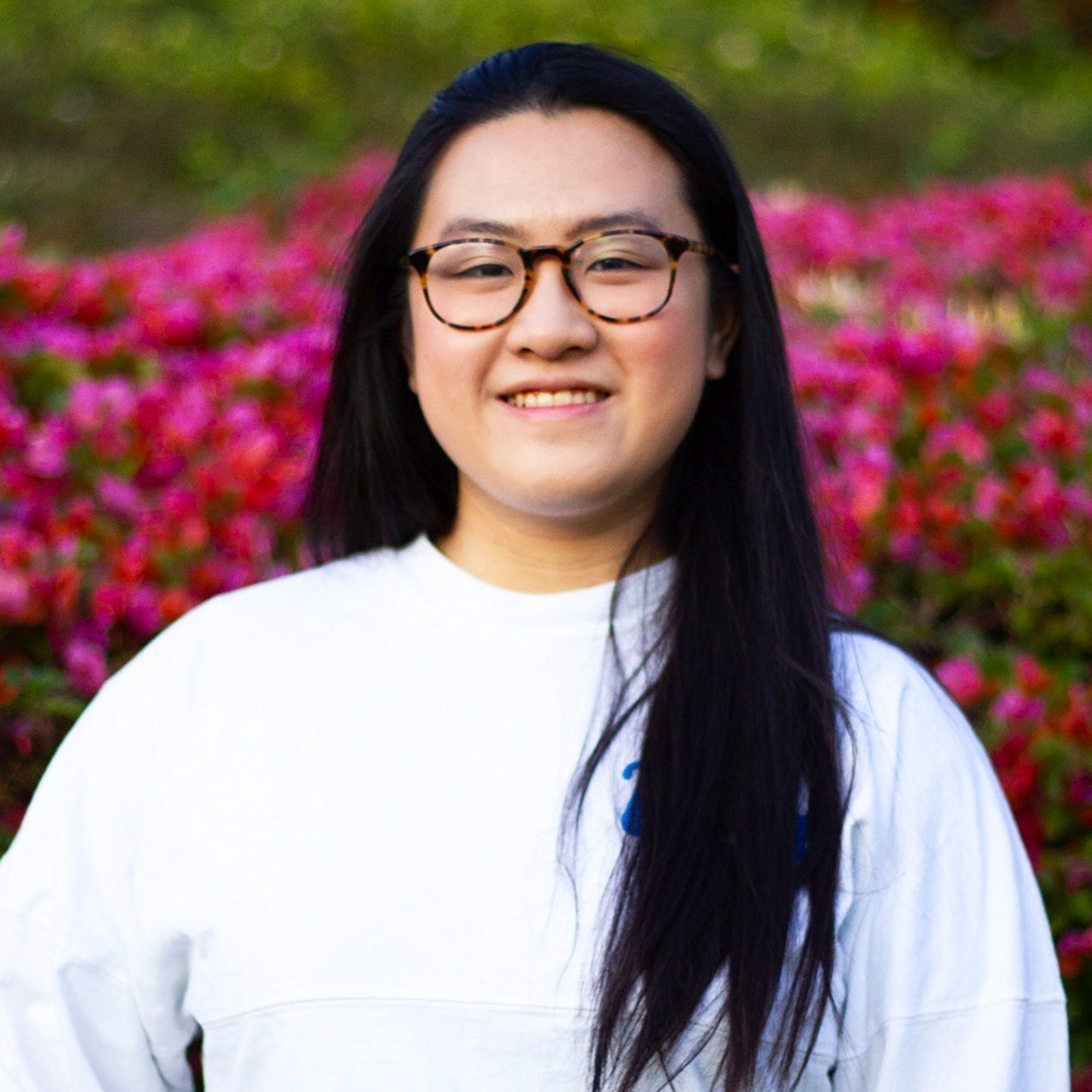 April 25, 2021 12:21 p.m.

Public Comment
Jason Vu, the president of the Vietnamese Student Union and a fourth-year Asian American studies and global studies student, urged the council to support the Voiding Inequality and Seeking Inclusion for Our Immigrant Neighbors Act, which prevents people deemed eligible for release from local jails and state prisons from being sent to immigration detention centers.

Prabhdeep Rai, the chapter chair of the California Public Interest Research Group and a fourth-year history student, said CALPIRG held a statewide climate action summit on April 22. USAC should support the resolution calling on California to commit to 100% clean energy by 2030, she said.

Sarah Munoz, a second-year linguistics and philosophy student, Anusha Entezari, a first-year dance student, and Jennifer Cao, a second-year cognitive science student, said they support the resolution calling on California to commit to 100% clean energy by 2030.

Alfred Tun, the USA Elections Board chair and a fourth-year political science student, said USAC council members can endorse constitutional amendments and referendums but cannot support specific candidates. He added that USAC should vote on their endorsements by next week.
Special Presentations
Jailene Hernandez, a CalFresh outreach coordinator and a fourth-year political science student, presented on CalFresh benefits available to UCLA students, CalFresh is a state program established in 2017 to fight food insecurity among graduate and undergraduate students. Eligible students can receive as much as $234 a month to use at grocery stores. Students who receive no family contribution, who are involved in the work study program or who have dependents are eligible for CalFresh. Students on the Hill cannot qualify for CalFresh benefits unless they have a meal plan of fewer than 11 meals a week.
Allocation
The council allocated $15,000 to the Transfer Student Center for shipping fees for transfer students' graduation packages.

The council allocated $16,266 to the Bruin Trailblazer Scholarship, a scholarship for UCLA community leaders, activists and advocates.

The council allocated $3,182 to the Economic Crisis Response Team and the Dashew Center for International Students and Scholars for international students to fund international student orientation support.

The council allocated $34,500 to the Pandemic Relief Fund to fund stipends for additional application readers and a second round of awards.
Resolution
The council approved a resolution that called on California to commit to 100% clean energy by 2030.

The council approved a resolution in support of the VISION Act.

The council approved a resolution that endorsed the Energy Innovation and Carbon Dividend Act, a federal bill that would place fines on carbon pollution to be paid back to Americans directly through monthly dividends.
Agenda
The council amended the elections code to expand the duties of the Elections Board transition director into a new chief of staff position. This position will now oversee the transition between Elections Board chairs and manage the board's staff.
Reports
USAC President Naomi Riley said she wants to hold meetings with student leaders and organizations to speak about her role on the Campus Honorary Naming Advisory Committee, which is tasked with reviewing names of UCLA buildings and spaces and finds new names that honor specific groups and individuals within UCLA's history. She also said her office held a public health compliance meeting to discuss what moving to the orange tier, the second-most lenient step in California's four-step reopening plan, means for operations on campus. Riley said she met with Vice Chancellor of Student Affairs Monroe Gorden to discuss the commencement ceremony and transfer students' concerns about access to university housing.

Internal Vice President Emily Luong said her office will finalize the rent relief awards and send the money out to recipients. She also said the Campus Safety Alliance met Tuesday and discussed the reopening of campus and the data breach at the University of California.

External Vice President Aidan Arasasingham said his office is finalizing advocacy grants and will send the grants to advocacy organizations and activist groups on campus. He added that his office is working on Title IX issues across campus, especially within the Greek community. Arasasingham said he is working with the UC Coalition for Reproductive Justice and Students Against Sexual Assault to support bills currently moving toward the legislature. He added that he is preparing for a meeting with UC President Michael Drake and other UC external vice presidents next week. His office is finalizing recommendations for next year's Student Regent on the UC Board of Regents, he said.

Academic Affairs Commissioner Breeze Velazquez asked for assistance from other offices with reviewing the Books For Bruins scholarship. She added that she did not want to bar members of her office, who are mostly low-income, from receiving the scholarship. She added her office finished staffing the new Student Advocate Board and is working to create a guide to assist with the transition.

Community Service Commissioner Jonathan Wisner said his office is holding Volunteer Appreciation Week this week. He added that his office held an Active Minds workshop April 21 to address the effects of the pandemic on mental health.

Facilities Commissioner Sachi Cooper mentioned that some of UCLA's outdoor recreational facilities, including Drake Stadium, the Marina Aquatic Center and Sunset Canyon Recreation Center, have opened. She added that organizations can apply to hold in-person events on campus, but it may take around four weeks for events to be approved. She also encouraged others to vote in the upcoming Westwood election.

Financial Supports Commissioner Noe Garcia said his office finished reading applications for the COVID-19 relief fund and was able to award 1,304 students. He added that he plans to open up a second round of applications for the relief fund.
Au-Yeung was the assistant Graphics editor at the Daily Bruin, where she was previously staff.
Au-Yeung was the assistant Graphics editor at the Daily Bruin, where she was previously staff.