USAC recap – April 13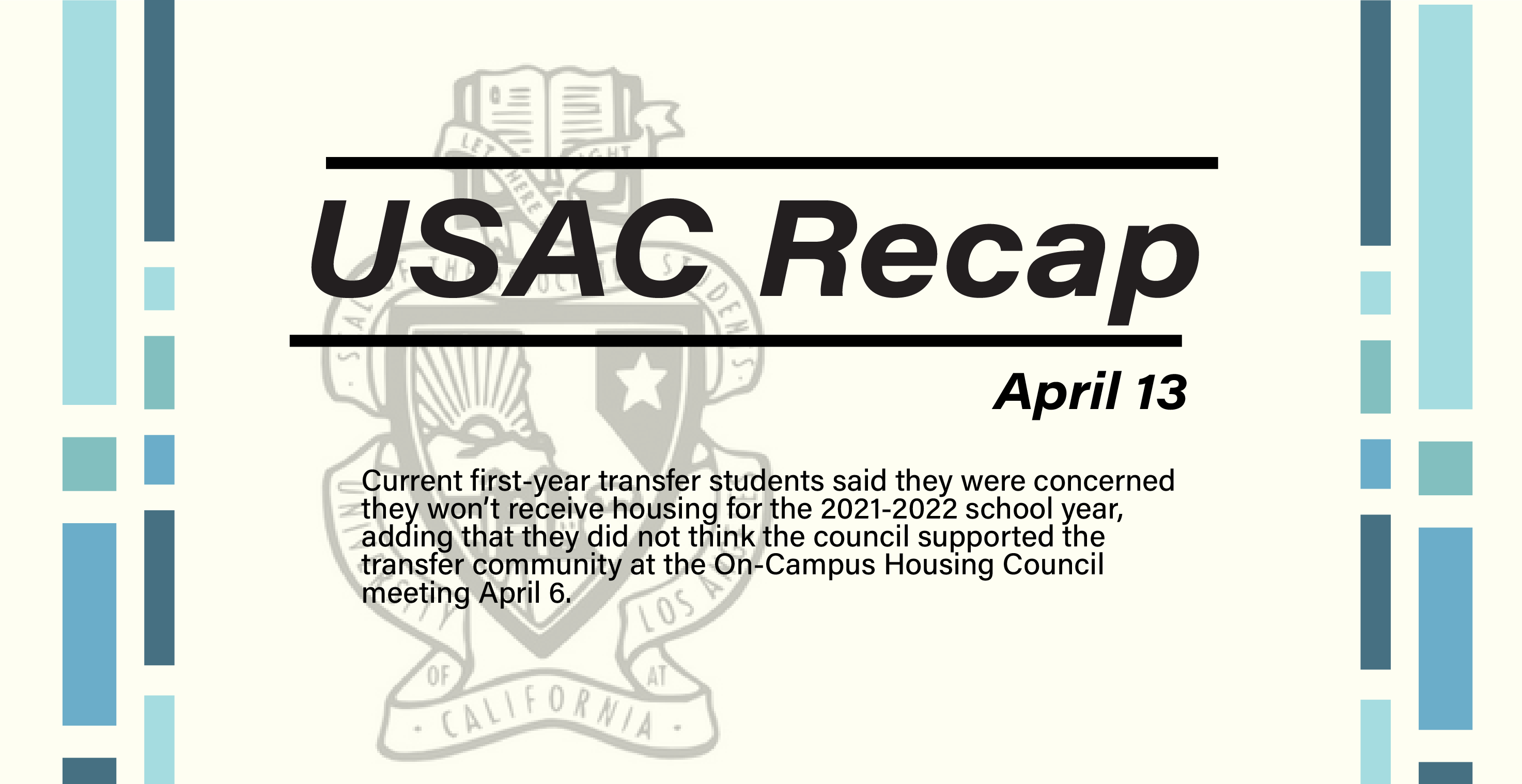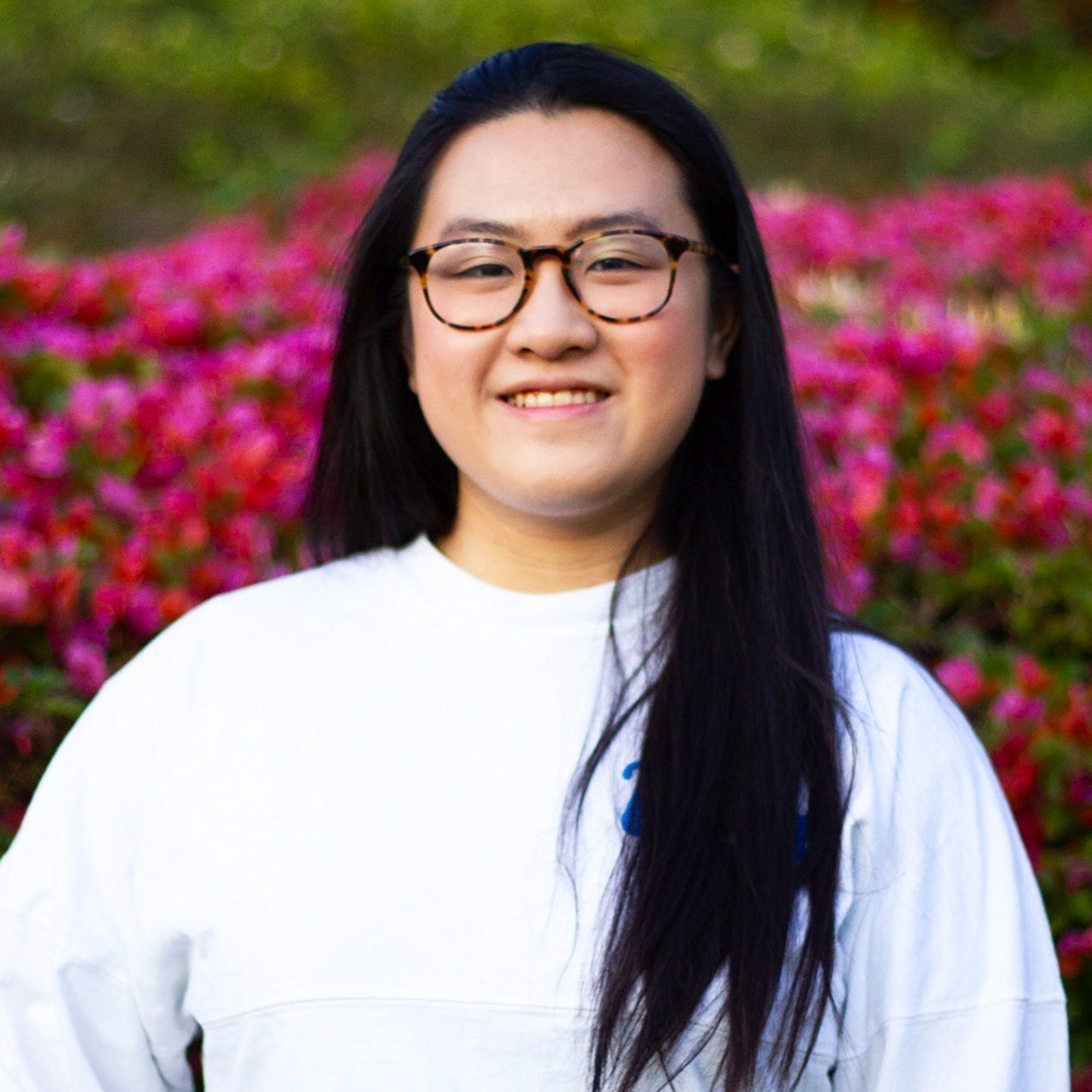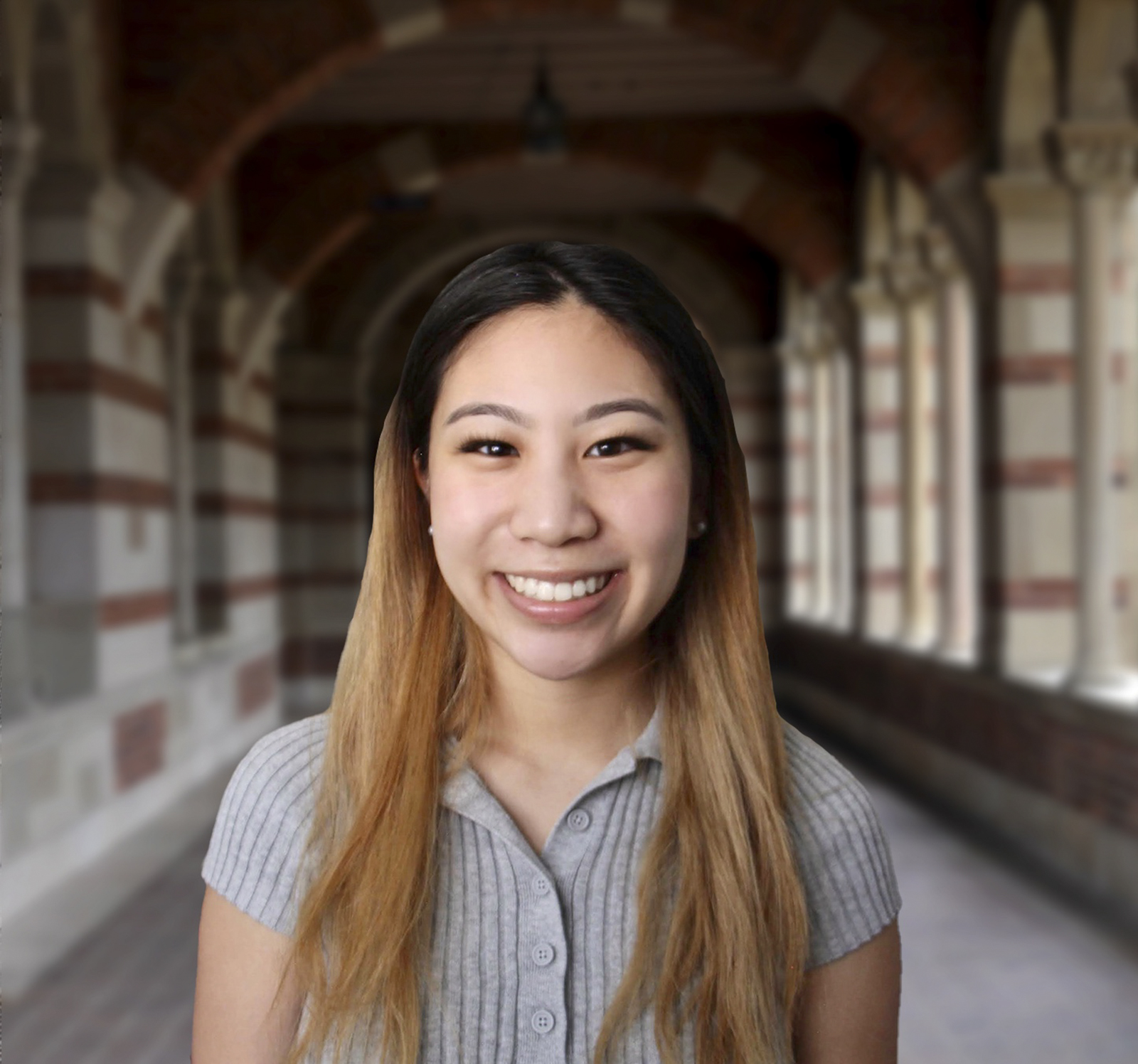 April 25, 2021 12:13 p.m.

Public Comment:
Laura Gong, the undergraduate representative for the Research Continuity working group within the COVID-19 Response and Recovery Task Force, said undergraduate student researchers can now return to campus with certain COVID-19 regulations in place. No more than four undergraduate student researchers are allowed to work in person in a lab, Gong said. She added that student researchers must receive a negative COVID-19 test within 72 hours before their first research day, complete daily symptom monitoring surveys and get twice-weekly COVID-19 testing.
Some students asked the council to consider reaching out to the UCLA administration to advocate for current first-year transfer students to receive housing priority next year. They said they were grateful General Representative 1 Laura Laubach and Transfer Student Representative Zuleika Bravo came to the On-Campus Housing Council meeting. They added that they were disappointed that other council members were absent.
Kevin Truong, a California Public Interest Research Group Students intern, said CALPIRG wants to create a coalition for students to collaborate on environmental issues. Truong added students should fill out a Google Form if they are interested in joining the environmental coalition.
Karina Arzate-Arenivaz, a UCLA alumna and Transfer Leadership Coalition co-chair, said current first-year transfer students should receive priority for housing next year. She added that transfer students who are part of the class of 2022 spent their first year online and could possibly spend their last year at UCLA without a dorm experience.
Special Presentations:
Cassandra Gatica, the Samahang Pilipino administrative coordinator, presented the Filipinos Organizing to Raise Civic Engagement campaign to the council. Gatica said this campaign aims to address COVID-19's impact on the Filipino community. She added that FORCE formed a COVID-19 committee, a civic engagement committee, a cross-community solidarity committee and a Philippines human rights committee.
Allocations:
The council allocated $32.00 to the Asian Pacific Coalition, an advocacy group for Asian American, Pacific Islander and Indian American students, for its University of California Asian American Studies research colloquium.
The council allocated $796.31 to the Vietnamese Community Health Project at UCLA, an organization providing free health services in Los Angeles, for its spring health fair.
The council allocated $1,966.33 to the Afrikan Student Union for its higher education conference.
The council allocated $300.00 to Bruin Value Investing, an investment group, for its senior leadership retreat.
The council allocated $97.87 to Students for Community Outreach, Promotion, and Education Patient Health Advocates for its public health roundtable.
The council allocated $295.23 to UCLA UniCamp, an organization that offers summer camps to urban LA youth, for its s'mores kit fundraising incentive.
The council allocated $50.00 to the Japanese Animation Club for its spring festival raffle.
The council allocated $934.44 to Latinxs/Chicanxs for Community Medicine for its 17th annual pre-health conference.
The council allocated $722.35 to the Vietnamese Student Union for its community tour.
The council allocated $274.83 to Cadenza A Cappella, a female a cappella group at UCLA, for its painting social.
The council allocated $204.00 to Net Impact UCLA – Undergraduate, a social impact consulting club, for its annual subscription for Wix, a website builder.
The council allocated $100.00 to the American Cancer Society On Campus, an organization providing resources for scientific research and development, for Relay for Life at UCLA.
The council allocated $500.00 to Project Literacy, a nonprofit community organization providing reading and writing mentorship, for its T-shirts.
The council allocated $250.00 to the Undergraduate Students Association Council Finance Committee, which manages the council's contingency fund and event allocations, for its spring retreat.
Office Reports:
USAC President Naomi Riley said her office had their quarterly senate meeting with Academic Affairs Commissioner Breeze Velazquez, UC Academic Senate Chair Shane White and Graduate Students Association Vice President of Academic Affairs Letty Treviño, to discuss options for a hybrid learning model for the upcoming school year. She also said they finalized the Student Advocacy Board and will hold its first meeting this week. She added that her office hosted the Future Student Leaders of Color Conference, which 130 students attended.
Internal Vice President Emily Luong said her office will notify rent relief award recipients that there will be a five- to six-week waiting period to receive the money. She added the Campus Safety Alliance Committee will host a meeting about Title IX on April 20.
Facilities Commissioner Sachi Cooper said in a written statement her office is working to finalize video edits on a collaboration with the Westwood Village Improvement Association, a nonprofit organization that provides maintenance and security for Westwood Village. Cooper said UCLA Dining will start offering reusable containers by Oct. 31, adding that her office is advocating to make the option mandatory.
Financial Supports Commissioner Noe Garcia said his office has selected about 750 students to receive funding from the USAC Pandemic Relief Fund. He added that his office will read and evaluate another 200 applications by April 20.
Bravo said in a written statement her office joined the Priority Housing Committee and is working to give priority to transfer students by submitting a petition with over 1,000 signatures from transfers, allies and staff.
Student Wellness Commissioner Christina Read said in a written statement her office is reviewing applications for the Basic Needs Fund and will contact the applicants within the next two weeks. She added the Student Wellness Commission website now offers resources for students to learn about health insurance.
Community Service Commissioner Jonathan Wisner said his office will collaborate with the UCLA Volunteer Center next week to host Volunteer Appreciation Week. He also said student graduation celebrations will take place at Drake Stadium or the Los Angeles Tennis Center, where students can walk across the stage, have their names read and take a photo. He added the commencement group will provide further details later.
Velazquez said her office interviewed around 32 students for the Student Advocacy Board. She added that Books for Bruins received fewer applications than usual, so the application will be reopened until April 15.
Jessica Alexander, student government services manager, said the Art in the Union program will reward $600 to selected artworks and is accepting submissions until April 24. She added that Associated Students UCLA posted student job openings. She also said Bruin Custom Print sashes are available to order.
Au-Yeung was the assistant Graphics editor at the Daily Bruin, where she was previously staff.
Au-Yeung was the assistant Graphics editor at the Daily Bruin, where she was previously staff.