Students call for increased support, systemic change following police killings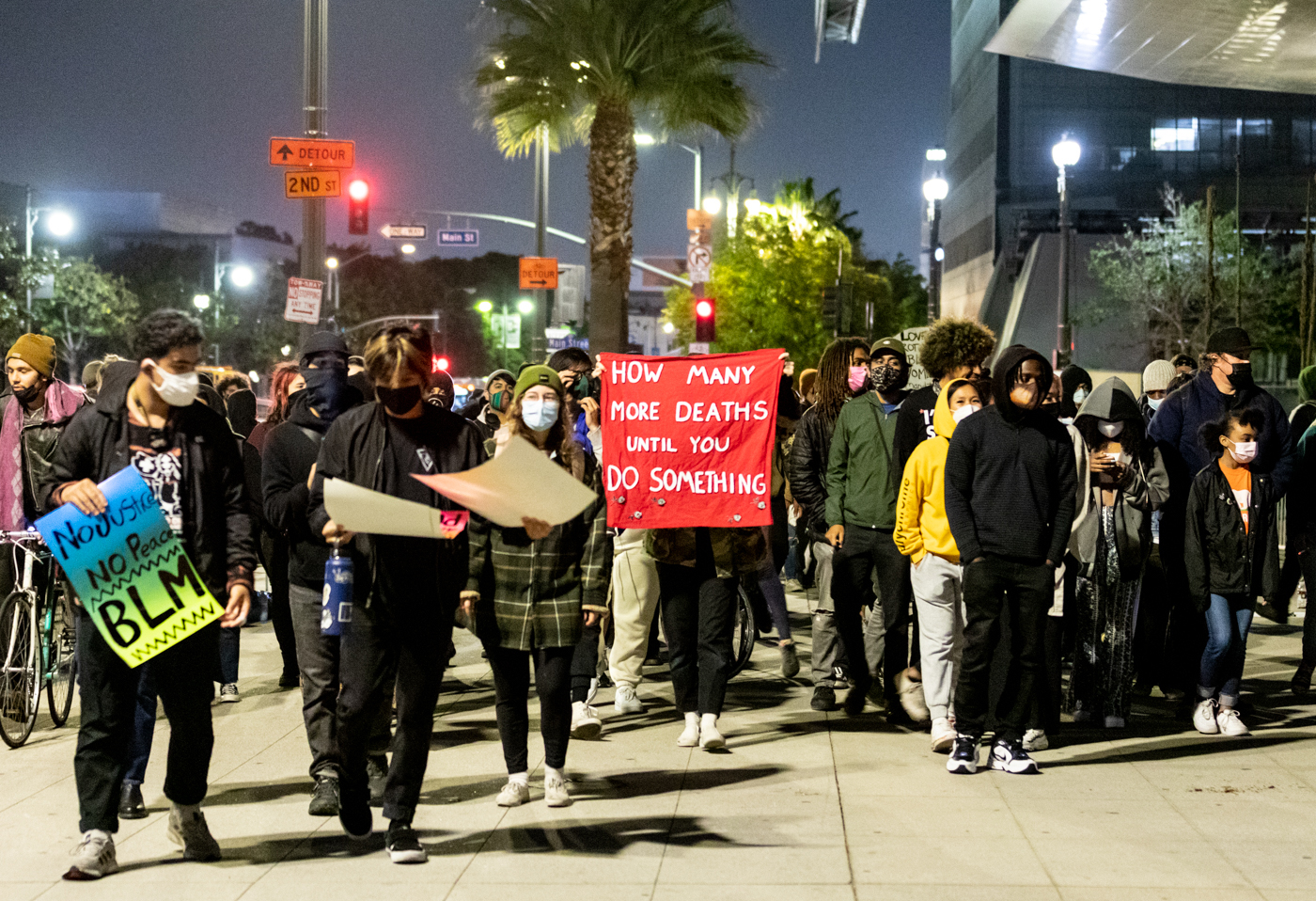 A string of high profile police killings of people of color have prompted increased calls for police abolition and racial disparities in policing among many Black UCLA students. Justin Jung/Daily Bruin staff)
This article contains descriptions of police violence.
A number of high-profile police shootings of people of color have strengthened some Black UCLA students' beliefs about racial disparities in policing and the need for police abolition.
Former police officer Kim Potter shot Daunte Wright, a 20-year-old Black man, in Brooklyn Center, Minnesota on April 11. Potter, along with officer Anthony Luckey, had pulled Wright over for driving with expired tags.
Officer Eric Stillman of the Chicago Police Department shot 13-year old Adam Toledo, who was Latino, on March 29. The Chicago Police Department released the footage of the incident four days after Wright's death.
Officer Nicholas Reardon shot 16-year-old Ma'Khia Bryant, who was Black, in Columbus, Ohio, on the day Derek Chauvin's guilty verdict was announced, according to NPR. She had reportedly called the police to protect her from other girls who threatened to hurt her. Bryant was holding a knife in video footage of the event.
Gene McAdoo, a fourth-year African American studies student who is Black, said he felt numb when he first heard about Wright's death. But he wasn't surprised. There are multiple police shootings of Black people that make national news every year, he said.
Layla Allen, a first-year pre-public affairs student who is also Black, thought about her brother when she heard about Wright's death.
"I mostly think about my brother whenever I hear about these shootings because I just can't imagine losing someone like that or having their life stolen in that fashion," she said.
And when she heard about the death of Toledo, she thought about the fear he might have had while being yelled at by a grown man, she said.
Chancellor Gene Block and Vice Chancellor for Equity, Diversion and Inclusion Anna Spain Bradley said in an email statement sent to students April 14 that change in the current system of policing is long overdue.
Kanwulia Onianwa, an incoming first-year biology student who is Black, remembers the fear she felt when a police officer approached her dad in their own neighborhood one night.
Onianwa was practicing for her upcoming driver's test with her father. When her father got out of their car to check Onianwa's parallel parking, a cop approached them and began asking her father what business he had in the neighborhood.
"Even though nothing happened, it was super scary because I know stuff like that is what leads up to things happening," she said.
Onianwa felt this was an instance of racism displayed by the police. She was not sure if there were any other Black families who lived in the same predominantly white neighborhood as she did, she said.
According to the Stanford Open Policing Project, which has been collecting data about police stops across the nation since 2015, Black drivers are stopped by police more frequently than white drivers, regardless of age or gender. In Los Angeles, there are 32 stops per 100 Black drivers, but only 11 stops per 100 white drivers.
Robin Kelley, professor of history, said that policing in its current form began in the early 19th century in order to protect private property, stop rebellions and attend to any criminal behavior. Changes to the law and changes in police tactics in the 1980s made it so that any violation, including smaller ones like graffiti and loitering, would be prosecuted. Combined with the fact that communities of color, especially low-income ones, are over-policed, these changes increased the number of encounters people of color had with law enforcement, he said.
"So what happens is it increases police-civilian interaction, especially when it comes to people of color, and it also leads to more brutality because everyone now is considered to be a criminal, and possibly armed and dangerous," he said.
Students like Allen argue that the police should be abolished.
Allen said she believes that any public protection group formed to replace the police should be involved with the community it is protecting. None of the police officers in the Brooklyn Center Police Department live in the neighborhood where Wright's shooting occurred, according to the Star Tribune.
McAdoo is also in favor of abolishing the police. He belongs to the No UCPD Coalition, a group of students at UCLA aiming to disband the UCPD.
He said he doesn't want fewer police killings, but rather no police killings. The only way that this can be accomplished is through abolition, he said.
Instead of a police force, he supports more funding for education, as well as programs that can help alleviate poverty, like universal basic income, he said. Since many crimes are committed because people are trying to meet their basic needs, he said, finding a way to relieve those suffering from financial difficulties should be a bigger priority, he said.
Onianwa also supports abolition. Though she feels she needs to do more research to figure out what other programs should be put in their place, she still believes that the current system of policing cannot be reformed because it was built on white supremacy, she said.
Because the United States was settled through violence and the subjugation of other people, Kelley said, there is still a militarized culture of white supremacy in the country. Though not every police officer intentionally subscribes to it, there is a collective consciousness of racism in the force, he added.
Isabella Luo, a first-year pre-business economics student, said she believes a police force is still needed, but the present police system needs reform. Wright's death showed how the officer who shot him was not properly trained, she said, because the officer who shot Wright allegedly confused her taser with a gun.
"I always feel like, no matter what country, there should always be a system of law enforcement, a group of people to make sure to hold people accountable for the crimes they do," she said.
Given that the U.S. is still in the same place it was nearly a year ago – in a pandemic and with another Black man killed by police – McAdoo believes the university could be more accommodating to students, he said. McAdoo said he thinks faculty, in particular, should be more lenient with their assignments.
The email statement from Block and Bradley, including a link to resources for coping with racial trauma, was the best they could do, McAdoo said.
"And the reason why I laugh is just because, I mean, I'd rather end racism than have to keep figuring out how to deal with the trauma, right?" he said. "I'm kind of tired of figuring out how to deal with the trauma."
Contributing reports by Anna Feng, Daily Bruin contributor.
Siatkowski is the 2021-2022 PRIME content editor and a News contributor for the features and student life beat. She was previously a member of PRIME's second intern class and is a second-year anthropology student.
Siatkowski is the 2021-2022 PRIME content editor and a News contributor for the features and student life beat. She was previously a member of PRIME's second intern class and is a second-year anthropology student.