Women's soccer earns 13 All-Pac-12 honors ahead of NCAA tournament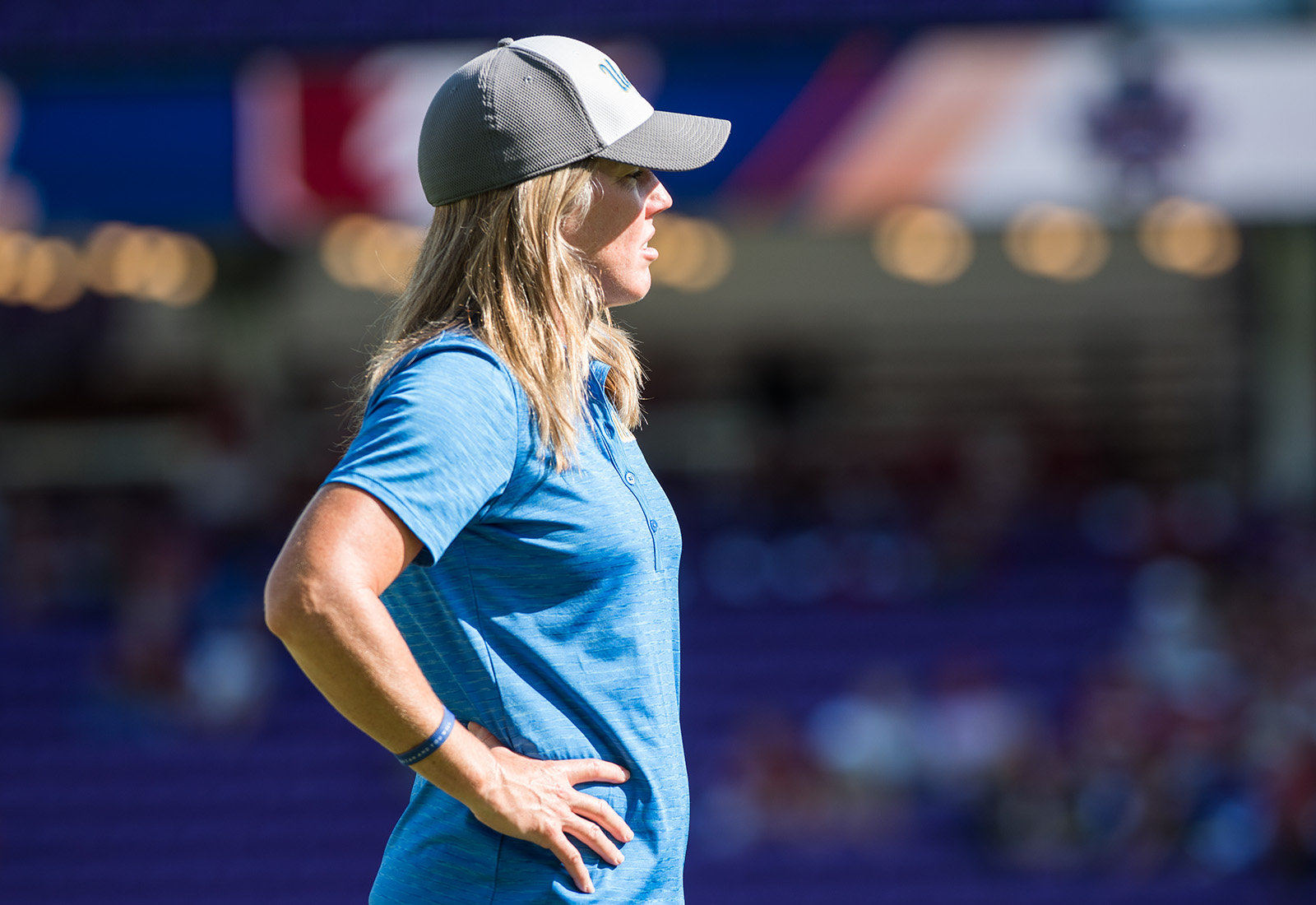 Coach Amanda Cromwell was named Pac-12 Coach of the Year on Wednesday as No. 3 seed UCLA women's soccer prepares for its tournament run in North Carolina. (Daily Bruin file photo)
April 23, 2021 12:50 a.m.
After winning a slew of awards, the Bruins will see out the rest of their season in North Carolina.
UCLA women's soccer (12-1-2, 9-1-1 Pac-12) earned the No. 3 overall seed and a first-round bye in the 2021 NCAA tournament. The team will face the winner of the first-round matchup between Iowa (6-8-1, 2-8-1 Big Ten) and Campbell (8-3-1, 6-2-1 Big South) on April 30 for its first postseason match since losing to Stanford in the College Cup semifinals in 2019.
Following the selection show Monday, nine Bruins received 13 All-Conference postseason honors Wednesday. Three players and coach Amanda Cromwell – who won Pac-12 Coach of the Year – earned individual awards while nine individuals were selected to All-Pac-12 teams – six on All-Conference teams and three on the All-Freshman Team.
The 2021 edition of the competition will field 48 teams rather than the usual 64 and will be held entirely in Cary, North Carolina, and surrounding areas to limit travel during the COVID-19 pandemic. With the reduced number of squads, 16 teams are automatically through to the second round while the remaining 32 will play for the opportunity to advance.
"Just a whole different year, not just the postseason but the (entire) year," Cromwell said. "Everything that we've done all year we are going to keep doing as far as taking everything in stride. Having the first-round bye is great, a great advantage."
UCLA's quarter of the bracket has two opponents from a season ago in No. 11 seed Santa Clara – which handed the Bruins their first loss in 2019 – and No. 14 seed Clemson – the team the Bruins defeated 5-0 in the second round of last season's playoffs. The second-highest ranked team in the Bruins' 12-team group is No. 6 seed Arkansas, a school UCLA has never faced.
The Pac-12 champion Bruins will be joined by four other conference members – USC, Arizona State, Washington and Colorado – with the No. 8 seed Trojans being the only other seeded team.
"The Pac-12 had a great year," Cromwell said. "It was hard this year with all the play being regional and some teams just playing a conference schedule. In the end, we have so many quality teams, so I'm excited for the five that did get in, and I always feel like there could be more, but because the tournament was 48 (teams), it was going to be limited."
Senior midfielder Marley Canales – who started all 15 fixtures for UCLA this season and was tied for third in the conference with six assists – was voted to the All-Pac-12 Second Team. Her teammate in the middle, senior Delanie Sheehan was recognized as Pac-12 Midfielder of the Year and All-Pac-12 First Team.
Canales said she is content with the team's form to close out the regular season.
"We're at a really good spot right now," Canales said. "I think our team culture is the best it's been. I know we'll be able to go into the tournament with confidence but also know that these are completely new teams and we're going to be in a new environment. So (it's about) taking what we learned in (the) Pac-12 and growing and continuing the style of play that we've grown into."
After rattling off eight straight victories to start the season, the Bruins dropped points in two consecutive home overtime matches, with a nonconference tie against USC followed by a loss to Arizona State. UCLA won its ensuing four contests, including a 3-1 win over California and a 2-1 overtime victory over defending national champion Stanford – a foe it had not beaten since 2014.
In their most recent fixture, the Bruins and their crosstown rival Trojans ended their second matchup of the year with another 2-2 stalemate to conclude the conference slate for both teams.
"'SC, Stanford and Cal, these were all games that prepared us (for the tournament)," Cromwell said. "Being up at Cal and Stanford, we hadn't beat Stanford in a while. None of those games were gimme games. Coming back against 'SC and against Stanford even, says a lot about the grit of this team and (our) never-give-up attitude."
On the season, UCLA held the best offensive and defensive records of the conference, scoring 33 goals while only conceding 11. Pac-12 Goalkeeper of the Year redshirt junior Lauren Brzykcy preserved seven shutouts for the Bruins while making 65 saves – good for third in the conference. Senior defender Karina Rodriguez joined Brzykcy on the All-Pac-12 First Team as a part of a Bruin defense that had four different players honored as Defensive Player of the Week throughout the year.
Five of the top-13 players in the Pac-12 ranked by points were Bruins, headlined by Pac-12 Freshman of the Year forward Reilyn Turner who had nine goals and four assists for a team-high 22 points. Last year's leading scorer for the blue and gold, sophomore forward Mia Fishel was second on the team in scoring with six goals, earning her a spot on the All-Pac-12 First Team.
Redshirt freshman Sunshine Fontes – on the All-Freshman Team – contributed to eight of the Bruins' 33 goals in her debut season. Fontes joined Turner and forward Kaila Novak as the three Bruins on the All-Freshman squad.
The freshman from Wahiawa, Hawaii, attributed UCLA's offensive success in the regular season to the squad's depth.
"We have a very deep lineup, Reilyn, Mia and Kaila being the starters," Fontes said. (Our substitutes) are really good, and we can all play anywhere which makes it hard for opposing defenses. We're very versatile. No matter who is in or who's playing with who, we're always on the same page and know how to work together really well."
Awards aside, after missing the 2019 tournament because of injury, Canales said she is looking forward to getting back on the pitch and contributing to the Bruins' playoff run.
"I'm really excited," Canales said. "I'm thankful to be healthy first and foremost. In past tournaments, I haven't played a lot of minutes throughout my career, but I'm excited to be in a senior and captain role and be healthy and help my team get as far as we can."
Farinha is currently a Sports contributor on the women's soccer beat.
Farinha is currently a Sports contributor on the women's soccer beat.