UCLA women's golf to compete in Pac-12 championship after best finish in 2 months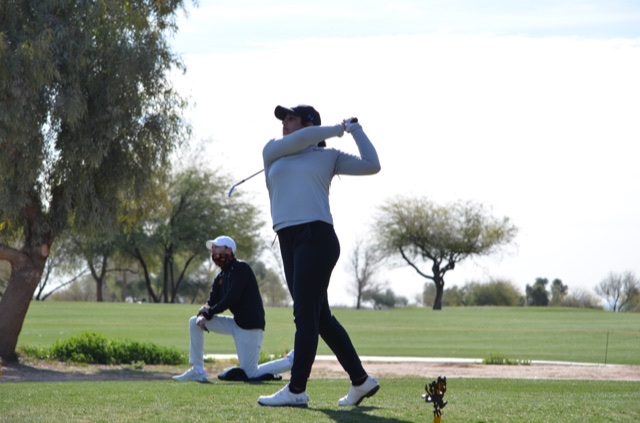 UCLA women's golf will be at the Stanford Golf Course, junior Simar Singh's home course, from Friday to Sunday for the 2021 Pac-12 championship. (Courtesy of UCLA Athletics)
April 23, 2021 11:04 a.m.
The postseason is here, right as the Bruins are coming off their best finish in two months.
UCLA women's golf will compete in the Pac-12 championship at Stanford Golf Course beginning Friday, 16 days after finishing alone in second place at the Silverado Showdown. The Bruins tied for second at the Lamkin Invitational in early February, marking the second of their four top-five finishes in 2021.
UCLA was the sole leader after each of the first two days at the Silverado Showdown, but a final-round, 7-under 281 by USC sent the Bruins home in second place. Coach Carrie Forsyth said being in contention on the final day was memorable and is confident her team is on the right track ahead of the Pac-12 championship.
"I (was) really, really pleased with our finish," Forsyth said. "I felt like the team played really well, and it was exciting to be back in contention and have a chance to win together. It's the best we've played all season since we restarted after COVID-19, and it makes me really happy to see that we're moving in the right direction."
The Pac-12 championship will be held at the Stanford Golf Course, a course that may play to the advantage of the Bruins, according to sophomore Emma Spitz and junior Simar Singh.
"I think the course is a similar type of course to Silverado, which should suit our game pretty well," Spitz said. "We hit a lot of fairways, and I think that's really key on these courses. That's going to be really important."
Singh added that Stanford is her home course, which presents both challenges and opportunities.
"There is some pressure because it is my home course, and I do know it very well," Singh said. "But I'm just trying to see that as an advantage. … I'm just trying to stay patient and keep everything in perspective while focusing on my game."
Rounding out the lineup are sophomores Yuki Yoshihara, Annabel Wilson and Emilie Paltrinieri. Spitz and Yoshihara shared third place honors in UCLA's last tournament carding 2-under 214s, and Wilson tied for fifth with an even 216.
In order to find success at Stanford, Spitz said all five Bruins need to post low scores.
"We definitely all need to play solid golf – the Pac-12 teams are really good this year," Spitz said. "It would help if we have five players who play really well. … If everybody plays smart and doesn't make any huge numbers, I think we can perform really well."
In preparation for what will be her first postseason start after last year's tournament was canceled because of COVID-19, Singh said she is honing in on the mental aspect of her game to calm her nerves.
"A lot of it is preparing my mental game. It's my first postseason event of my collegiate career. That adds a level of excitement and a little pressure," Singh said.
Singh will not be the only Bruin navigating a postseason for the first time. All five UCLA starters will be making their postseason debuts when they tee off Friday morning. However, Spitz said her team is improving every week and she is confident the Bruins will be in contention if everyone continues to work hard in practice.
"We definitely progressed over the whole season," Spitz said. "I really think that if we work hard, … we can play at least as well as we played at (Silverado), maybe even better. If we do that, we can beat some of the best teams in the Pac-12."
Wang is currently a Sports contributor on the men's and women's golf beats.
Wang is currently a Sports contributor on the men's and women's golf beats.