UCLA softball prepares for clash of top pitchers in series against Washington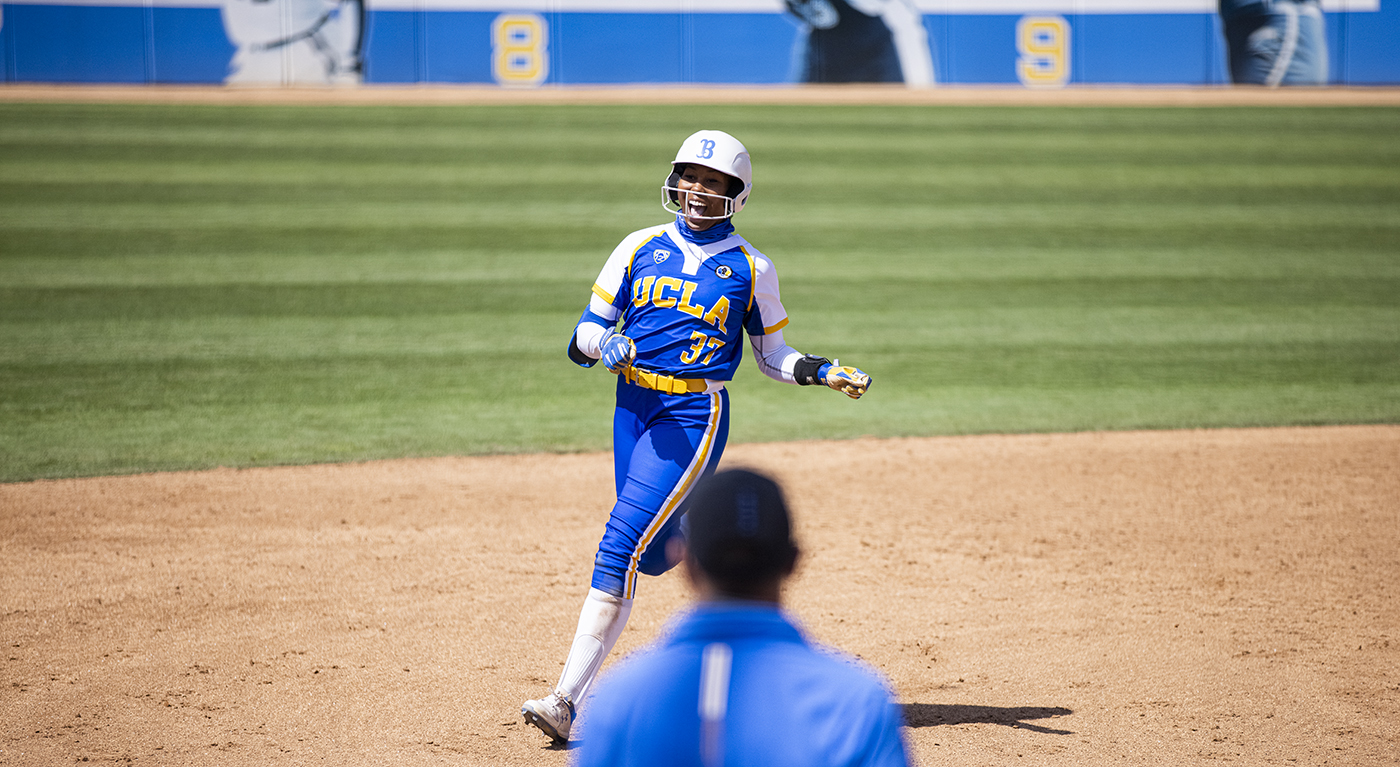 Redshirt junior infielder Kinsley Washington is second on No. 2 UCLA softball with a .389 batting average to go along with two home runs and 20 RBIs on the season. (David Rimer/Daily Bruin staff)
softball
---
No. 3 Washington
Friday, 7 p.m.
Easton Stadium
Pac-12 Networks
---
No. 3 Washington
Saturday, 4 p.m.
Easton Stadium
Pac-12 Networks
---
No. 3 Washington
Saturday, 6:30 p.m.
Easton Stadium
Pac-12 Networks
---
No. 3 Washington
Sunday, 1 p.m.
Easton Stadium
ESPN2
April 23, 2021 12:10 p.m.
For the second weekend this month, the Bruins have the opportunity to hand an undefeated pitcher on a top-five team their first loss of the season.
After giving Oregon pitcher Brooke Yanez her first two defeats of the season in a four-game series against the then-No. 3 Ducks earlier this month, No. 2 UCLA softball (25-2, 8-1 Pac-12) can do the same against unbeaten pitcher Gabbie Plain and No. 4 Washington (34-6, 12-2) in another four-game series beginning Friday.
The senior pitcher for the Huskies will come into the weekend series with a 23-0 record in 29 appearances, and her career-best 0.93 ERA ranks 10th in the country. Though they did not face her last season, the Bruins have gone against Plain four times in the past and have gone 4-0 in those matchups.
"The good news is a lot of our team has seen (Plain) before – she's a very talented and tough pitcher," said coach Kelly Inouye-Perez. "The biggest part is we're always looking for good pitches to hit, being able to get to Gabby and hit her strike pitches is a big part of being able to beat her. We've been fortunate enough to have success against her in the past."
The last time UCLA faced Washington's right-handed ace, redshirt senior pitcher/first baseman Rachel Garcia hit a walk-off three-run home run in extra innings of the 2019 Women's College World Series semifinals to end the Huskies' season. Two games later, the Bruins won the national championship.
Two seasons later, Garcia is one of just a few right-handed hitters to regularly see the starting lineup for UCLA. In last weekend's three-game series against Oregon State, Garcia and redshirt junior infielder Delanie Wisz were the only two right-handed hitters to have an at-bat in all three games.
Redshirt junior infielder Kinsley Washington – one of the many left-handed hitters for the Bruins – said the team's lefty-heavy lineup will rely on mid-week preparation before taking advantage of Plain's right-handedness.
"Film is probably going to be our biggest help, just being able to prepare, seeing what she's been throwing other hitters that are similar to our team," Washington said. "Our whole lineup is basically lefties, so that definitely changes the game a bit. Being aggressive and anticipating what she may throw is going to be our biggest help."
While UCLA hitters will face a pitcher with a top-10 ERA, Washington will face an even greater challenge – two pitchers in the top eight in ERA, both coming off milestone performances last weekend against Oregon State.
Garcia, the Bruins' own ace, ranks third in all of college softball with a 0.47 ERA so far this season. In addition to her Pac-12 Player of the Week award last week for her performances against Oregon, Garcia was named Pac-12 Pitcher of the Week this week after throwing her second-career no-hitter against Oregon State.
Not too far behind for the blue and gold in the national ERA ranks is redshirt sophomore pitcher/first baseman Megan Faraimo, whose 0.86 ERA ranks eighth in the country. Faraimo is coming off a career-high 17 strikeouts in her own complete-game shutout against the Beavers on Saturday.
UCLA almost got another complete-game shutout last weekend from its third starter, redshirt junior pitcher Holly Azevedo. Azevedo pitched six shutout innings, highlighting the pitching depth Inouye-Perez has at her disposal.
"We're fortunate to be able to have a true 1-2-3 – three starters that can not only pitch, but pitch effectively for seven innings," Inouye-Perez said. "Depth is key to a four-game series in the Pac-12. The hitters are solid in every lineup."
The Huskies come in having won their last 10 conference games and currently sit second in the Pac-12 standings behind only the Bruins. While it will be a series between the nation's second- and fourth-ranked teams in the country, redshirt freshman catcher/first baseman Alyssa Garcia said she won't overstate the matchup.
"It should be a good series," Garcia said. "We just have to play our game, stay calm and just do our routine."
The first game of the series between UCLA and Washington will begin Friday at 7 p.m. at Easton Stadium.
Carlson is currently a reporter on the women's basketball beat. He was previously a contributor on the softball beat.
Carlson is currently a reporter on the women's basketball beat. He was previously a contributor on the softball beat.