UCLA alumna amplifies Lao voices by discussing mental health, healing in podcast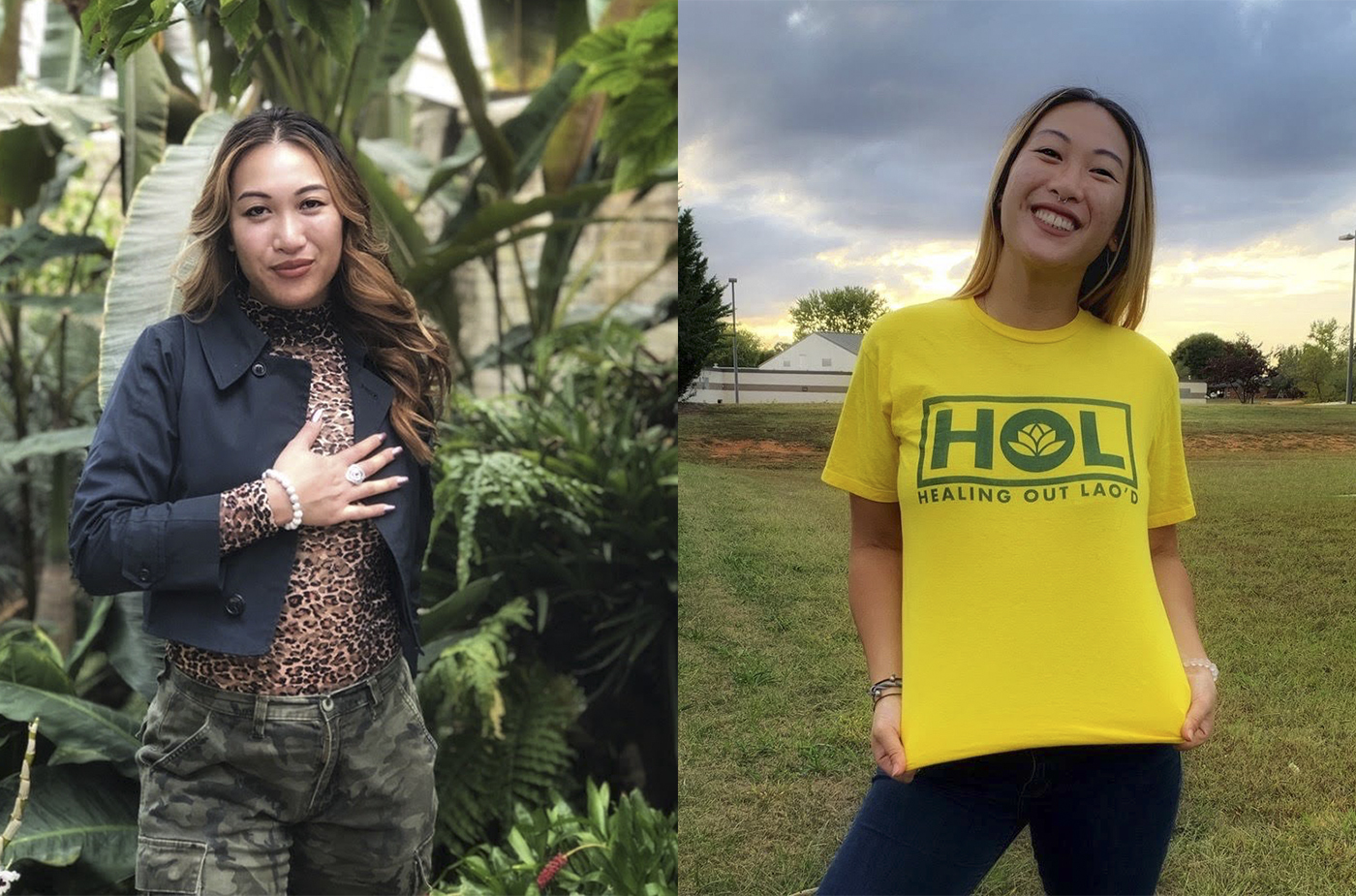 UCLA alumna Rita Phetmixay (pictured) is the host of "Healing Out Lao'd," a podcast dedicated to supporting the healing of intergenerational trauma that many of the Lao diaspora face. (Courtesy of Rita Phetmixay)
This post was updated April 23 at 3:50 p.m.
A soft lo-fi beat plays in the background and a woman's bright voice rings out.
"Saibaidee, and hello pinong and family! Welcome back to Healing Out Lao'd!"
Rita Phetmixay's podcast, "Healing Out Lao'd", aims to help the Laos diaspora heal from generational trauma by discussing mental health and offering techniques to help about once a week.
Phetmixay, a former Asian American studies and social welfare graduate student, grew up in North Carolina as a child of Lao refugees. She said her experiences with racism, misogyny and a lack of resources for refugees helped form the basis of her podcast.
Many Lao refugees immigrated to the United States to escape the communist takeover of Laos at the end of the Laotian Civil War in the late 1960s, according to an article in the International Review of Modern Sociology. A study by the Pew Research Center found that the Lao diaspora makes approximately only 77% of the Asian American salary.
Her trauma growing up and subsequently healing from it helped her understand the importance of accessing resources, from internal resources like coping skills to external resources like water and shelter, Phetmixay said.
It wasn't until she arrived at UCLA as a graduate student that Phetmixay began to grow and thrive.
"I didn't know that there was a way to live life differently – that you didn't have to just be on survival mode, that you didn't have to just look through the lens of trauma, that you can look through the lens of healing and transformation," she said.
During her time at UCLA, Phetmixay worked at the Bruin Resource Center where she met her supervisor, who helped her learn how to calm her hypervigilance and heal from trauma. At the same time, Phetmixay learned about trauma from her peers who were also a part of the Laos Diaspora.
The solidarity she found with her friends and supervisor inspired her to give back to the younger Lao community. Phetmixay wanted to give them the same degree of internal freedom that she experienced.
"A lot of times we only base our story off of our parents but we too have a story of our own," Phetmixay said.
As a result, Phetmixay created "Healing Out Lao'd" as a place to not only destigmatize mental health but also to help her peers work through their own trauma as a result of growing up Lao.
Starting the podcast was a time-consuming process, she said. After she came up with the idea of the podcast and what kind of content she wanted to create, she had to figure out the logo design and name of the podcast as well. After going through several names, Phetmixay said the name "Healing Out Lao'd" finally occurred to her as a shower thought.
Along the way, Phetmixay had the support of her friends and family.
When Phetmixay's brother, Joseph Phetmixay, found out about his older sister's podcast, he began promoting it on his social media and recommending it to his friends.
Joseph Phetmixay, who listens to "Healing Out Lao'd" on his car rides to school, said that as a Lao American growing up in a predominantly white neighborhood, Healing Out Lao'd has helped him connect to his Lao roots by being able to hear from other Lao Americans about their careers and how they practice their culture.
Although Phetmixay received the support of many people in her life, she kept the podcast a secret from her parents because she felt they wouldn't have understood what she was doing. She said that as a child of refugees, she always had a strange relationship with her parents and never really talked with them about her professional or personal life.
However, when her mother found her podcast, she began listening to all the episodes. When Phetmixay returned home at the request of her brother, the process of interviewing her mother for an episode of the podcast jump-started a discussion of her mother's perspective on her experience as a refugee. From there, Phetmixay began to truly reconcile with her mother as her understanding of her mother grew.
"Healing Out Lao'd" began to grow in popularity as it spread in the Lao community, reaching the Lao diaspora abroad in countries like France, Germany and New Zealand, Phetmixay said. As more people began listening, members of the Lao diaspora began reaching out to her asking for their stories to be told.
Sharon Daraphonhdeth, who was featured on episode 19 of Healing Out Lao'd, started out as a fan of the podcast. The main factor that drew her to the podcast was the representation Phetmixay provided, Daraphonhdeth said. Growing up, Daraphonhdeth didn't feel particularly well-connected to her Lao community, but listening to "Healing Out Lao'd" made her feel seen and healed.
Daraphonhdeth particularly resonated with the episode featuring Latana Thaviseth which discussed her experience working as a Lao person at Stanford. Daraphonhdeth, who works as the director of the Student Environmental Resource Center at UC Berkeley, said that it was gratifying to see another Lao American work in higher education since she often didn't see others like her.
"Rita was one of the first people I ever came across that was focusing on healing for Lao people and creating a space for Lao people to actually talk about trauma, to talk about grief, but to also talk about joy, and the wonderful things that Lao people are doing in this world," Daraphonhdeth said.
Like many fans, Daraphonhdeth eventually reached out to Phetmixay to express her admiration for the podcast. Daraphonhdeth then joined the podcast as a guest for an episode on creating access to vegan Lao food and her experiences with grief and environmental justice.
Although it was her first time on a podcast, Daraphonhdeth said that Phetmixay's warmth and cheerfulness created a welcoming environment that made her feel safe and comfortable to talk about difficult issues.
"Healing Out Lao'd" – and by extension, Phetmixay – is a great example of Lao creatives who use social media and the internet to uplift the Lao community, Daraphonhdeth said. Other examples of Lao creatives include Saengthong Douangdara, who was featured on episode one of "Healing Out Lao'd", and Krysada Phounsiri, a professional dancer and poet.
Ultimately, "Healing Out Lao'd" functions first and foremost as a tool for the younger members of the Lao diaspora to relate to and heal from their shared trauma.
"I wanted to bring forth that narrative that we aren't just surviving a war – we have made a life for ourselves, right outside of war," Phetmixay said.