Beach volleyball snaps 6-year undefeated streak at home with loss to USC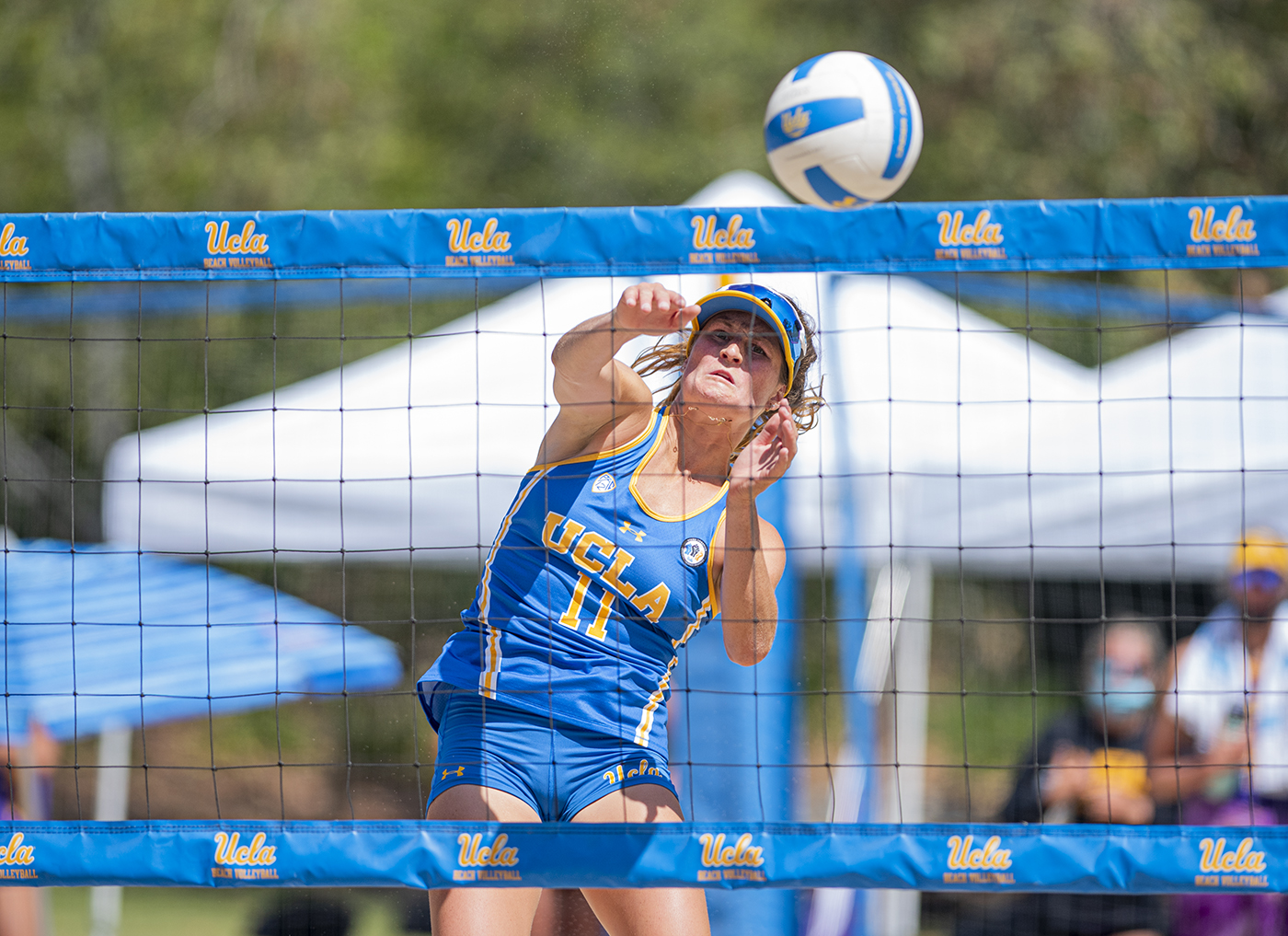 On her Senior Day, graduate student Savvy Simo won with freshman Lexy Denaburg in their matchup while No. 2 UCLA beach volleyball was defeated for the second consecutive contest by No. 1 USC. (Christine Kao/Daily Bruin staff)
For the first time in six years, the Bruins lost at home.
No. 2 UCLA beach volleyball (24-3, 10-0 Pac-12) was defeated by No. 1 USC (23-2) on Thursday at Mapes Beach. The duel came down to a third set on court five, where the Bruins were defeated 15-13, giving the Trojans a 3-2 victory.
UCLA saw its 44-match win streak – which spanned six years – snapped at the hands of its crosstown rival in the regular-season finale. This was the back-to-back defending national champion's third loss of the year, with all of them coming to USC.
Coach Stein Metzger said since the first match of the year against USC – a 5-0 defeat – he believes the team has come a long way and is vastly improving against its Los Angeles counterpart, especially on court five, where redshirt freshman Jaden Whitmarsh and freshman Rileigh Powers were defeated by Audrey and Nicole Nourse on Thursday.
"We were extremely close on the fives, which is something we haven't been before," Metzger said. "That was an extremely positive outcome for us. I thought our team played exceptionally well and I think our team has made some adjustments that have closed the gap."
The last time UCLA took three losses to USC in a season was 2019, when the Bruins went on to beat the Trojans in the national championship to win their second-straight championship.
Sophomore Abby Van Winkle, who blocked the championship-winning shot as a freshman in 2019, said she sees a lot of parallels between this team and the team from two years ago, and added that she believes it will be able to beat its crosstown rival when it counts most.
"We still have some things up our sleeve that we are going to pull out in the end, and that should really bring us out on top," Van Winkle said. "We are super excited and we all feel good where we are despite (the three losses to USC)."
Van Winkle and her partner junior Megan Muret were able to defeat their Trojan counterparts on court three, winning in three sets, 21-16, 10-21, 15-11. The only other court that saw victory was court one, when graduate student Savvy Simo and freshman Lexy Denaburg defeated USC's Julia Scoles and Sammy Slater in straight sets, 21-19, 23-21.
UCLA was defeated on court two when freshman Devon Newberry and junior Lea Monkhouse lost to Megan Kraft and Hailey Harward, 21-19, 23-21. Graduate student Jacqueline Quade and redshirt sophomore Cami Sanchez took the loss on court four in straight sets at the hands of Joy Dennis and Delaynie Maple, 21-19, 21-18.
Although the Bruins could not come out with the win, they were still able to celebrate Senior Day prior to the match. Quade, Simo, Muret, Sanchez and redshirt sophomore Hannah Phair were all celebrated for their careers with the blue and gold.
Because of COVID-19, all the collegiate players this year will be given the opportunity to take an extra year of eligibility, but all the players that were honored last night have indicated they will not return to Westwood next season.
Simo, who has been with the program since 2017, said she would not trade her time at UCLA for anything. The two-time national champion said the experiences she has had as a Bruin as well as the friends and lessons she has encountered throughout the way are irreplaceable.
"It leaves me speechless, being a Bruin is the greatest honor to have, nothing compares to it," Simo said. "I feel so lucky and so blessed to be here, and to be able to come back for a fifth year means the world to me. This team and coaches mean the world to me and this university and program mean everything to me. The people I have met, the connections I have made and the experiences I have had here are once in a lifetime and I am so happy I chose to come here."
UCLA will begin the Pac-12 tournament on Thursday at Mapes Beach.
Fenn is currently a Sports staffer on the baseball beat. He was previously a reporter on the women's soccer beat and a contributor on the beach volleyball and men's and women's golf beats.
Fenn is currently a Sports staffer on the baseball beat. He was previously a reporter on the women's soccer beat and a contributor on the beach volleyball and men's and women's golf beats.