UCLA men's volleyball opens MPSF tournament with matchup against Concordia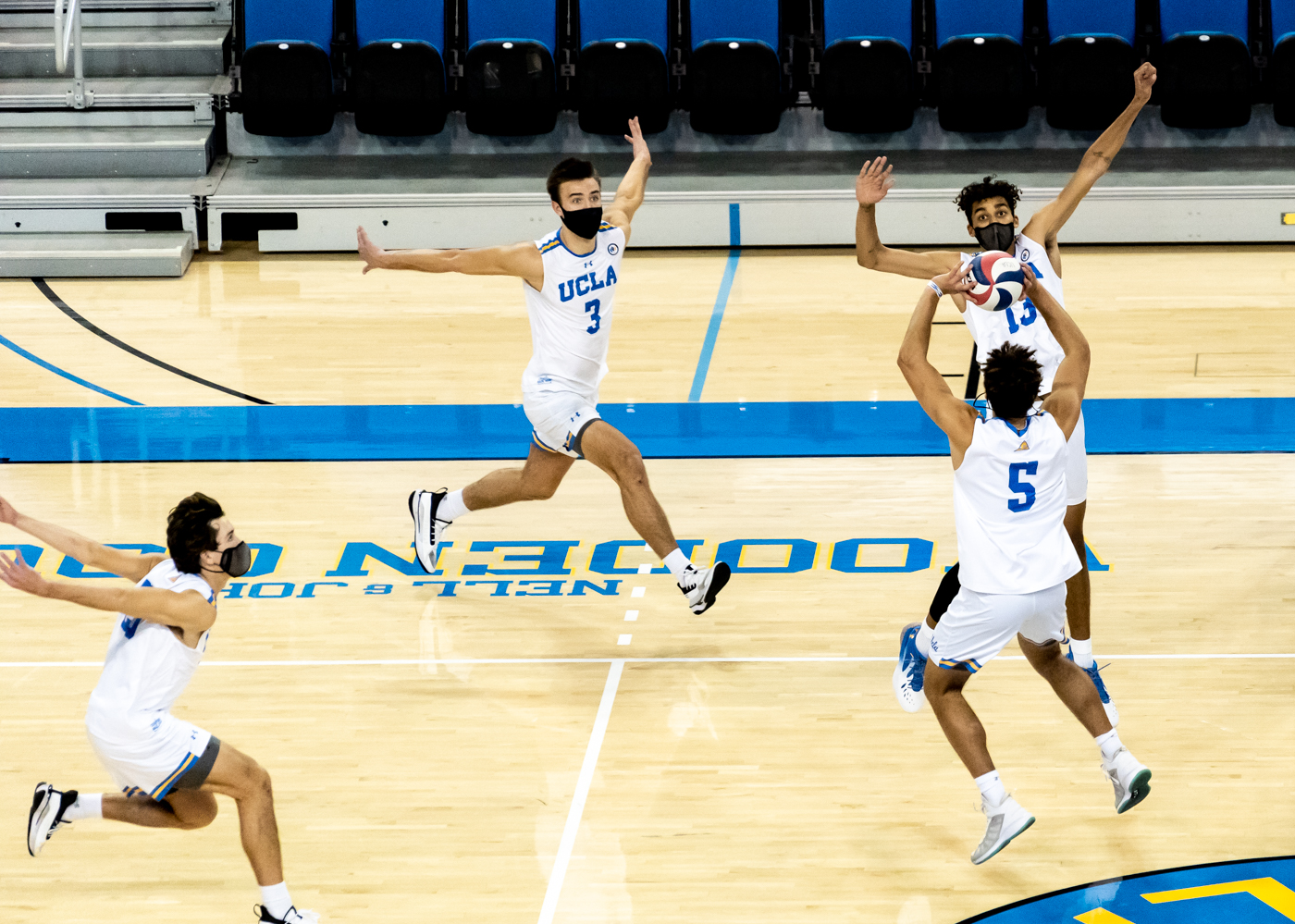 Redshirt senior outside hitter/setter Sam Kobrine recorded 41 assists in No. 2 seed UCLA men's volleyball's last matchup against No. 7 seed Concordia University Irvine on March 2. (Elise Tsai/Daily Bruin staff)
Men's Volleyball
---
No. 7 seed Concordia University Irvine
Thursday, 1 p.m.
Provo, Utah
FloVolleyball
April 22, 2021 10:37 a.m.
With an automatic bid to the NCAA tournament on the line, the Bruins will head to the Beehive State for the Mountain Pacific Sports Federation tournament.
No. 2 seed UCLA men's volleyball (14-5) will face No. 7 seed Concordia University Irvine (3-13) in the MPSF tournament quarterfinal match in Provo, Utah, on Thursday.
UCLA went up against Concordia three times this season, winning both matches at home in straight sets but losing to the Eagles in five sets when the two sides played in Irvine. In the two wins, the Bruins hit .446 but swung to the tune of .276 in their loss.
Redshirt senior outside hitter/setter Sam Kobrine, who played all three matches against Concordia this season, said the first-round matchup is something UCLA has been preparing for all year.
"It's not something like, 'We're having a playoff match now,'" Kobrine said. "It's always been a goal of ours to be intense so we can go play in the playoffs as well as we have been playing recently."
The Bruins come into Thursday's match off a win against the No. 2 team in the country and No. 1 team in the MPSF – BYU – in four sets. The Eagles, on the other hand, have lost seven matches in a row, dating back to March 13.
Another large storyline of the season that will come into play again this weekend is the COVID-19 pandemic, and coach John Speraw said he thinks players will be ready to play, even with a few unnamed players out because of COVID-19 protocols.
"I think missing as many guys as we are missing right now with COVID protocol, I think our guys are going to be locked in," Speraw said. "Our plan is to go in and win some matches so that we can get into the NCAA tournament and get those guys back out on the court for a championship."
Concordia will be a familiar opponent for UCLA in the MPSF tournament, as the Bruins have faced the Eagles in the last two MPSF tournaments, beating them in the semifinal in 2018 and the quarterfinal in 2019.
With a win in the quarterfinal match Thursday, UCLA would play in the semifinal Friday with the possibility of playing in the championship Saturday.
The projected opponent for the semifinal Friday is No. 3 seed Pepperdine and then No. 1 seed BYU in the championship. All of these matches will be played in Provo.
Speraw emphasized how important training has been for this team because of the possibility of three matches in three days, all at a high altitude.
"It's been something we have been working on," Speraw said. "We have been practicing on a model of playing three days in a row, then taking a day off and doing that again and repeating that cycle. I think we are as prepared as we can be."
During the season, the Bruins played two matches in Provo, splitting the series against the Cougars on Feb. 4 and 6. UCLA won the first matchup in four sets but lost the second in straight sets.
Coming off an MPSF/Molten Offensive Player of the Week award, redshirt sophomore opposite/outside hitter Kevin Kobrine said the Bruins will have to play their own game to have a chance in this tournament.
"So, we have to really hone in on what we do," Kobrine said. "Our out-of-system swings, our passing, our setting – really have to hone in on that because each team is going to have a different scheme, so it's going to be less about them and more about us."
UCLA plays Thursday at 1 p.m., with the possibility of playing Friday at 3 p.m. and Saturday at 6 p.m. in the championship.
Darrow is currently a Sports contributor on the men's soccer beat. He was previously a contributor on the women's tennis and men's volleyball beats.
Darrow is currently a Sports contributor on the men's soccer beat. He was previously a contributor on the women's tennis and men's volleyball beats.