No. 2 UCLA beach volleyball seeks home win over No. 1 USC to end regular season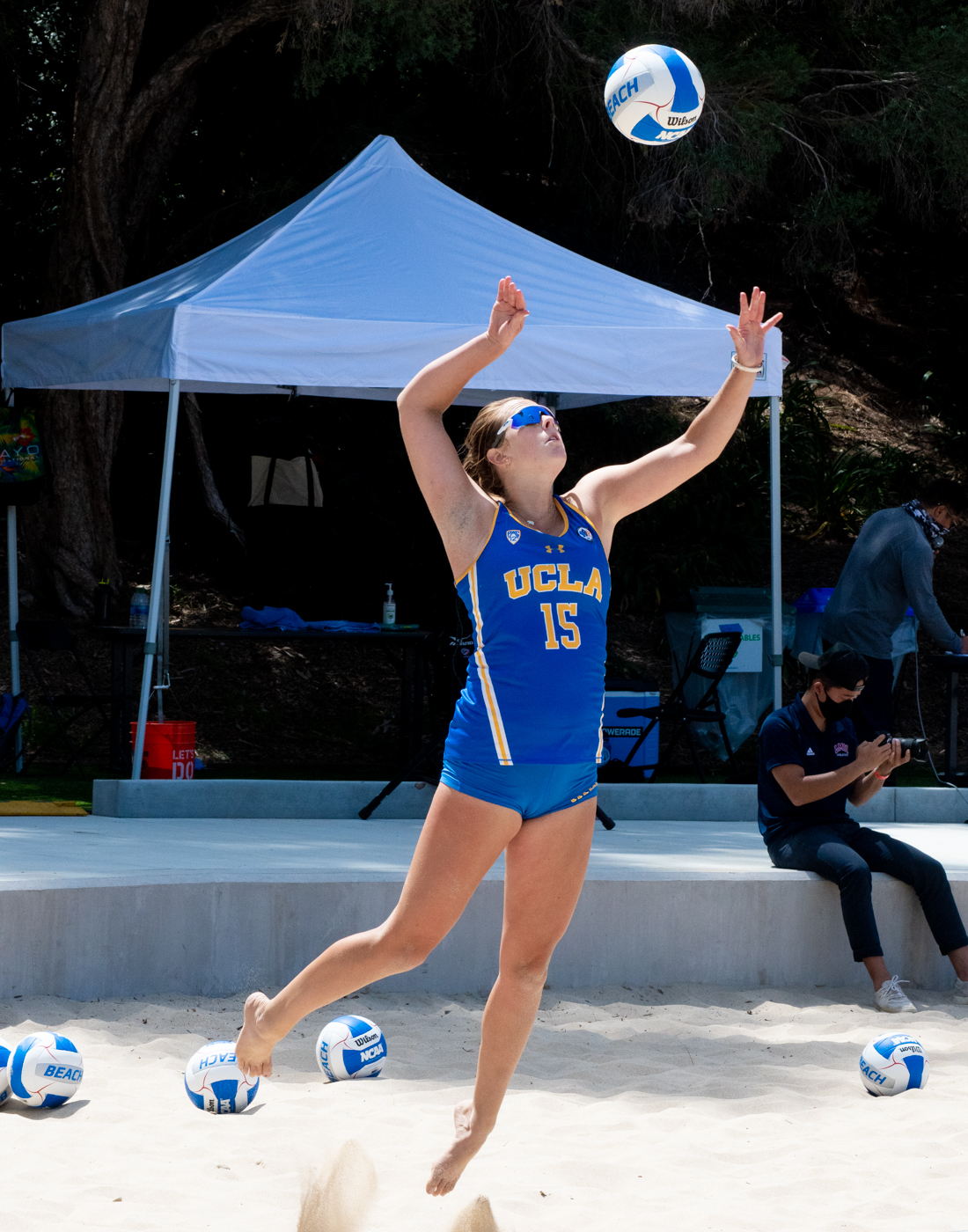 Junior Megan Muret and her partner, sophomore Abby Van Winkle, took down their Trojan opponents when No. 1 USC beat No. 2 UCLA beach volleyball on Saturday. (Alex Driscoll/Daily Bruin staff)
Beach Volleyball
---
No. 1 USC
Thursday, 3 p.m.
Mapes Beach
UCLA Stream
April 22, 2021 12:06 p.m.
The Bruins have not lost at home since 2015, but that streak will be put to the test against their crosstown rivals.
No. 2 UCLA beach volleyball (24-2, 10-0 Pac-12) will host No. 1 USC (22-2) on Thursday at Mapes Beach. The Bruins have not lost at home in their last 44 matches – a streak spanning six years – and hold a 3-0 home record over the Trojans during that span.
Coach Stein Metzger said playing on UCLA's own sand will greatly benefit his team in comparison to the first two times the Bruins faced the Trojans this year, which ended in 5-0 and 3-2 road defeats.
"The conditions make a big difference in our sport," Metzger said. "When we go to USC, their conditions tend to favor them. At our home our conditions favor us. I expect us to have an advantage, but is it enough to beat that team? We will see."
Junior Megan Muret echoed Metzger's comments about the importance of playing a team like USC on their own sand.
"Our sand is a lot deeper at Mapes Beach than at other places we play at, and we can practice there every day, which definitely plays to our strengths," Muret said."(USC) is more of a taller and physical team so the deeper sand will level the playing field a little bit, and its always great to have that comfort of playing at home."
Metzger said the first two times the team played the Trojans this year at USC and Cal Poly, the sand was more compact, which tended to benefit the taller and stronger Trojans. The two-time national champion coach added that shifting to the deeper sand at Mapes Beach will allow the Bruins, a team that focuses on ball control, to look to have an advantage over the No. 1 team in the country.
This No. 1 versus No. 2 matchup will not be the only notable thing happening at Mapes Beach on Thursday. On April 12, UCLA Athletics announced it would open outdoor sporting events to a limited number of team guests, which in this case will be players' families and close friends.
Redshirt freshman Jaden Whitmarsh said the team is looking forward to having its family and friends in attendance for the first time all year.
"Its something we are all looking forward to because that was something that was taken away from us when the pandemic hit," Whitmarsh said. "We are really excited to have our close family and friends support us at such an important match. I think it was something we took for granted, and I am happy to get that opportunity back."
Thursday will also be the regular-season finale for the Bruins before they enter the Pac-12 tournament later in the month. Metzger said the back-to-back defending national champions may feel some pressure leading up to their quest for a three-peat, so this last match before postseason play will be pivotal for the team.
"I expect our team to come together as a group – it is important that they are great teammates to each other and they are supportive," Metzger said. "The season is at (an) end and it's almost time to go into postseason. The stress levels will only go up, and we need to make sure we are at each others' side and we got each others' back because everyone will be out to get us."
UCLA will hit the sand at 3 p.m. on Thursday, but not before it honors five players for Senior Day – Jacqueline Quade, Savvy Simo, Megan Muret, Cami Sanchez and Hannah Phair.
Fenn is currently a Sports reporter on the beach volleyball and men's and women's golf beats.
Fenn is currently a Sports reporter on the beach volleyball and men's and women's golf beats.