Editorial: UCLA must reaffirm commitment to returning transfers by offering housing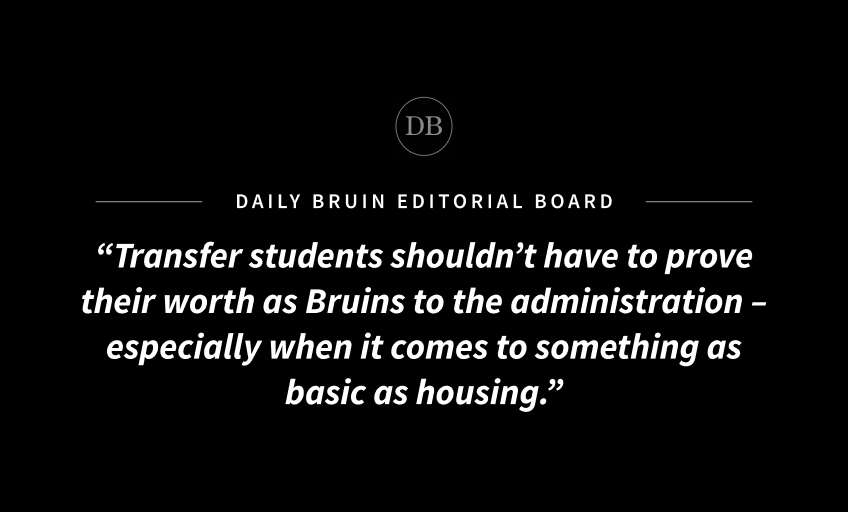 This post was updated April 25 at 7:18 p.m.
"I feel like I'm not even a Bruin," a transfer student said after learning that she, along with nearly all returning transfer students, was excluded from receiving on-campus housing priority for the next academic year.
UCLA announced plans to offer priority for on-campus housing to incoming freshmen, returning sophomores and incoming transfer students. Notably excluded from that list were transfer students from the class of 2022.
The administration's decision not only robs second-year transfer students of a unique UCLA experience, but it also risks possibly pushing students toward housing and food insecurity. And UCLA has repeatedly failed to take transfer student voices into account throughout the entire planning process.
UCLA housing should listen to the hundreds of transfer students asking for the basic right to housing and modify its housing plan to accommodate them. At the very least, it must ensure transfer students who are facing housing insecurity will not be put at risk because of their lack of consideration.
After all, most transfer students have only two years to make the most of their Bruin experience. And the transfer class of 2022, through no fault of their own, has had the COVID-19 pandemic rob them of half the experience.
In response to UCLA's disregard, the Transfer Leadership Coalition and the Office of the Transfer Student Representative created a petition that received almost 1,300 signatures asking the administration to give current third-year transfer students priority housing next academic year.
The coalition has been lobbying at town halls, mobilizing students to petition administrators and informing students on social media where it has broken down the number of ways UCLA has let the transfer class of 2022 down.
For example, UCLA did not appoint a transfer student representative on the Housing Priority Committee until undergraduate student government officials pushed it to do so and followed that up by going against the recommendation of students advocating to give transfer students in the class of 2022 housing.
Countless transfer students, including leaders in both the coalition and the transfer student representative's office, have been boldly advocating for change despite disappointing answers from administrators. And while their actions are admirable, they shouldn't have to sacrifice their time as students advocating for UCLA to take their concerns seriously.
UCLA should be prioritizing Bruins of all backgrounds – and that includes transfer students.
University administrators claim the housing prioritization decision is based on space, and seeing as they have not offered concrete numbers, the community will have to take their word for that.
However, the administration said they "will also prioritize first-year transfer students as well as our sophomores, who were largely unable to participate in the traditional first-year on-campus experience this past year." But they will not prioritize second-year transfer students who faced the same experience, which is nothing more than transfer student erasure.
And UCLA's reasoning lacked even a mere mention of their existence.
The university, at the very least, owes its transfer students an explanation and not weekend discount meal tickets for on-campus dining, something an administrator offered during a town hall meeting where hundreds of transfer students were looking for answers. To imply that discounted meals would make up for this is, quite frankly, an insult on top of injury.
Students interested in advocating alongside transfer students can support transfers by signing the Supporting Transfer Demands on Housing petition, emailing administrators demanding they reassess their housing plan and supporting social media campaigns.
Transfer students shouldn't have to prove their worth as Bruins to the administration – especially when it comes to something as basic as housing.