UCLA given low rating for accessibility, transparency of biomedical research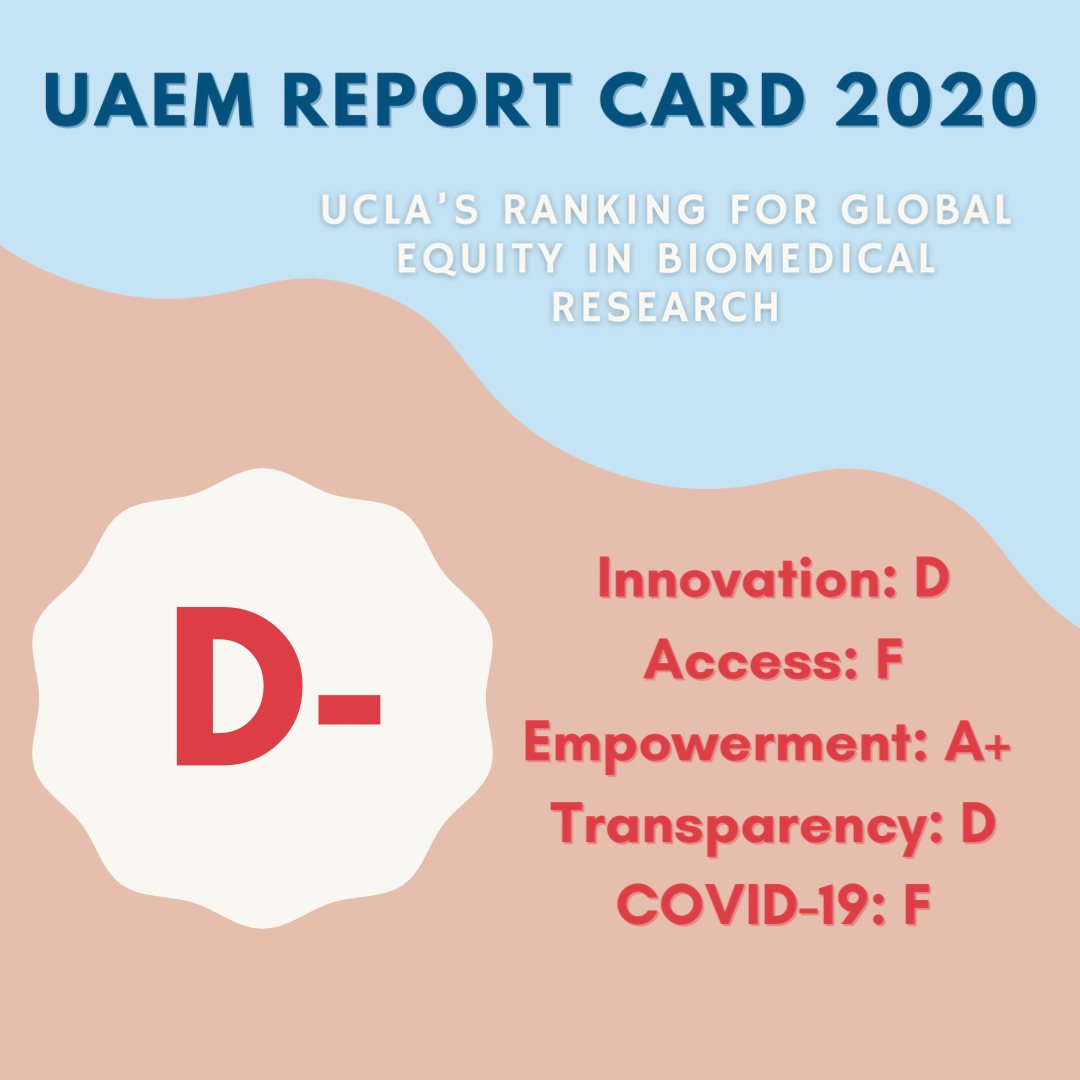 According to the recent Universities Allied for Essential Medicines report card, UCLA performed poorly in 2020 for the equitability of their biomedical research (Courtesy of Giselle Melendez/UCLA UAEM).
UCLA performed poorly in 2020 for the equitability of its biomedical research, a nationwide student-led organization found.
The Universities Allied for Essential Medicines, an organization devoted to the accessibility of medication, gave UCLA a D- overall score. UAEM released scores for 60 U.S. universities in late March to judge the equitability of universities' biomedical research.
The report card graded five sections: access, innovation, transparency, empowerment and COVID-19. UAEM found UCLA research was lacking in all areas except empowerment.
UAEM grades and ranks the 60 universities that receive the most public funding, said Sapna Ramappa, a third-year human biology and society student and a representative of UAEM. UCLA ranked 21st on the list.
Of these sections, UCLA scored an A+ in empowerment, which measures access to global health studies, said third-year neuroscience student and UAEM co-internal vice president Avani Reddy.
"UCLA did great in the empowerment section because we do have a really strong global and public health education program here," said Devika Shenoy, a third-year human biology and society student.
Shenoy, who is a representative of UAEM, said UCLA performed weakly in the access section because it does not have timeliness in releasing information, nor does it support socially responsible licensing.
"We weren't really seeing UCLA promoting and implementing the use of socially responsible licensing for health technologies," she added. "We weren't seeing the disclosure of clinical trial data on time."
"UCLA is committed to its public-service mission of transparent and equitable biomedical research that enhances our understanding of disease and leads to new treatments," UCLA Health spokesperson Phil Hampton said in an emailed statement.
Licensees under UCLA licensing agreements are required to consider the interests of underserved populations and incorporate them in inclusive plans for marketing and selling medications developed by UCLA, Hampton said in the emailed statement.
Shenoy said UCLA should enact committees to oversee clinical trial transparency or release public statements endorsing the public disclosure of clinical trial data to combat its low score in this area.
UCLA is also not prioritizing disease research or global public health research in its funding allocations, she added.
Less than 5% of total funding was dedicated to global health research and less than 1% was dedicated to neglected disease research, Shenoy said.
UCLA could still improve its score by joining initiatives started by UAEM and increasing overall transparency, Reddy said.
UCLA could increase its score by signing onto the Open COVID Pledge to increase accessibility, she added.
Student advocates from UAEM presented at the Undergraduate Students Association Council meeting April 6 about UCLA's low report card grade and asked council members to sign onto their Open COVID Pledge.
The Open COVID Pledge was started by UAEM at the beginning of the pandemic and allows universities' COVID-19 intellectual property, such as research data and clinical trials, to be available for use around the world at no cost, said Mominah Subhan a third-year human biology and society student and representative of UAEM.
UCLA can also commit to long-term changes such as global access guidelines and socially responsible licensing that would improve the equitability of its research, Ramappa said.
Shenoy said it is important for UCLA to improve its score because it is citizens' tax dollars funding its grants and the public should have access to the research.
"We want to see our universities make public commitments for global equity," Shenoy said. "And what this report card has shown us is that more than half of universities, including UCLA, just aren't doing a great job of prioritizing that."