UCLA softball's Rachel Garcia pitches no-hitter to defeat Oregon State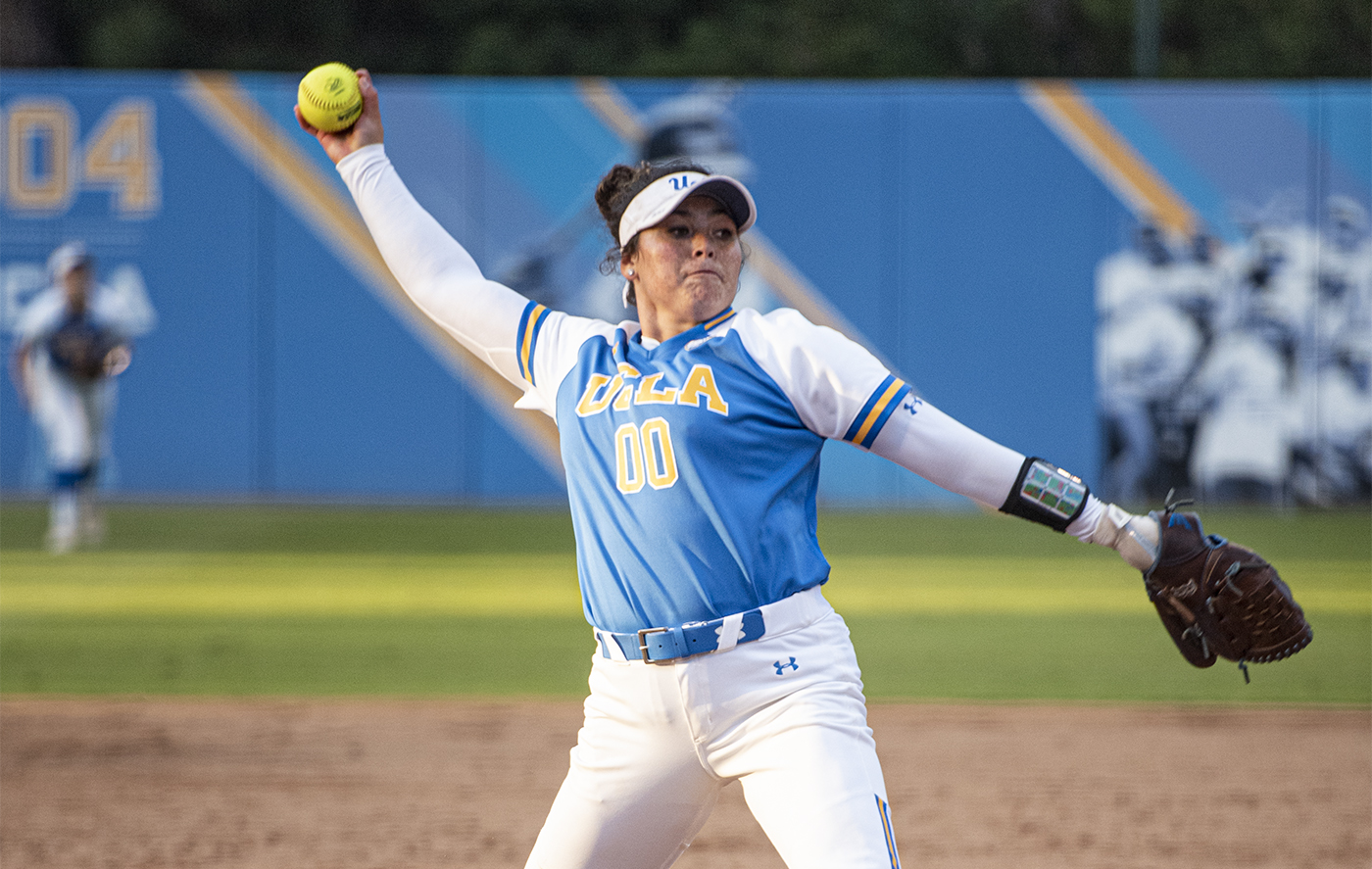 Redshirt senior pitcher/first baseman Rachel Garcia pitched the second no-hitter of her career Friday, going the whole seven innings while striking out 12 in No. 2 UCLA softball's victory.(Ashley Kenney/Assistant Photo editor)
softball
---
| | |
| --- | --- |
| Oregon State | 0 |
| No. 2 UCLA | 7 |
April 17, 2021 10:21 a.m.
For the first time this season, the Bruins played in front of spectators at Easton Stadium.
Rachel Garcia made sure to give the crowd something to cheer about.
The redshirt senior pitcher/first baseman threw a no-hitter and struck out 12 batters as No. 2 UCLA softball (23-2, 6-1 Pac-12) defeated Oregon State (15-18, 3-10) 7-0 Friday evening. Garcia's second career no-hitter took place in the Bruins' first home game since UCLA began allowing a small number of guests – limited to players' family and special personnel – to watch outdoor sporting events in person.
"It's special knowing that this is the first day fans are back," Garcia said. "To be able to do that in front of the fans makes it really cool, and on top of it, my family got to come."
Garcia began her day in the circle by allowing two first-inning base runners – on a walk and hit-by-ptich – but she was able to avoid early trouble and leave both runners stranded with a two-out strikeout.
After the first inning, the Bruins ace retired 18 of the next 20 batters and didn't allow a baserunner to get beyond first base
Coach Kelly Inouye-Perez said Garcia's ability to respond is part of her tremendous talent.
"It's not what happens that first inning, but it's how you respond to it that I always say is your defining moment," Inouye-Perez said. "She created a little bit of a mess and got herself out of it. For her to do what she did today and not be perfect, it's just impressive, and that's what makes Rachel Garcia so special."
Despite Garcia's shutout performance, the score remained tight for most of the game.
The Bruins broke the scoreless tie in the second inning with an RBI single from redshirt junior infielder Kinsley Washington and added one more in the bottom of the third thanks to a lead-off home run by redshirt junior outfielder Aaliyah Jordan.
Jordan – who replaced injured redshirt senior utility Bubba Nickles in the leadoff spot for the fifth straight game – said she's beginning to get comfortable with her new role despite being a different hitter than Nickles.
"I've actually never been leadoff before so this is kind of a new role," Jordan said. "Me and Bubba are two completely different hitters. I'm more so aggressive. Being able to set the tone for the game is pretty cool – it's a little different but it's pretty exciting and it's a new challenge for me."
Following Jordan's third-inning blast, UCLA was held scoreless and carried just a 2-0 lead into the bottom of the sixth.
UCLA then scored five runs in the sixth frame, with three coming off of a bases-loaded, two-run double from redshirt junior infielder Briana Perez. Garcia added an RBI single of her own to give herself some insurance runs and the Bruins a 7-0 lead heading into the final inning.
After giving herself some extra run support, Garcia stepped into the circle in the seventh, just three outs away from a no-hitter.
Garcia – who said after the game she had no idea she was even throwing a no-hitter – finished the job nonetheless, using three seventh-inning strikeouts to cap off the special performance.
Jordan said experiencing Garcia's historic outing was nothing new for her and her teammates.
"She strikes us all out at practice, so it's no surprise there," Jordan said. "But just to see her back out there – it's her senior year and she's doing so well – I'm really proud of her."
Garcia missed all of last season to train with the U.S. Olympic Softball Team but decided to come back and play for both teams in 2021. She said these types of moments justify her decision.
"Being able to come back and represent both UCLA and Team USA in the same year – it's unheard of," Garcia said. "Games like today makes it 100% worth the time to be able to come back and finish out my senior season."
The Bruins continue their series against the Beavers at Easton Stadium on Saturday at 11:00 a.m.
Carlson is currently a reporter on the women's basketball and softball beats.
Carlson is currently a reporter on the women's basketball and softball beats.