UCLA men's soccer hopes to even season series against California in final matchup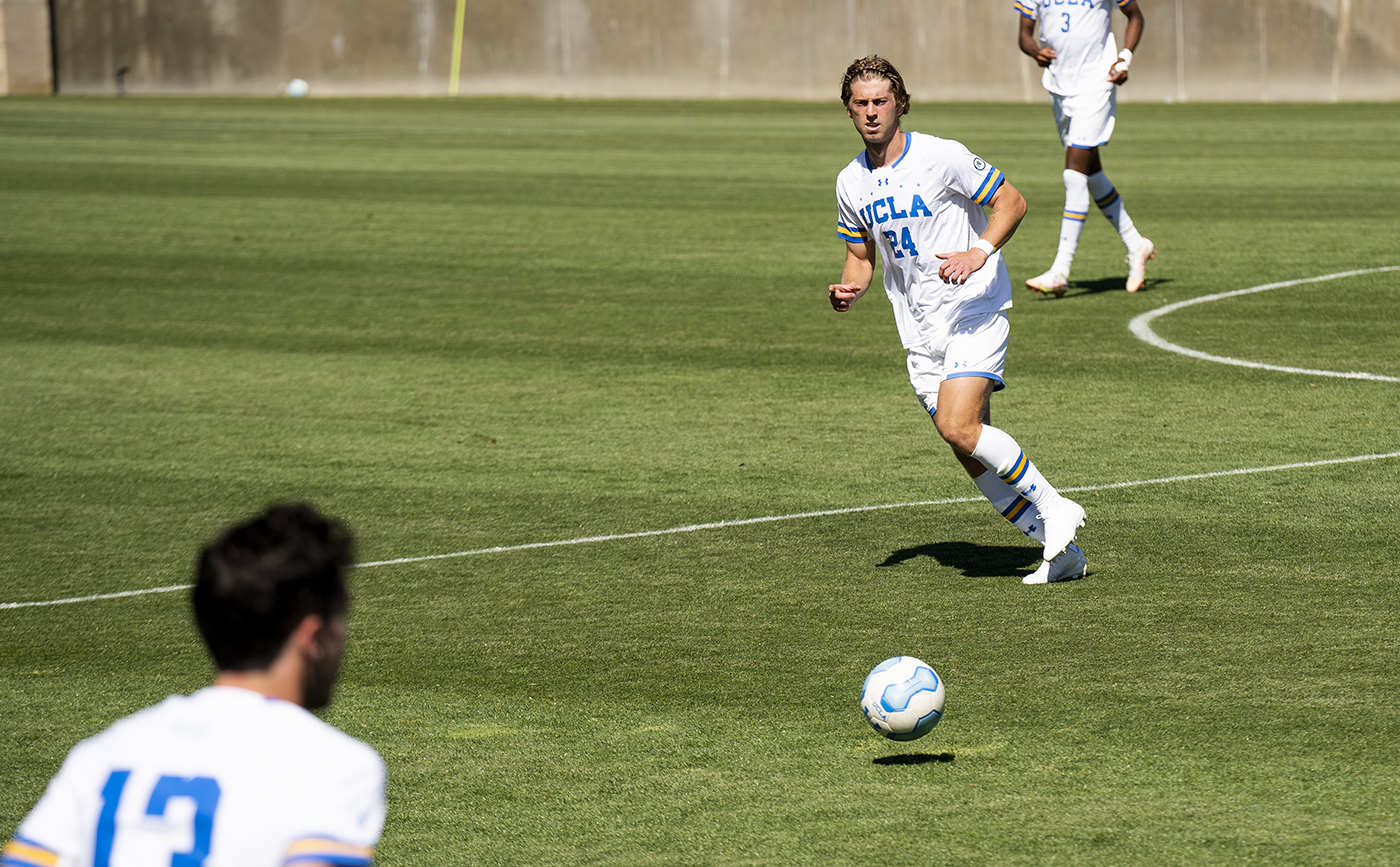 Senior defender Ben Reveno will wrap up his second season in Westwood on Saturday when UCLA men's soccer hosts California. (Esther Ma/Daily Bruin)
Men's Soccer
---
California
Saturday, 2:30 p.m.
Wallis Annenberg Stadium
Pac-12 Networks
For the final time this season, the Bruins will be lacing up their cleats at Wallis Annenberg Stadium.
UCLA men's soccer (2-7-2, 1-6-2 Pac-12) will host California (4-4-1, 3-4-1) on Saturday afternoon in its last game of the 2020-2021 campaign. The Bruins will have a chance to even the season series after losing 2-0 to the Golden Bears on March 20 and need a win to match last season's program-worst conference record of 2-6-2.
As with its previous contest with California, UCLA has held several offensive advantages during the late stretch of the season. In four of the previous six matches, the team racked up a 58-30 shot advantage against its opponents, including a 14-4 shot differential against the Golden Bears. The Bruins have also garnered a 38-10 corner kick advantage in their previous five contests.
Coach Ryan Jorden said these statistical edges reflect the team's development on the offensive end.
"It shows that we've grown in our capacity to gain control in our games," Jorden said. "We feel very good about our growth in attacking quality, and we hope to be able to have that translate to goals on Saturday."
Junior midfielder Cody Sundquist said the late offensive production reflects the team's improvement in ball control and pace.
"We've improved a lot in the sense of being a possession-oriented team and keeping the ball for large spells during the game and creating a lot of chances," Sundquist said. "So for next season, if we can get that final product, we'll get more of the results that I think people are accustomed to for UCLA men's soccer."
UCLA's newcomers have also made offensive contributions throughout the 2021 campaign. In 11 games of action, 60 percent of goals, 58 percent of assists and 59 percent of points have been recorded by players who were not regulars in last year's rotation.
Senior defender Ben Reveno – one of the Bruins' veterans – has netted a goal of his own this season and said the team wants to finish its integration of younger players with a solid performance Saturday.
"It's been a process, and during this process (the newcomers) have done very well," Reveno said. "With the last game of the season, we want to finish strong and once that's over, work together to get better for next season."
With the game against California, UCLA will also end the season with the fifth toughest schedule in the NCAA.
The Bruins have had to face seven opponents ranked within the top 15 nationally, and its past opponents have combined for a .620 winning percentage this season. The team previously had the 12th toughest schedule in the 2019-2020 campaign, as its opponents combined for a .609 winning percentage.
Jorden said this difficult schedule has provided multiple opportunities for players to develop under pressuring circumstances.
"For a young team, we had to play some really top opponents," Jorden said. "It means you're under pressure, and when you make mistakes, you get caught. And when you're a young team, you get punished. Our ability to grow against those teams has been significant in my estimation, and I feel that we've really been able to develop the work and capability to play against those teams."
Kickoff from Westwood against the Golden Bears will be at 2:30 p.m. Saturday.
Siddiqui was a Sports contributor on the men's soccer beat.
Siddiqui was a Sports contributor on the men's soccer beat.