UCLA women's soccer ties USC after overtime for 2nd time in regular season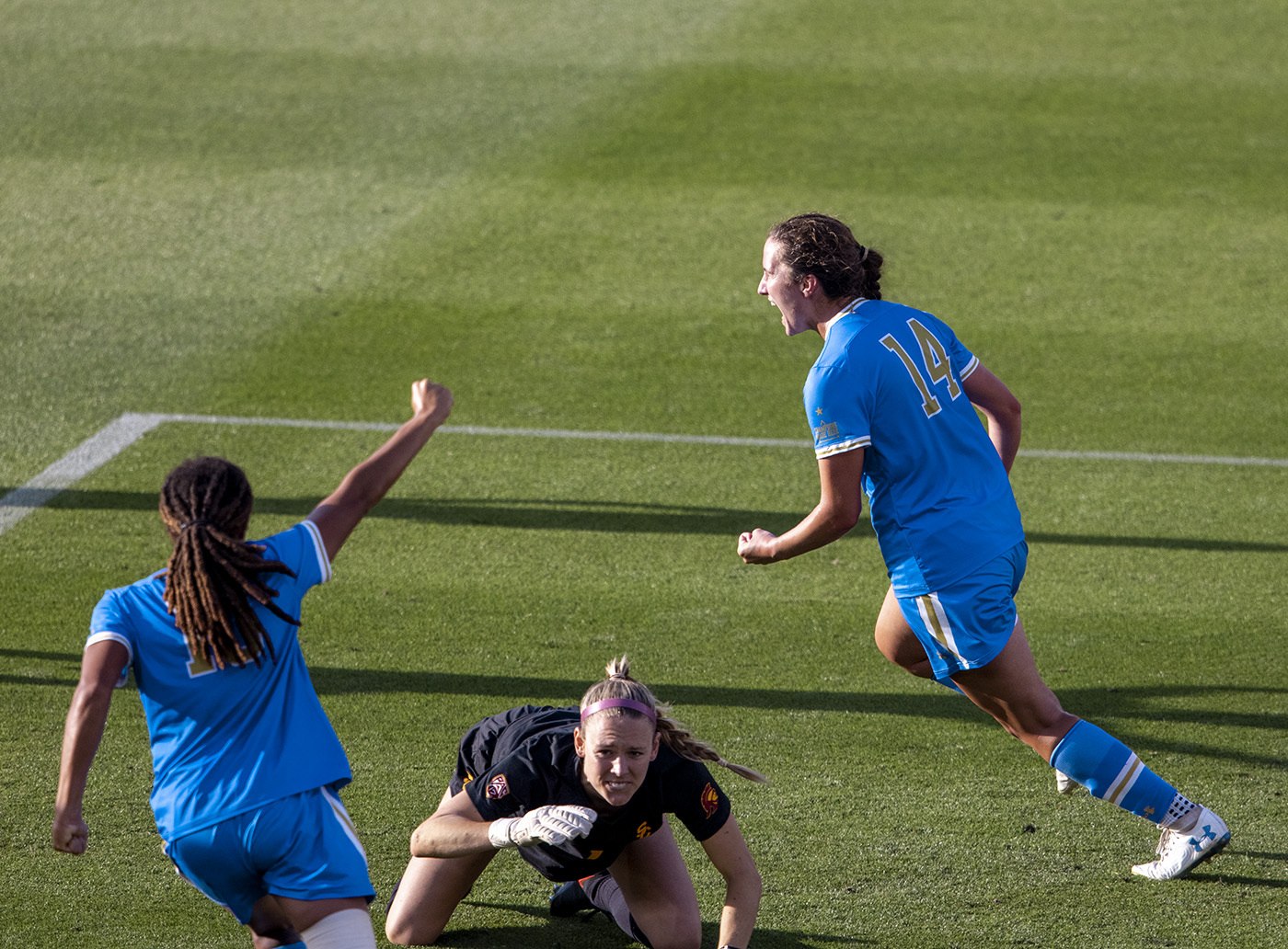 Senior midfielder Olivia Athens' second goal of the season gave No. 3 UCLA women's soccer the late equalizer in its Pac-12 finale against No. 19 USC on Friday, before the game remained level after 10 minutes of overtime. (David Rimer/Daily Bruin staff)
This post was updated April 16 at 8:04 p.m.
The Bruins couldn't settle the score with their crosstown rival.
No. 3 UCLA women's soccer (12-1-2, 9-1-1 Pac-12) tied with No. 19 USC (7-3-2, 6-3-2) for the second time this season Friday night in its 2021 regular-season finale. The Bruins and the Trojans have advanced to overtime periods in four of their last five meetings, including an identical 2-2 draw in mid-March.
"We know we're going to get this game every year with USC," said senior midfielder Olivia Athens. "It was really unlucky that we couldn't pull a goal in the end, but to battle back like we did is really hard to do, so I'm proud."
With UCLA behind 2-1 and less than three minutes remaining in regulation, USC midfielder Croix Bethune received a yellow card, which granted the Bruins a free kick from the middle of the Trojan half. The kick by senior midfielder Marley Canales connected with Athens' head before hitting the back of the net to send the match to overtime.
"I kind of had flashbacks from a couple of years ago when the same thing happened in overtime against USC," Athens said. "Marley played a great ball and it came right to me, so I headed it down and it went right in."
UCLA fell behind early in the first half, when sophomore defender Brianne Riley sprinted alongside USC forward Penelope Hocking but was unable to prevent the Trojan from sending a blast past redshirt junior goalkeeper Lauren Brzykcy's left side 10 minutes into the contest.
UCLA matched USC at six shots in the first period but trailed 5-2 in shots on target and was unable to equalize before halftime.
A minute and a half into the second period, Trojan forward Tara McKeown increased the USC lead when she got her head on a corner kick and sent it over Brzykcy's shoulder and into the back of the net.
"We didn't start well and they were the aggressors, so they deserved to be up 1-0," said coach Amanda Cromwell. "I was a little upset about the second goal, and I think it was our first goal on a set play all year, but we will do better."
Officials awarded a free kick to the Bruins and a yellow card to Hocking five minutes later, when the Trojan committed a foul in the blue and gold half of the field. UCLA was unable to capitalize despite freshman forward Reilyn Turner's success in dribbling around three separate defenders.
The Bruins got on the board in the 56th minute with a shot to the center of the net when senior midfielder Delanie Sheehan found herself undefended in front of the Trojan goal after receiving an assist by sophomore forward Mia Fishel.
USC fouled 12 times in the same time UCLA fouled twice, including two aggressions in the five minutes that followed the first Bruin goal. The Trojans out-fouled the Bruins 17-9 and ended the match with two yellow cards.
Athens' late equalizer forced two overtime periods for the second time this year.
"We're both really strong teams," Brzykcy said. "Our perseverance, coming back from two goals down, shows that we won it a little more, especially when we went on to kill them in those overtimes."
Both teams recorded two incomplete shots in the first overtime period and three in the final period – though only the Bruin three were on target – and the match ended in a 2-2 stalemate.
UCLA was crowned Pac-12 champion last weekend and will have two weeks to rest before traveling to North Carolina for the NCAA tournament, likely beginning in the second round on April 30.
"I'm excited to move forward," Brzykcy said. "I want to get refreshed, and I think we'll be ready to go on after this season ending."
Hunt is currently a Sports staff writer on the softball and women's soccer beats. She was previously a reporter on the gymnastics, women's water polo and swim & dive beats.
Hunt is currently a Sports staff writer on the softball and women's soccer beats. She was previously a reporter on the gymnastics, women's water polo and swim & dive beats.