UCLA women's soccer prepares to face USC in final conference matchup of season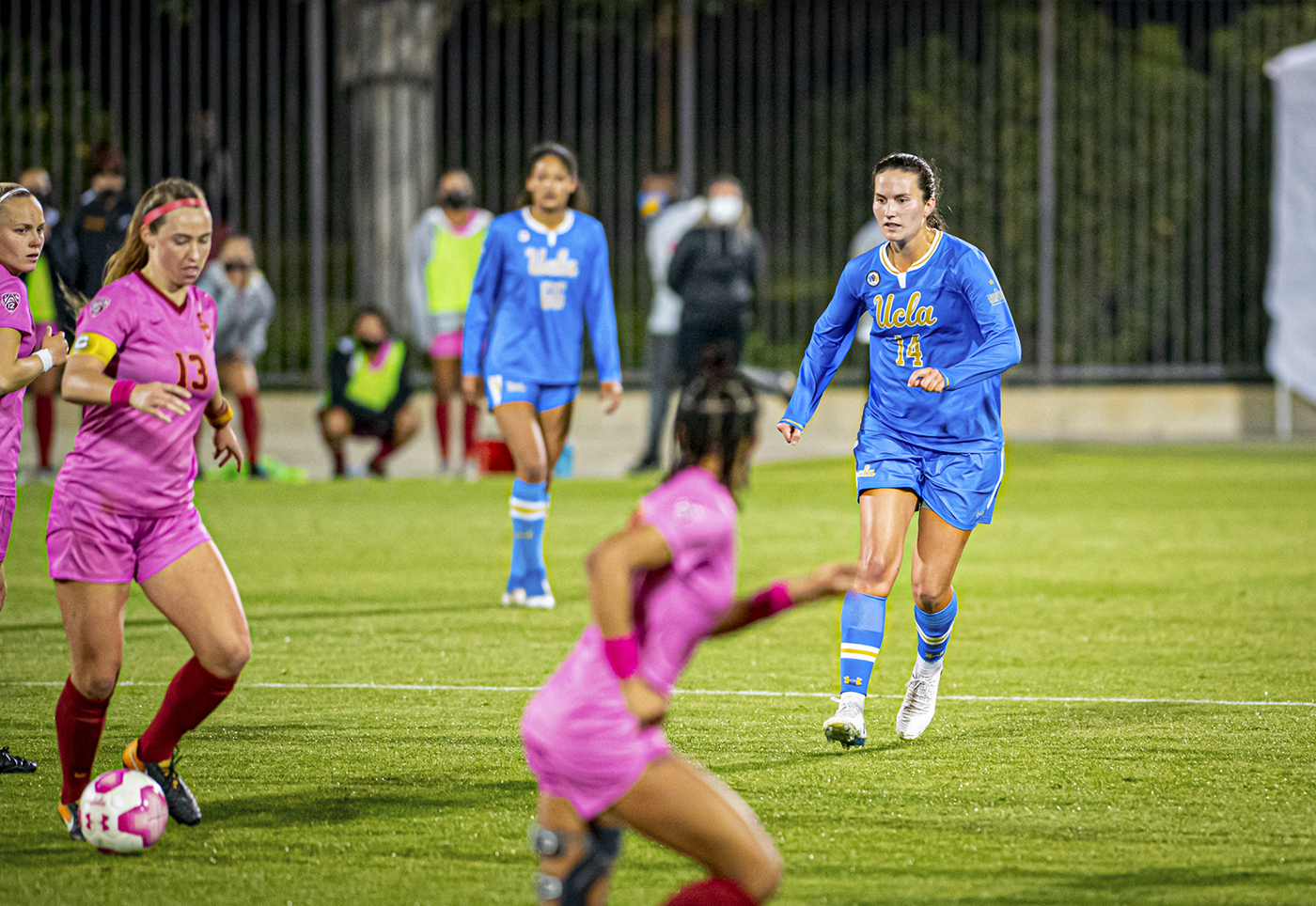 Coming off a fractured leg that sidelined her for the majority of the 2019 season, senior midfielder Olivia Athens has started all 14 games for No. 3 UCLA women's soccer in 2021 ahead of its final regular season game of the year at No. 19 USC on Friday. (Kanishka Mehra/Photo editor)
Women's Soccer
---
No. 19 USC
Friday, 4 p.m.
Los Angeles Memorial Coliseum
Pac-12 Networks
April 16, 2021 11:43 a.m.
The Bruins have a chance to settle the score against their crosstown rival.
No. 3 UCLA women's soccer (12-1-1, 9-1-0 Pac-12) will play No. 19 USC (7-3-2, 6-3-1) at the Los Angeles Memorial Coliseum on Friday night. The Bruins – who have already claimed the Pac-12 title for the first time since 2014 – drew against the Trojans earlier this season in a nonconference bout in Westwood.
Senior midfielder Olivia Athens said the match against USC will be significant for UCLA despite already being named conference champion.
"It's nice to know going in that we already won the Pac-12, but because it's USC, we are really going to fight to win, even now," Athens said. "It takes the pressure off, but we are kind of using this game as preparation for the (NCAA tournament), and we're working on a few things that we'll implement going forward."
In the first crosstown meeting of the year, the Trojans outshot the Bruins 20-14 and had a 6-5 corner kick advantage. Although UCLA scored first in the match, it allowed two USC goals before equalizing in the 86th minute.
Coach Amanda Cromwell said the Bruins will be putting their offense to the test in Friday's game.
"We really look forward to playing them again," Cromwell said. "We looked at how they attack. They have two really good forwards and they're going to be able to counter us, so we have to be better on the ball, have more possessions and more patience."
In the Bruins' previous match against the Trojans, sophomore forward Mia Fishel was injured and did not play. In 13 games this season, Fishel has scored six goals and recorded four assists while recording a 0.556 shots on goal percentage.
Cromwell said she thinks having Fishel in UCLA's starting 11 will make a difference in the outcome of the second match.
"They have to prepare for Mia," Cromwell said. "She's one of the best forwards in the country. Before, we needed to do a better job of holding the ball up front, and when Mia is in the game, the whole team possesses the ball better because they know she's someone who can keep it for us and add on the pressure."
The Bruins opened the season with eight straight wins, allowing a total of three goals in those games. UCLA forced a 2-2 tie against USC in its ninth game, followed by its first and only loss of the season against Arizona State.
Since their loss, the Bruins have tallied four straight wins, clinching the Pac-12 title two days before they defeated the defending national champion, Stanford, in overtime Sunday.
USC has not lost since tying with UCLA on March 18, logging one draw against Stanford earlier this month. The Trojans are also undefeated at home this season.
"This USC game will be a big test for us, and we want to prove that we can compete," Athens said. "We hit a bump in the road earlier this season after USC and (Arizona State). But, it was like a blessing in disguise, because we learned a lot from that and now I think we're in a really good place, so we want to carry on the momentum from this weekend."
The Trojans have relocated to the Los Angeles Memorial Coliseum for the season, and both USC and UCLA players and coaches have been granted guest tickets following the loosening of COVID-19 restrictions in Los Angeles County last week.
Junior midfielder Maricarmen Reyes said she hopes the fans will be an advantage for the Bruins.
"It'll be like a really cool homecoming to have some fans there," Reyes said. "We each got four tickets, and we have more players than them, which means we'll have more fans."
Hunt is currently a Sports staff writer on the softball and women's soccer beats. She was previously a reporter on the gymnastics, women's water polo and swim & dive beats.
Hunt is currently a Sports staff writer on the softball and women's soccer beats. She was previously a reporter on the gymnastics, women's water polo and swim & dive beats.