Editorial: Commission to address Jackie Robinson Stadium incident is late and limited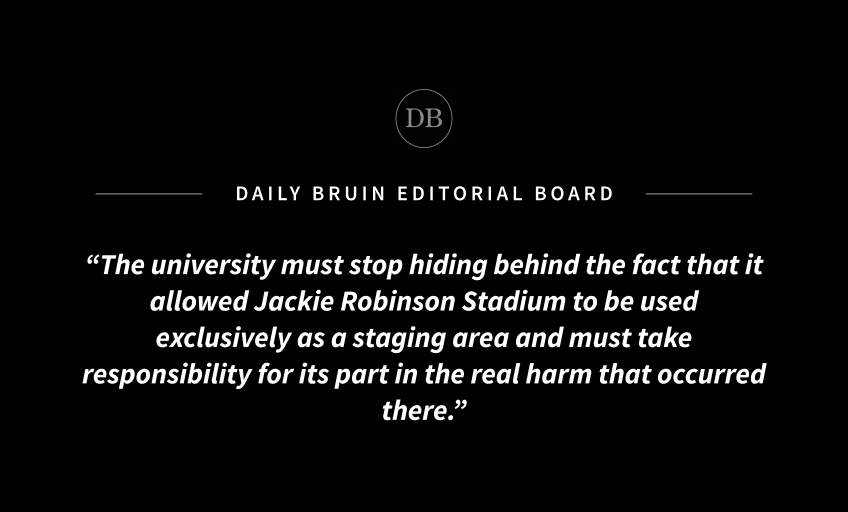 April 15, 2021 12:20 p.m.
Editor's note: Editorials are intended to serve as the jumping-off point, not the conclusion, to discussion. As part of the Daily Bruin's commitment to its readers, the board hopes to present a responsible and clear analysis of relevant events and news items affecting the lives of those we serve, but our editorials are not representative of the Daily Bruin's views on issues as a whole. We encourage all readers to reach out to our board members and to respond to our editorials.
Fiat lux – let there be light. It is one of the university's favorite phrases to plaster on walls, name classes after and scrawl across websites .
But when it comes to pointing the light at itself, UCLA seems to lack some much-needed introspection for its actions.
The LAPD used the UCLA-leased Jackie Robinson Stadium as a field jail to detain Black Lives Matter protesters in June. UCLA, which leases the stadium from the U.S. Department of Veterans Affairs, was aware the LAPD was using the area as a staging facility, but not as an arrest processing facility.
Only last Friday, nearly a year after the incident, did UCLA announce plans to create a commission on public safety, whose commissioners will investigate the events at Jackie Robinson Stadium last summer.
It is promising that the commission is prioritizing this disturbing mark on UCLA's record. But it is a disappointment and an insult that UCLA administrators did not have the sense, much less the respect for the detainees, to independently commission a review of the Jackie Robinson Stadium incident sooner than 10 months after it occurred.
There is nothing inherently wrong with creating a new commission on public safety – except for the clear exclusion of students, staff, activists and abolitionists, of course. What is unacceptable is that the university has effectively framed an investigation of the "field jail" as an afterthought – the result of its new commission's first order of business – as opposed to a pressing abuse of police power.
There is no easy fix for this clear oversight of 10 months. At the very least, the university must ensure that the commission does not come up empty-handed when it releases the report – which is expected around June – and that it provides salient updates and new information to the student body as it finds it.
The time has passed for empty words and cheap promises.
Last summer, UCLA scrambled to squelch the bad optics of the Jackie Robinson Stadium incident. Since that day, the university has steered the conversation away from its involvement in the event.
UCLA is not known for being transparent about its shortcomings. But with this commission, the least it could do is attempt to make amends.
The university must stop hiding behind the fact that it allowed Jackie Robinson Stadium to be used exclusively as a staging area and must take responsibility for its part in the real harm that occurred there. On a day when the baseball world honors Robinson's barrier-breaking legacy, it is crucial that the university works toward making amends for what happened on the stadium grounds that bear his name. It is critical that the commission provide the student body with new information about its findings.
This investigation may be quietly buried in an email to students a few months from now, with nothing more than plans for another investigation or empty promises to recommit to public safety.
But students and faculty deserve a say in this process. Their participation can allow UCLA to create a more inclusive and effective approach to creating tangible change.
That is assuming the university actually listens – and it should.