13-year-old Melissa Ponce finds lifelong friends in UCLA women's water polo teammates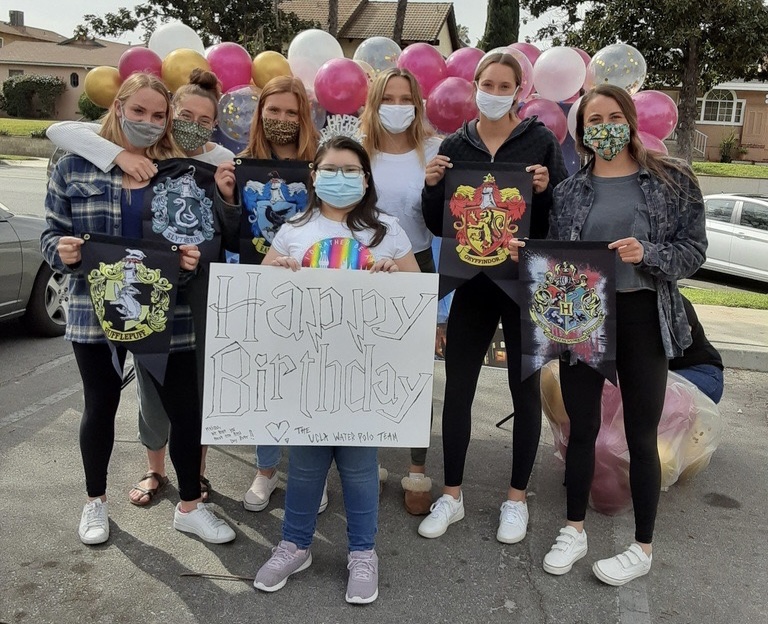 Junior center Ava Johnson, senior defender Myna Simmons, senior attacker Lexi Liebowitz, junior utility Katrina Drake, junior defender Bella Wentzel and senior attacker Roxy Wheaton (left to right) surprised 13-year-old Melissa Ponce, the newest member of UCLA women's water polo, with a Harry Potter themed birthday. (Courtesy of Cynthia Ponce)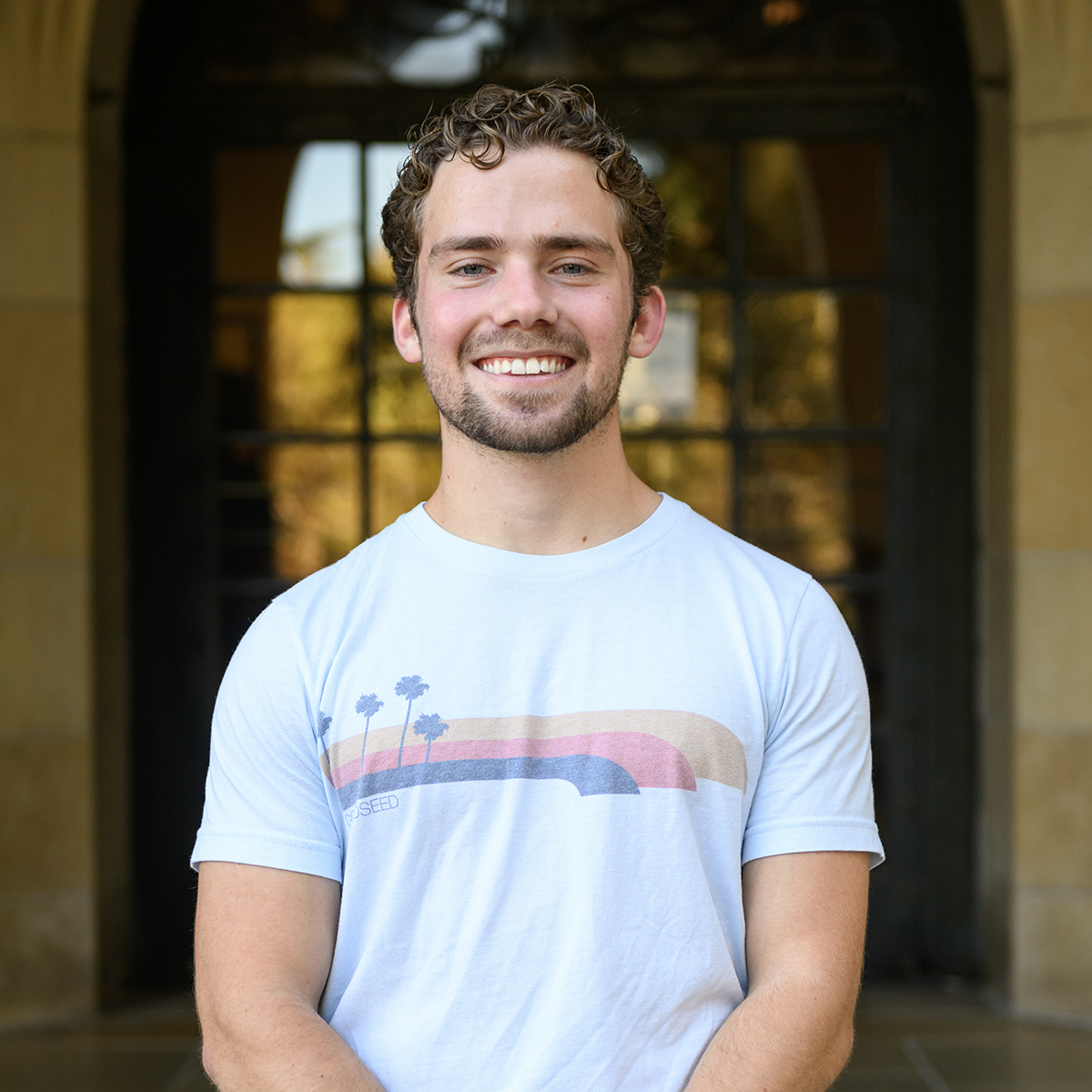 Melissa Ponce spent the day before her 13th birthday in the hospital.
It was Valentine's Day, just one day before she officially became a teenager, but Melissa was confined by the walls of a hospital room for the fifth consecutive day.
More than 200 miles north, UCLA women's water polo was in the midst of a 19-10 rout over Fresno State to open its 2021 season.
What Melissa didn't know was that the Bruins would be on her doorstep the next day.
Melissa signed a national letter of intent as the latest UCLA women's water polo recruit in December through Team Impact, a national nonprofit that matches kids with chronic or life-altering illnesses with college athletic teams.
After their season-opening victory less than 24 hours prior, six student-athletes from the program made the roughly 45-minute journey from Westwood to Alhambra, California, to meet their newest teammate in person for the first time.
"It was a total surprise," Melissa said. "I really didn't know the drive-by was happening. Just to have the girls be able to come down because I know they're pretty far away, that was really awesome."
Melissa's mom, Cynthia Ponce, had spent weeks planning the celebration, complete with a drive-by from the Alhambra Police Department and extensive Harry Potter decorations.
But with Melissa in the hospital and the team in Fresno, that plan was in serious jeopardy. Cynthia said everything came together last minute.
"They were really kind to come all the way to participate," Cynthia said. "Of course, social distance was important for us for her health, but for them to come and celebrate her and sing happy birthday and just take pictures, it was just really, really special."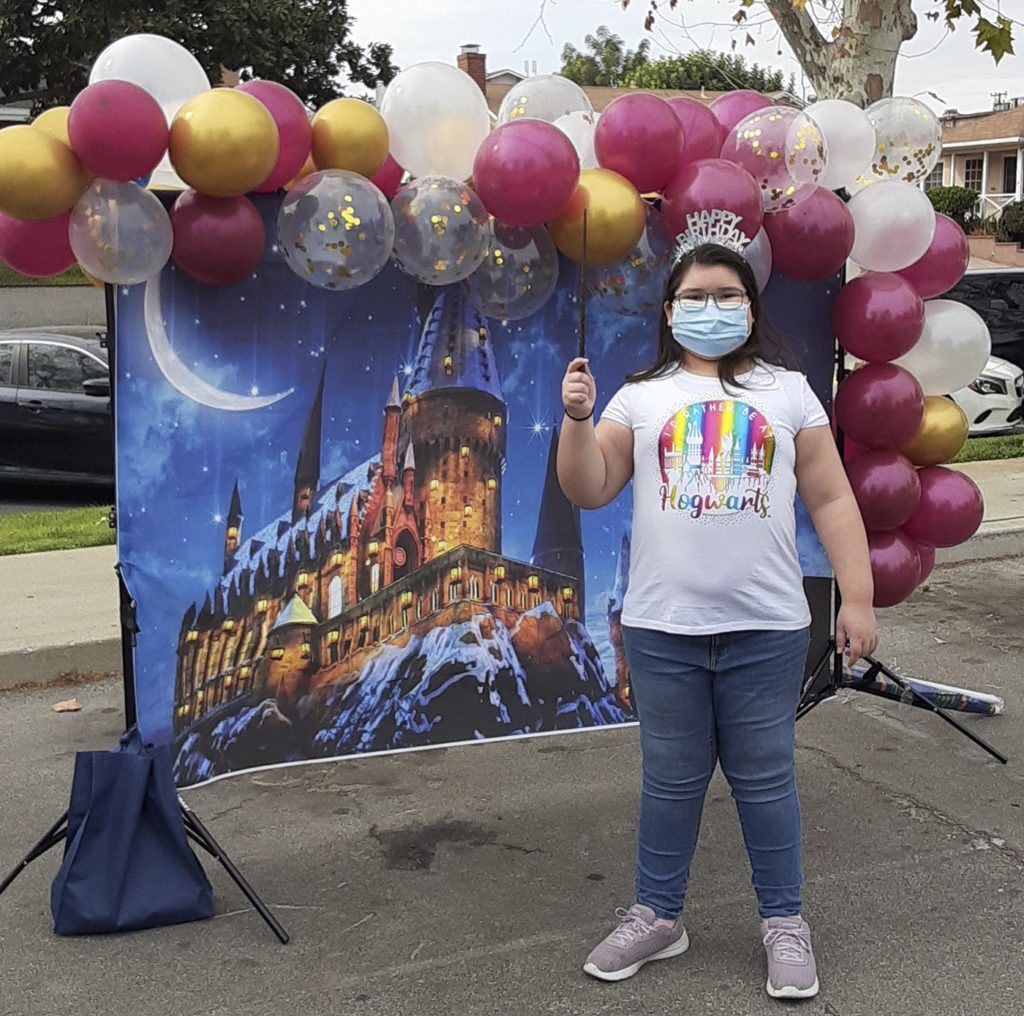 The 13-year-old was diagnosed with a brain tumor in her pituitary gland, primarily affecting her hormone production. While Melissa avoided chemotherapy, she required surgery, took hormone replacement medication and still requires MRIs for surveillance purposes. The adrenal insufficiency created by the tumor also incited Type 2 diabetes, which Cynthia said has been the biggest hurdle to clear.
Melissa still makes regular trips to the hospital in an effort to prevent minor health scares from developing into major concerns.
"Just kind of in all aspects, it's always having to take precaution with certain things," Melissa said.
But beyond protecting Melissa's physical health, Cynthia said she has prioritized making sure her daughter's social and emotional health are intact in a time when social isolation has become the norm.
Junior utility Katrina Drake sympathized with her newest teammate.
"Obviously this year has been tough for a lot of people, but we can't even imagine what she's going through having to do all her treatments plus being isolated," Drake said.
Signing the dotted line to officially become a member of UCLA water polo filled that social void for Melissa, who said joining the team will serve as a distraction from the constant changes in her life.
"It was really, really awesome just to be able to really be a part of a team," Melissa said. "To have that connection, especially during quarantine and just having to stay home. It's been really fun. It's been a great help to be able to connect with the girls. So yeah, the feeling was just amazing. It was very inviting."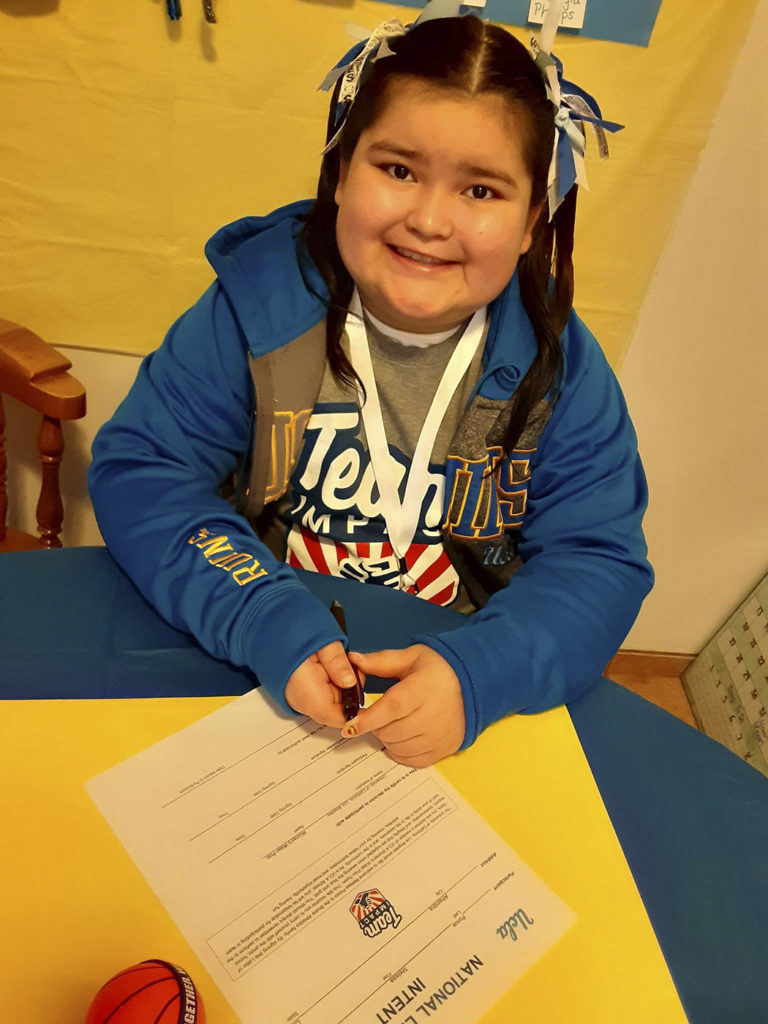 As much as Melissa benefits from being around the team, the Bruins believe they stand to learn even more from their newest student-athlete.
On the day of Melissa's signing, assistant coach Christopher Lee said Melissa's character – headlined by her smile, laugh and outgoing presence – is a perfect fit for the group and will tremendously improve the team's culture. Drake echoed her coach's sentiments.
"One of our team themes is grit – and I think resilience and grit kind of go hand in hand," Drake said. "To see her be able to bring that out in all of us and have that extra push or that extra drive to do something that might be hard today and just know that it'll be worth it in the end is definitely something that she has brought to our team."
While she has never played water polo, Melissa – who said staying active helps keep her happy – enjoys swimming. Before the pandemic, she used to take swim lessons and go to the YMCA to swim for fun.
"Swimming was one of her huge helping activities from before quarantine," Cynthia said. "It was the one thing that really impacted her in a positive way a lot."
Now Melissa has the opportunity to learn the sport of water polo from some of the game's best. On a recent Zoom call with her teammates, Melissa was introduced to the sport for the first time. Senior attacker Lexi Liebowitz admitted that watching film of a foreign sport may be confusing but said she has been impressed with how quickly Melissa has picked up the game.
Watching film is one of many activities that Melissa and her teammates engage in during their biweekly calls. They share music recommendations, play Pictionary and other games like Among Us and also participate in one of Melissa's favorite activities, baking.
Melissa's most coveted birthday present came from senior defender Myna Simmons, who employed her wood-burning skills to craft a custom set of Harry Potter baking utensils.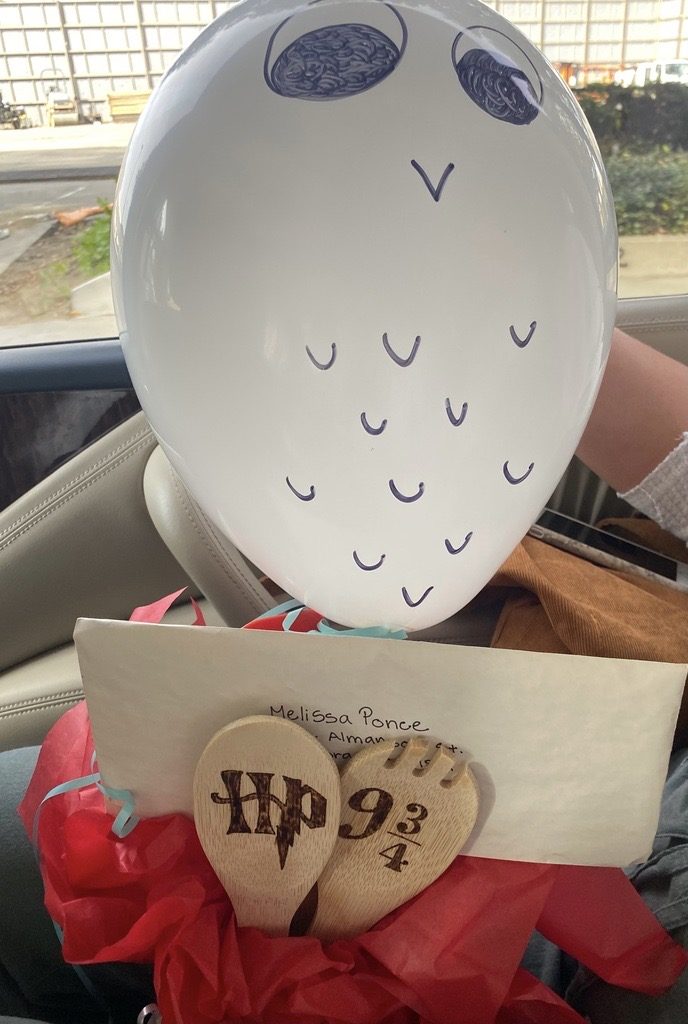 In the future, Melissa hopes to have a dance-off with her teammates. Cynthia said each call gives new life to her daughter.
"Melissa seems to gravitate always to older girls and she's so much more lively and always wants to continue to talk and keep up with them, and it does really revive her when she has those meetings with the girls," Cynthia said. "That's been a huge benefit to her overall health."
Aside from being a part of the No. 2-ranked collegiate water polo team in the country, Melissa lives the normal life of a teenager: going to school, doing homework and blasting pop music in her room. With a 4.0 GPA and an acute ability to advocate for her own needs, she speaks freely with her teammates.
"She's super bright, she's very well-spoken and she has a really good sense of humor," Liebowitz said. "She laughs with us. She makes us laugh. And she's just very engaging and engaged in all of our conversations and has a lot to say."
Liebowitz, Drake, junior center Ava Johnson, sophomore utility Abbi Hill and junior defender Bella Wentzel have all previously volunteered at the Mattel Children's Hospital at UCLA, where they would spend their days with patients. Liebowitz aspires to ultimately become a nurse or nurse practitioner and work in pediatrics.
Cynthia has no doubt that whatever field the student-athletes choose to pursue, they will enjoy plentiful success.
"I do really appreciate them not only taking the time from academics and their commitment to the team but genuinely expressing interest in her and hearing her uniqueness," Cynthia said. "You can see that they truly want to be friends with her. And they don't dumb anything down. They don't speak down to her. They see how bright she is and then they treat her as a peer as an equal, and it's amazing. I see them already being really successful in their fields because they're just very genuine and they're very caring."
For now, Cynthia is enjoying seeing the bond between her daughter and the team continue to grow. Melissa added that she sees the Bruins as lifelong friends.
"We're just happy to be part of the team," Cynthia said. "Honestly, they've been so welcoming and really inclusive of everything for Melissa. We just want to find a way to also give back to them because we know that as much as we're getting from them, we want to be able to encourage them and cheer them on in their (games) and hopefully give back to the team as well."
The stands might be empty as UCLA women's water polo pursues its first NCAA championship since 2009, but 25 miles from Westwood, one special fan will ensure the Bruins are not without inspiration.
Settleman is currently the Sports editor on the football, men's basketball and gymnastics beats. He was previously an assistant editor on the gymnastics, women's soccer, women's golf, men's water polo and women's water polo beats and a contributor on the gymnastics and women's water polo beats.
Settleman is currently the Sports editor on the football, men's basketball and gymnastics beats. He was previously an assistant editor on the gymnastics, women's soccer, women's golf, men's water polo and women's water polo beats and a contributor on the gymnastics and women's water polo beats.