Dozens gather in remembrance of student Lindsey Trieu at candlelight vigil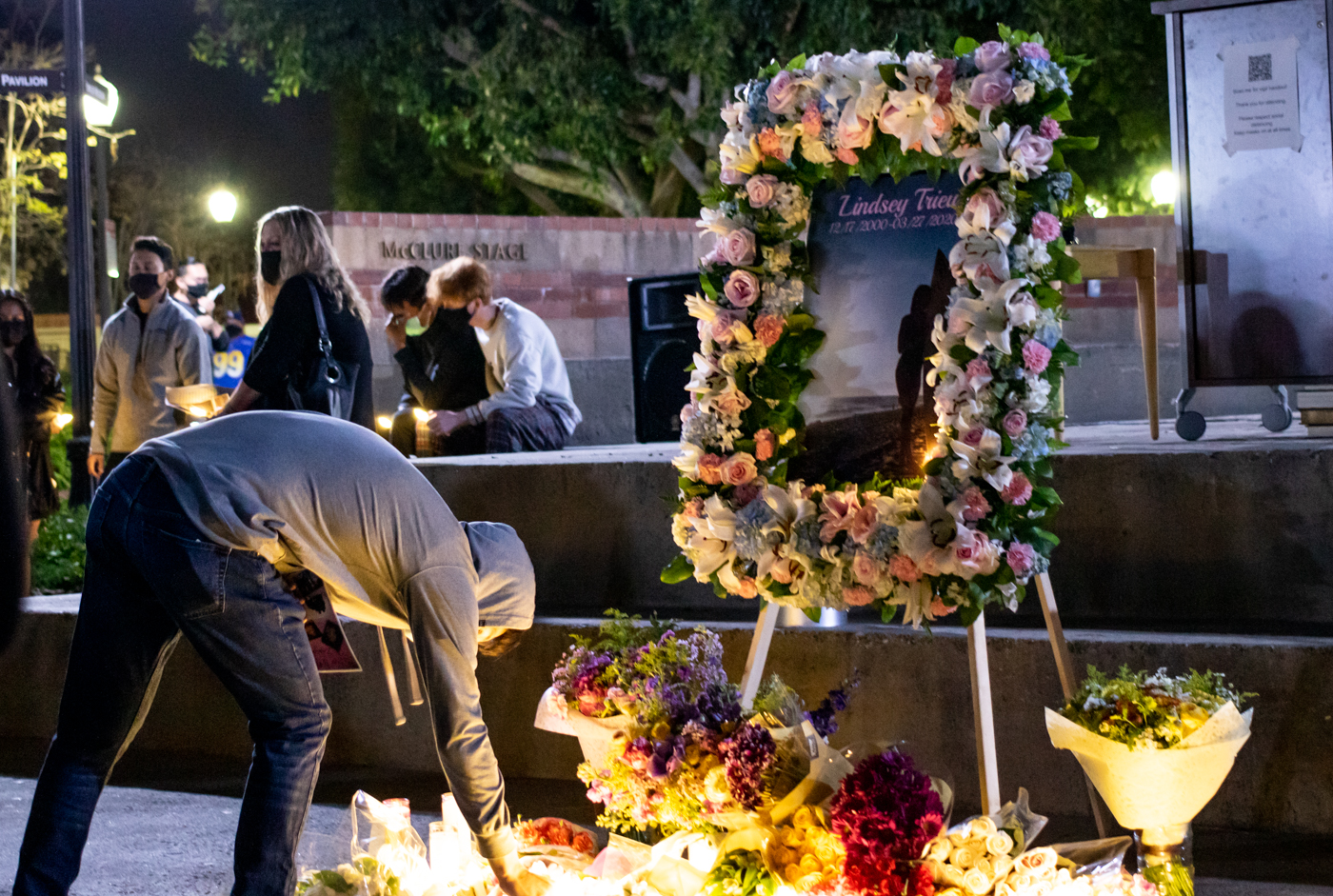 Lindsey Trieu, a second-year psychology student who was set to graduate spring quarter, died March 27. Friends of Trieu remember her for her loving and hardworking personality. (Finn Chitwood/Daily Bruin)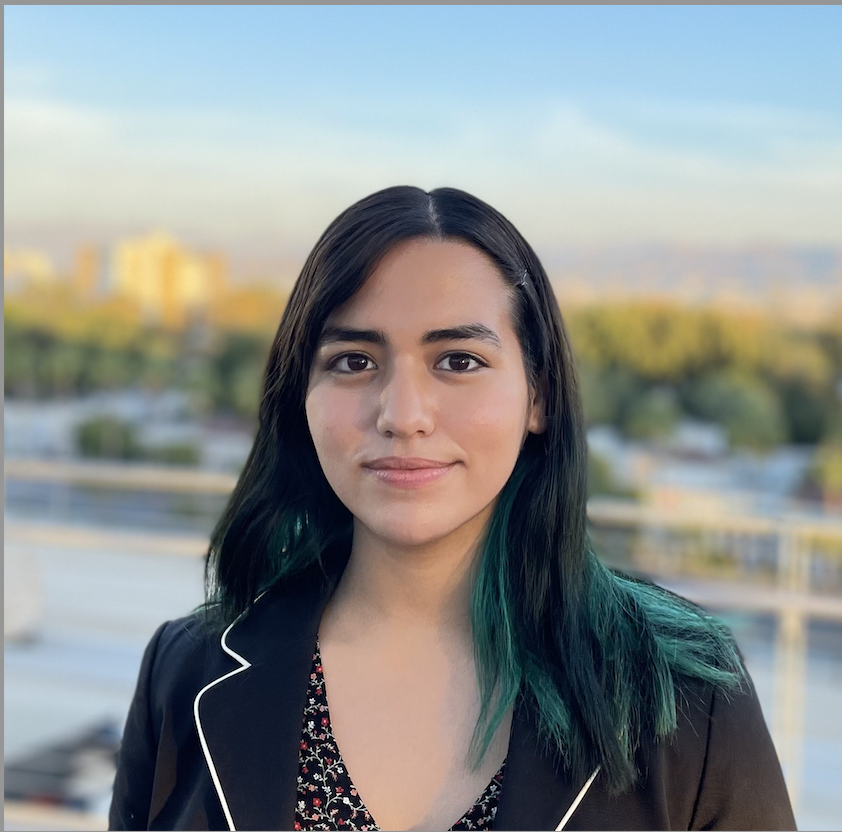 Holding flowers and electric candles, dozens of people gathered in Bruin Plaza Friday night at a vigil for Lindsey Trieu, a UCLA student who died in March.
UCLA campus minister Matt Trexler started the vigil with a prayer. A number of Trieu's friends spoke about her life, empathy and bravery.
Kanoa King, a speaker and organizer of the vigil, said Trieu showed him what it meant to be a true friend. Trieu was always supportive and kind to others, King said.
Trieu, who was an author, ROTC cadet and second-year psychology student set to graduate spring quarter, died March 27 at the age of 20. Trieu's friends at UCLA remember her as a spontaneous, caring and dedicated person.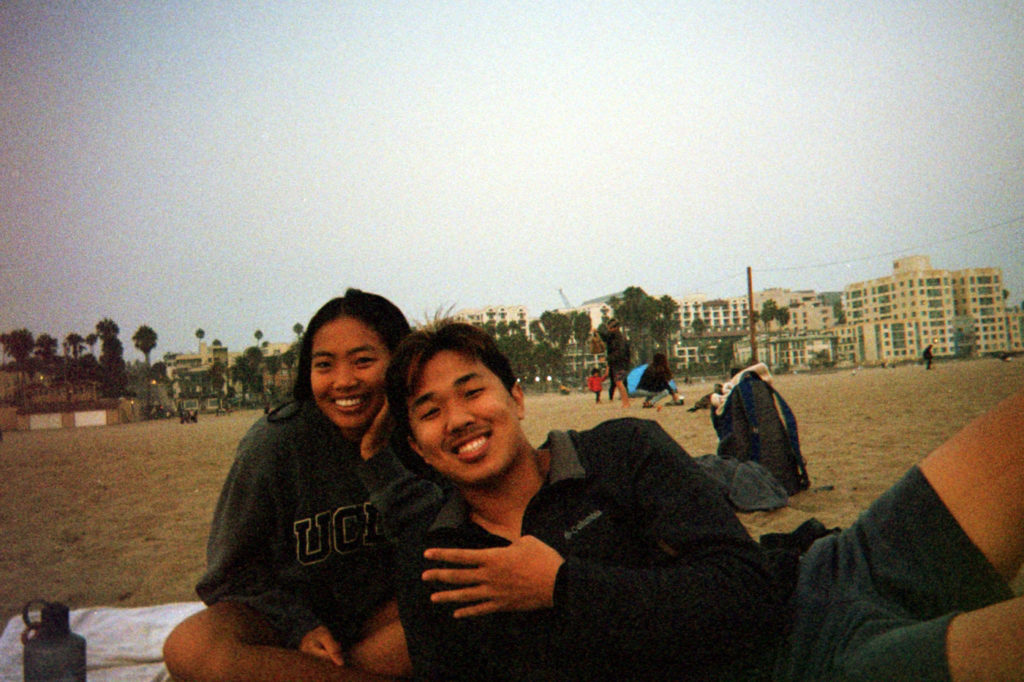 Born in 2000, Trieu grew up in St. Louis. She came to UCLA in 2019 as a first-year student after earning a four-year scholarship through UCLA's Army ROTC. She was valedictorian of Brentwood High School, where she was also a physical training squad leader with the Patriot Training Foundation and leader of Spanish Honor Society, Speech and Debate, Diversity Club, Environmental Club, Robotics Club and Friends of Rachel.
King, a second-year biology student and an ROTC cadet, said Trieu had one of the best work ethics out of all the ROTC candidates. She was always on top of her work, he added.
"She was one of the people I looked forward to seeing every day, every morning," King said. "She was always in a peppy mood even though she was going through a lot at the time."
She loved to go on trips to the beach and around Los Angeles with her friends, King said. Trieu cared deeply about her friends and liked to bring them thoughtful gifts from time to time, he added.
"Sometimes she would just surprise me inside my apartment and she dropped off food for me," King said. "Or I would get a letter in the mail out of nowhere, and she dropped off a handmade bracelet that she made for me."
Brandon Tao, a second-year pre-human biology and society student and an ROTC cadet, said Trieu's personal strength and will to succeed are inspiring to him. She often checked up on other people to ask if they needed help, even if she was the one who needed it, Tao added.
"What went on with her life, … it made me realize how grateful I am to know her, and how good of a person she is," Tao said. "She was really caring towards everybody. She would always send texts out at the randomest times, saying that she's proud of them or hope they're doing OK."
Trieu self-published a book of original poetry on Amazon, titled "the journey," in November, writing about her life experiences and personal struggles.
King said he suggested Trieu write a book about her life during their Thanksgiving break in 2020, and she texted him a week later to say she had published it.
Trieu wrote her poetry book to express her feelings and share her struggles to try and help others face their own, said Cheska Molina, a fourth-year psychobiology student and Trieu's former ROTC mentor.
"I think she really just wanted to share her story," Molina said. "That's why she wrote the book, to get her feelings out, but also show people that they weren't alone. … It was her outlet, and something that she always wanted to accomplish, so she went out and did it."
Trieu originally started at UCLA as a biology student and hoped to follow the pre-med track to become an army doctor. She joined the pre-health coeducational fraternity Delta Epsilon Mu but left after deciding to pursue psychology.
She pursued psychology because she wanted to help others with their own struggles and mental health, said Faith Ngo, a second-year education and social transformation and English student.
Ngo said Trieu was the first person she met at UCLA. Trieu was driven, courageous and always looking to help others, added Ngo, who was also briefly part of the ROTC with Trieu.
"She was someone who did things that she was afraid of because she was afraid of it," she said. "I think of her any time I'm afraid to do something. I always stop myself and say, 'Why am I afraid of it? If this were Lindsey, she would acknowledge that fear but also do it.' I carry that with me even now."
Trieu was also self-assured and often upbeat, Ngo said.
"My friend would have the hood of his car down, and (Trieu) would always stand up," she said. "I was so afraid she would fall out of the car but she was having the best time, always dancing, always singing. … She was high on life."
Trieu was taking summer classes and sometimes more than 20 units in a quarter to graduate early and become more fully independent, Ngo said. Without financial assistance and her scholarship revoked after she had to leave ROTC, Trieu worked multiple jobs to support herself. Her roommates at the time set up a GoFundMe that helped pay for part of her tuition.
Trieu worked hard to succeed despite her issues with tuition and her mental health, and had been reaching her goals, Tao said.
"She got on her feet. … She had just bought her first car, signed a lease for an apartment, and things were really looking up for her," Tao said.
Trieu loved Los Angeles and exploring and taking photos, Molina said. She recalled Trieu inviting her to watch a meteor shower in Topanga and said she seemed excited about the future.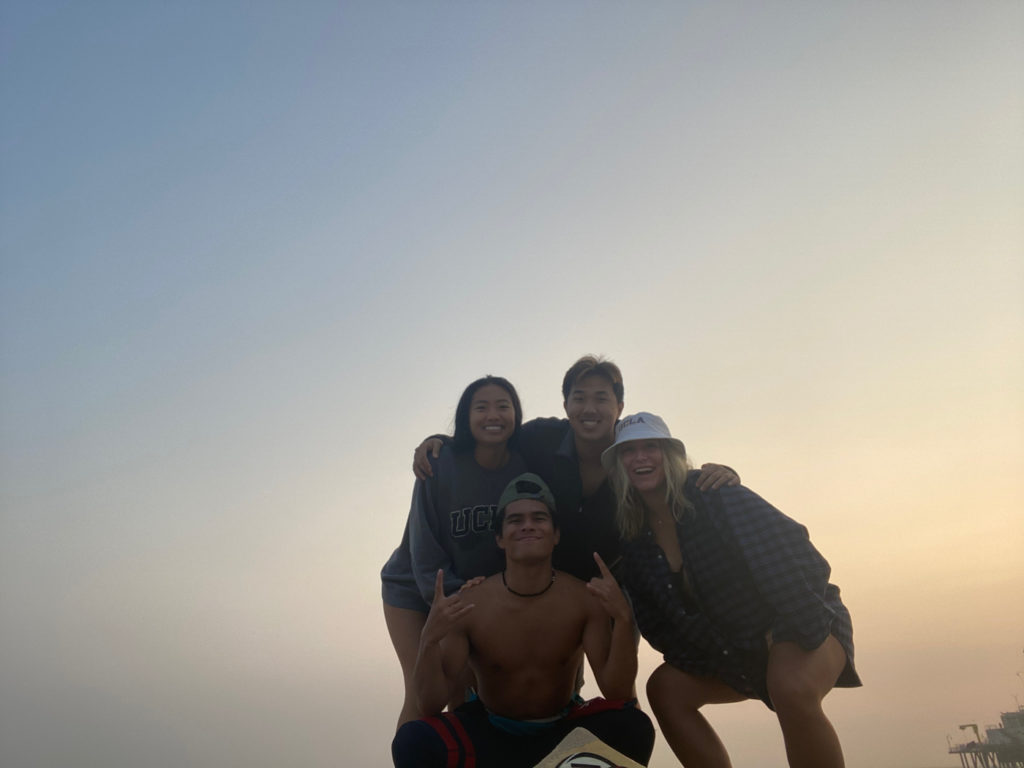 "I think I was really impressed with her drive, to be better and do better for herself," Molina said. "Even though she was going through some really hard stuff, she always found the beauty in things, she always found ways to be happy … despite the circumstances, and I think that's what really inspires me about her."
Montemayor is a News senior staff reporter for the Bruin. She was previously the 2022-2023 News editor, the 2021-2022 features and student life editor, a News reporter, Photo contributor for the news beat and Arts contributor. She is also a fourth-year global studies student at UCLA.
Montemayor is a News senior staff reporter for the Bruin. She was previously the 2022-2023 News editor, the 2021-2022 features and student life editor, a News reporter, Photo contributor for the news beat and Arts contributor. She is also a fourth-year global studies student at UCLA.