UCLA students share hope and trepidation amid new bills targeting immigration reform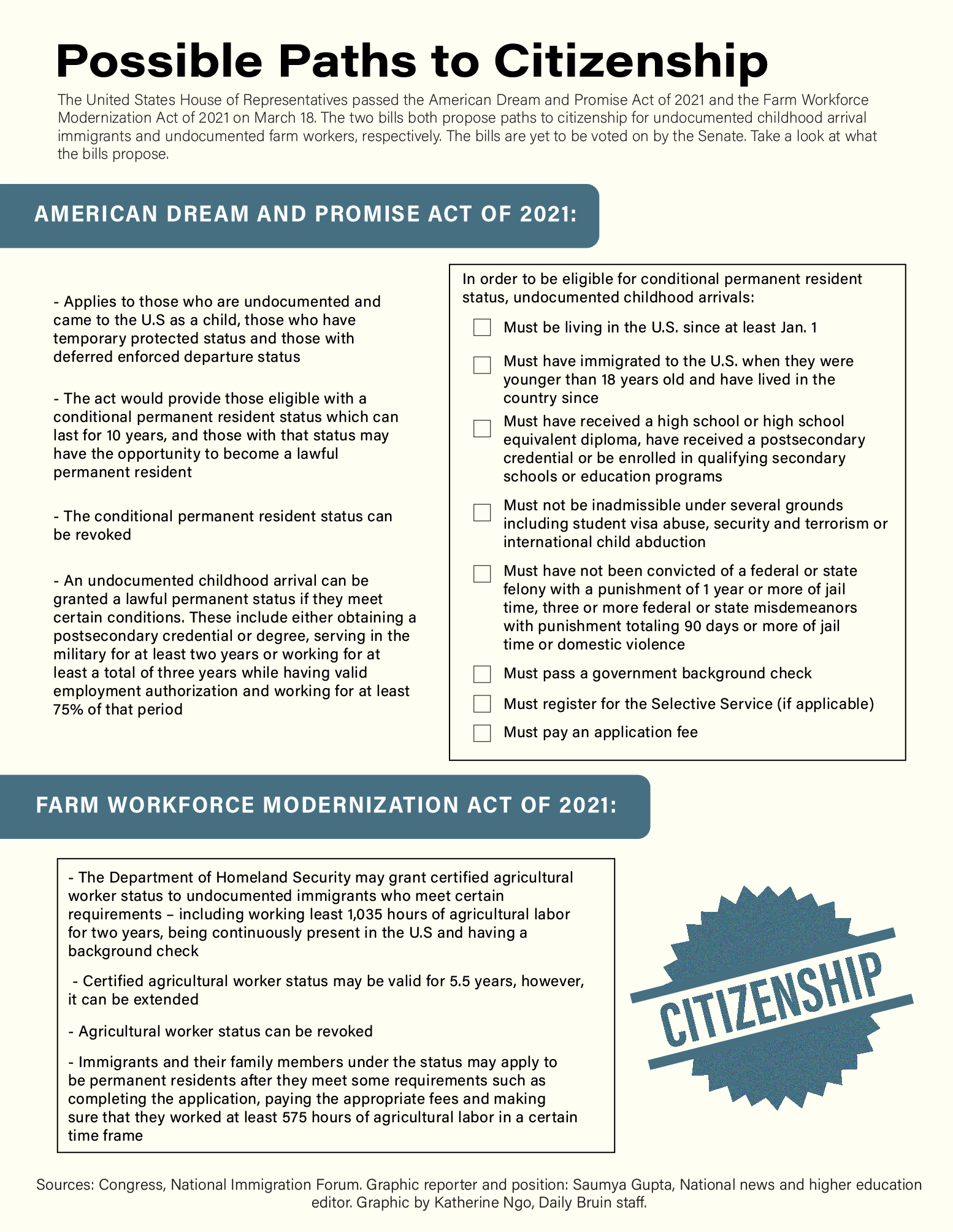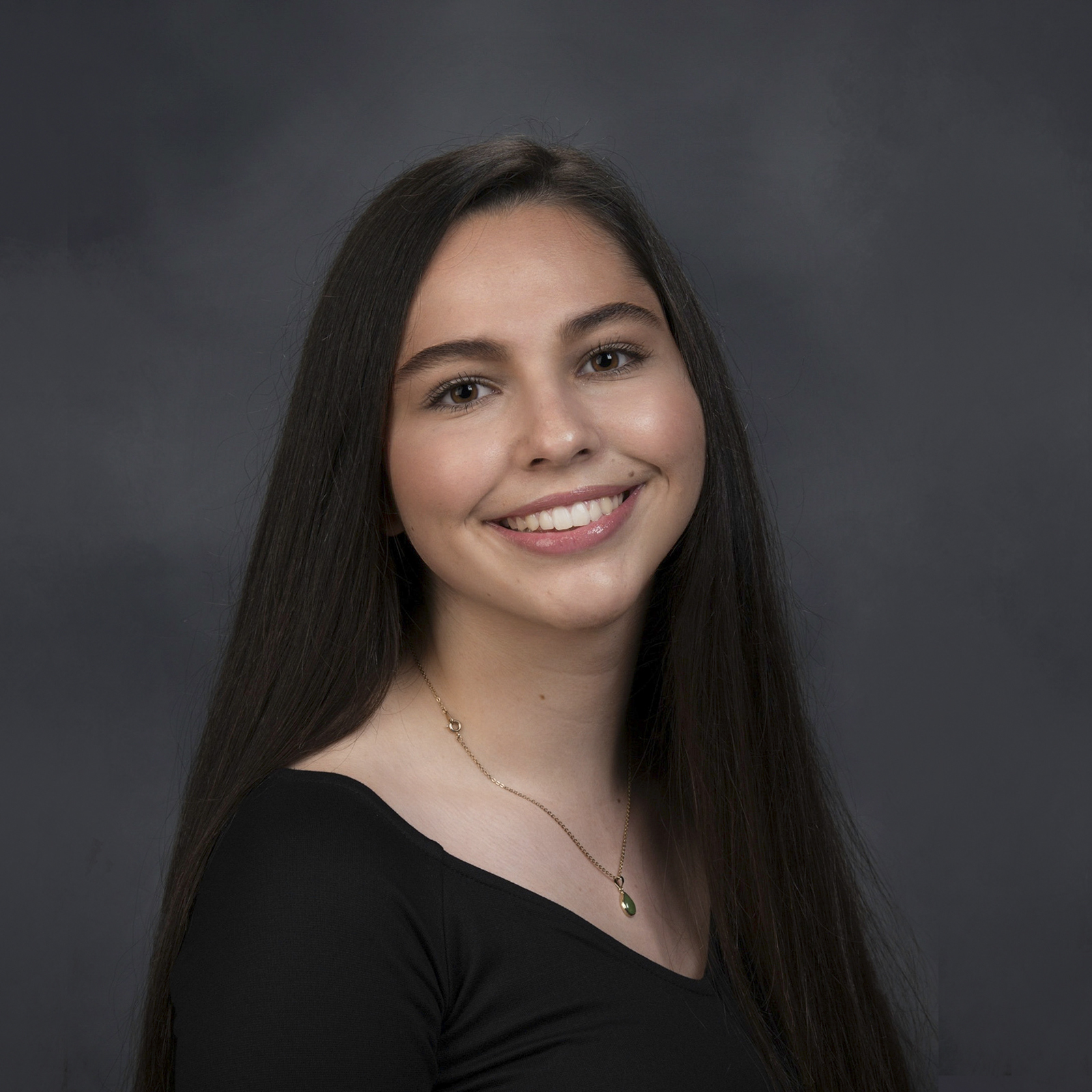 Two proposed federal bills that would offer citizenship to undocumented individuals seem promising but exclude some groups of undocumented people, UCLA students and faculty said.
The United States House of Representatives passed two immigration bills – the American Dream and Promise Act of 2021 and the Farm Workforce Modernization Act – in mid-March. If passed, the bills could create a path to citizenship for more than 4 million of 11 million undocumented U.S. residents.
The American Dream and Promise Act would provide individuals eligible for Temporary Protected Status, Deferred Enforced Departure and Deferred Action for Childhood Arrivals with lawful permanent resident status for up to 10 years. Under the Farm Workforce Modernization Act, undocumented farmworkers and their spouses could also earn legal status through continued employment in the U.S. agriculture industry.
Both bills will have to be passed in the Senate and signed by President Joe Biden in order to be enacted as laws.
While the bills have garnered widespread support, some advocates and organizers do not think the bills are ideal, said Abraham Cruz Hernandez, co-chair of Improving Dreams Equity Access and Success at UCLA.
Certain policies embedded in the legislation make LPR status difficult to achieve, which could make it hard for the immigrant community to overcome oppression, added Cruz Hernandez, a third-year public affairs student.
Cruz Hernandez said he and other immigration reform activists have criticized the two acts for excluding individuals who have been convicted of a crime. These policies could filter out low-income immigrants of color who are in more frequent contact with police, he added.
"Even if immigrants have been arrested at the border, even if they've been arrested for using a false social security number, there are many other criminal activities, which are essentially unavoidable for undocumented immigrants to live and work in this country," said Kent Wong, a UCLA labor studies professor.
Some have also denounced the Farm Workforce Modernization Act for its E-Verify employment eligibility verification system, which is mandatory for all farmworkers, said Karely Amaya Rios, a third-year political science and Chicana and Chicano and Central American Studies student.
The system may hinder undocumented individuals looking for work, Amaya Rios said.
Under the Farm Workforce Modernization Act, employees cannot access their own E-Verify results and cannot appeal any system errors. Contractors can also reject potential laborers on the basis of factors like age or sex, while falsely claiming the worker was not verified in the system, according to the Johns Hopkins Center for a Livable Future.
"With the Farmworkers bill, it's good that these communities are getting attention, but I think it's also a way to monopolize or capitalize (on) this industry," Amaya Rios said.
While Cruz Hernandez would be eligible for conditional permanent residency under the Dream Act as a DACA recipient, Amaya Rios would not. Amaya Rios, who immigrated to the United States with a tourist visa when she was two years old, was barred from applying to DACA due to her travels outside of the U.S. in 2012.
Bills like the American Dream and Promise Act reinforce a counterproductive narrative that portrays DACA recipients as deserving of citizenship, and any other undocumented individual as not, Amaya Rios said.
Still, Amaya Rios is hopeful that the legislation may relieve pressure off her peers who do qualify.
"I think a lot of people sometimes have DACA and are still really afraid of police, ICE and checkpoints because they still feel like they don't have a voice, and that it can be taken away at any time," Amaya Rios said. "I think this is a fear that a lot of students at our campus have to deal with and have to go through, so I hope it will clear some anxiety for some of my friends."
First introduced in 2001, the Dream Act began as a modest bipartisan initiative, Wong said. Congress has come close to approving each of the acts several times over the past 20 years, and failure to pass the two bills is a reflection of an increasingly polarized immigration debate, he added.
This time around, a slight Democratic majority in the Senate increases the probability that the two pieces of legislation will be passed. Still, approval of the bills may be thwarted if Republican senators put up a filibuster.
"(These are) very simple piecemeal targeted bills, and (if) these kinds of bills don't get passed then it's going to be very difficult to pass any other kind of immigration reform," Cruz Hernandez said.