Metro construction to cause lane closures on Wilshire Boulevard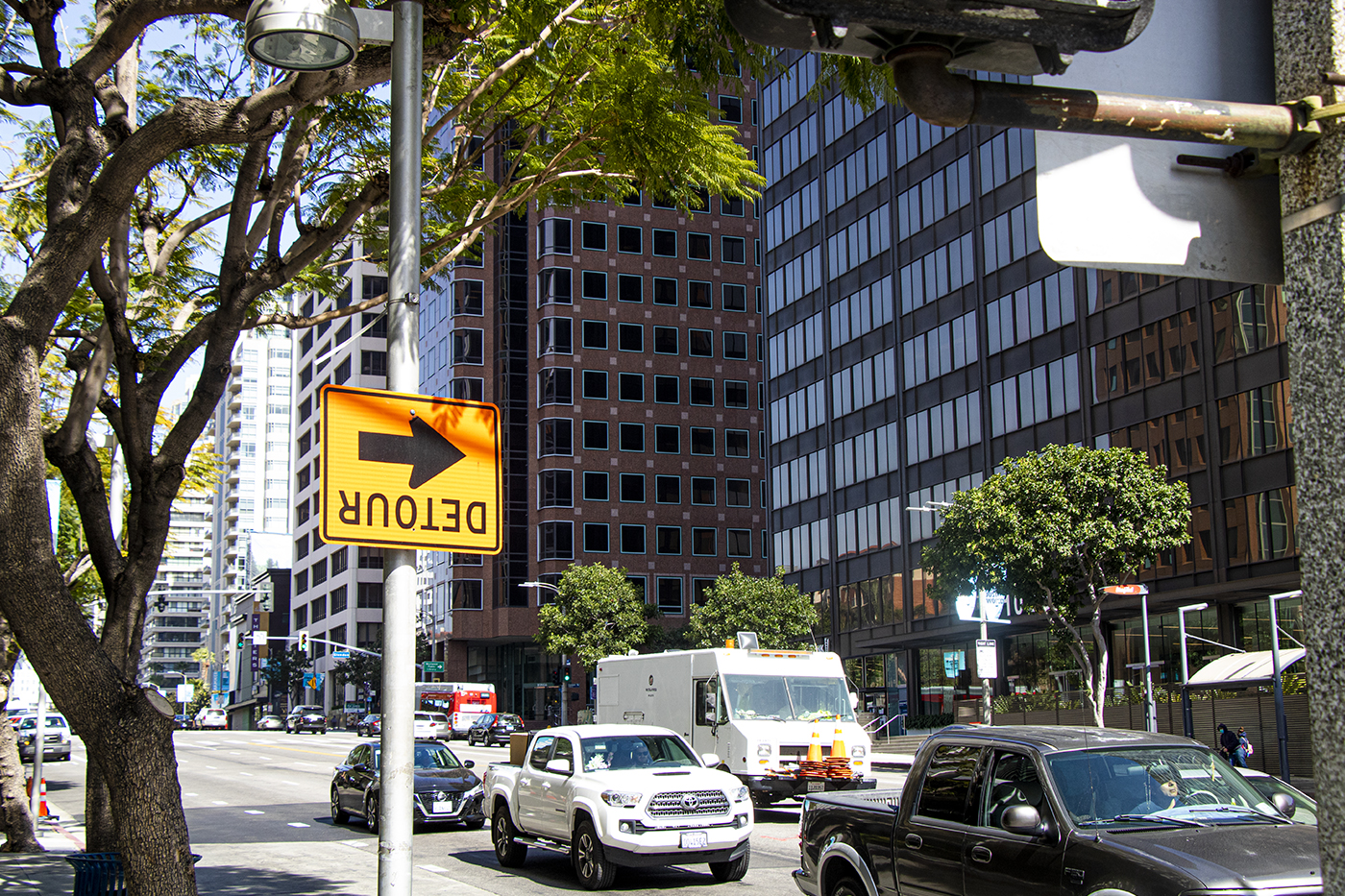 Temporary lane reductions on Wilshire Boulevard on the weekends started Friday and more lane closures will start in June. (Finn Chitwood/Daily Bruin)
This post was updated April 11 at 9:57 p.m.
There may be some lane closures on Wilshire Boulevard this summer because of the Purple Line Extension construction, according to LA Metro.
Thirteen continuous weekends of major lane reductions on Wilshire Boulevard and Gayley Avenue have begun, from Fridays at 11 p.m. to 6 a.m. Mondays, because of utility work for the sanitary sewer and storm drains at Wilshire Boulevard/Westwood Boulevard and Wilshire Boulevard/Gayley Avenue, said Dave Sotero, a Metro spokesperson, in an emailed statement.
There will also be lane reductions along Wilshire Boulevard between Glendon Avenue and Veteran Avenue in June because of station piling activities, Sotero said. Metro hopes to finish piling by November, Sotero added.
Sotero said in the emailed statement that construction is dynamic and subject to change.
LA Metro's Purple Line Extension project will add two stations in Westwood by 2027 – a UCLA station west of Gayley Avenue and a Veterans Affairs West Los Angeles Medical Center station south of Wilshire Boulevard. This extension will add 2.56 miles of rail to the Purple Line and connect downtown Los Angeles to the Westside. The exact dates of the construction have not been determined yet.
Lane reductions on Wilshire could temporarily slow traffic and lengthen commute times, said Nina Long, the chair of the North Westwood Neighborhood Council's Transportation and Safety Committee, in an emailed statement. But in the long run, Purple Line Extension could alleviate traffic congestion in Westwood by providing an affordable alternative transportation option, she added.
"I would consider these lane closures a small, short-term inconvenience for drivers for the vast benefit of transit users," Long said.
She also said the project will help reduce greenhouse gas emissions and pollution by reducing the number of cars on the freeways and by creating another form of affordable transit.
Andrew Thomas, executive director of the Westwood Village Improvement Association, said in an emailed statement that he thinks LA Metro's selection of Westwood was based on ridership, referring to the amount of traffic congestion in the area.
"The Westwood portals are (expected) to be incredibly high volume stops for the Purple Line," Thomas said. "UCLA and Westwood already have a ridiculous number of buses coming through so I think the expectation is valid."
In total, Westwood will have three Metro stations, including one at UCLA's Lot 36 location.
Sotero said Los Angeles residents have been hoping for a subway to West Los Angeles for decades.
"That will finally become a reality later this decade when we complete our nine-mile extension from downtown LA to Westwood/VA," Sotero said. "It will be a game changer for everyone's better mobility when transiting between these two major urban centers of Los Angeles."