Beach volleyball to face 4 Pac-12 teams at invitational after rising to No. 1 rank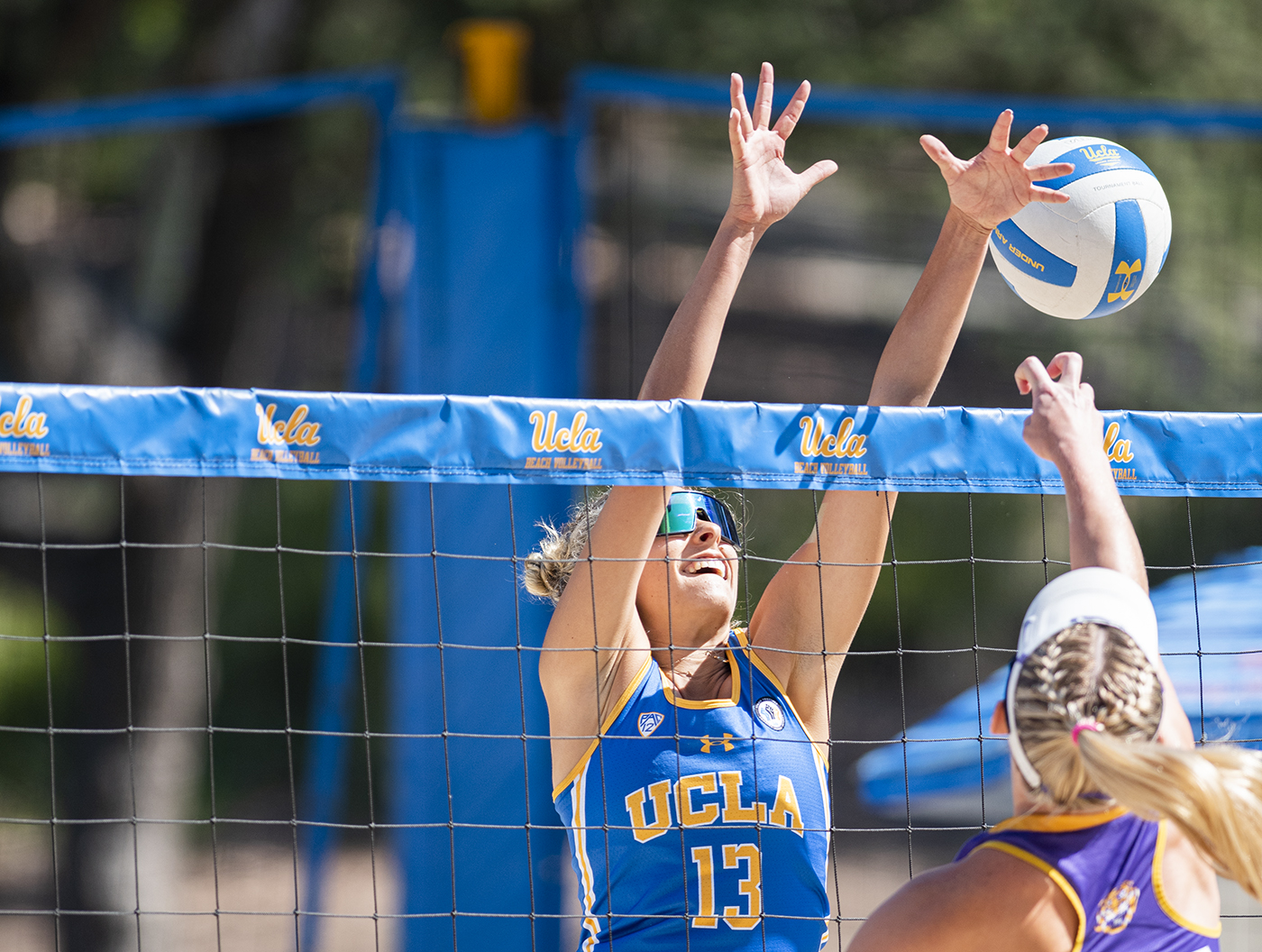 Freshman Devon Newberry and her partner Lindsey Sparks took home AVCA/CollegeBeachVB.com Pair of the Week honors after winning all four of their matches last weekend. (Christine Kao/Daily Bruin staff)
Beach Volleyball
---
Arizona State
Saturday, 10:15 a.m.
Phoenix
No TV info
---
No. 7 Stanford
Saturday, 3:15 p.m.
Phoenix
No TV info
---
Washington
Sunday, 9 a.m.
Phoenix
No TV info
---
No. 12 Arizona
Sunday, 2 p.m.
Phoenix
No TV info
The Bruins are back on top of the rankings for the first time this season.
No. 1 UCLA beach volleyball (15-1, 6-0 Pac-12) will travel to Phoenix this weekend to face a quartet of Pac-12 rivals. The blue and gold will play in the Pac-12 North Invitational and will face Arizona State (4-7, 1-4) and No. 7 Stanford (14-3, 5-2) on Saturday, before turning to Washington (1-3, 0-3) and No. 12 Arizona (13-3, 3-1) on Sunday.
For the first time in 13 months, the Bruins are ranked No. 1 nationally in the American Volleyball Coaches Association Collegiate Beach Coaches Poll. Coach Stein Metzger said the team sees the No. 1 ranking not as an achievement, but as a way to better prepare itself for its end-of-the-season goal – winning a third consecutive national championship.
"We are now going to get everyone's best games. The targets on our back just got larger," Metzger said. "My old coach Al Scates told me when you are No. 1 and you get everyone's best game, it just prepares you best for the postseason."
Scates coached the UCLA men's volleyball team for 48 years, winning 19 national championships and becoming the winningest volleyball coach in NCAA history. Metzger was coached by Scates during his collegiate days in Westwood, winning three national championships from 1993-1996.
The Bruins also had a couple of players honored by the AVCA this week, as freshman Devon Newberry and sophomore Lindsey Sparks were named the AVCA/CollegeBeachVB.com Pair of the Week. Newberry and Sparks went 4-0 on court three last week against two top-three opponents, including a comeback after being down 18-13 to win their final match against No. 3 Florida State.
"I think we were both hitting a plateau mentally, 'Are we doing enough and is this what we are suppose to be doing?'" Newberry said. "Partnership-wise it was really nice to be acknowledged for all our hard work and it just motivates us from here on out."
UCLA is coming off a weekend where it defeated No. 4 LSU and No. 3 Florida State twice each at Mapes Beach, putting the then-No. 4 Bruins at No. 1 in the rankings. Metzger said his team was physically fatigued coming out of the weekend, but he expects the squad to be rested and ready for the upcoming tournament.
Junior Megan Muret echoed Metzger's sentiments ahead of the team's next four matchups.
"This weekend was definitely tough physically and mentally," Muret said. "We have been preparing for LSU and FSU for awhile, and four matches in two days plus some hot weather will definitely make you fatigued. But we took a day off and recovered and we are good to go this weekend."
Metzger said playing at the GCU Beach Volleyball Stadium this weekend will give the team not only the chance to play in a new environment, but also allow it to experience conditions similar to ones the team might encounter later in the season.
"We have not been there in about three years, and I am not sure what it will be like. Our sand appears to be the deepest in the country, so I expect the courts in Arizona to be harder-packed," Metzger said. "I am hoping (the sand) will be harder-packed and a faster playing surface because it will allow us to train in those conditions, because those are the conditions we will see at the NCAA (championship) if we can get there."
UCLA will have a chance to extend its 12-match winning streak starting Saturday at 10:15 a.m. against ASU.
Fenn is currently a Sports reporter on the beach volleyball and men's and women's golf beats.
Fenn is currently a Sports reporter on the beach volleyball and men's and women's golf beats.