UCLA study finds transgender people face greater rates of violent victimization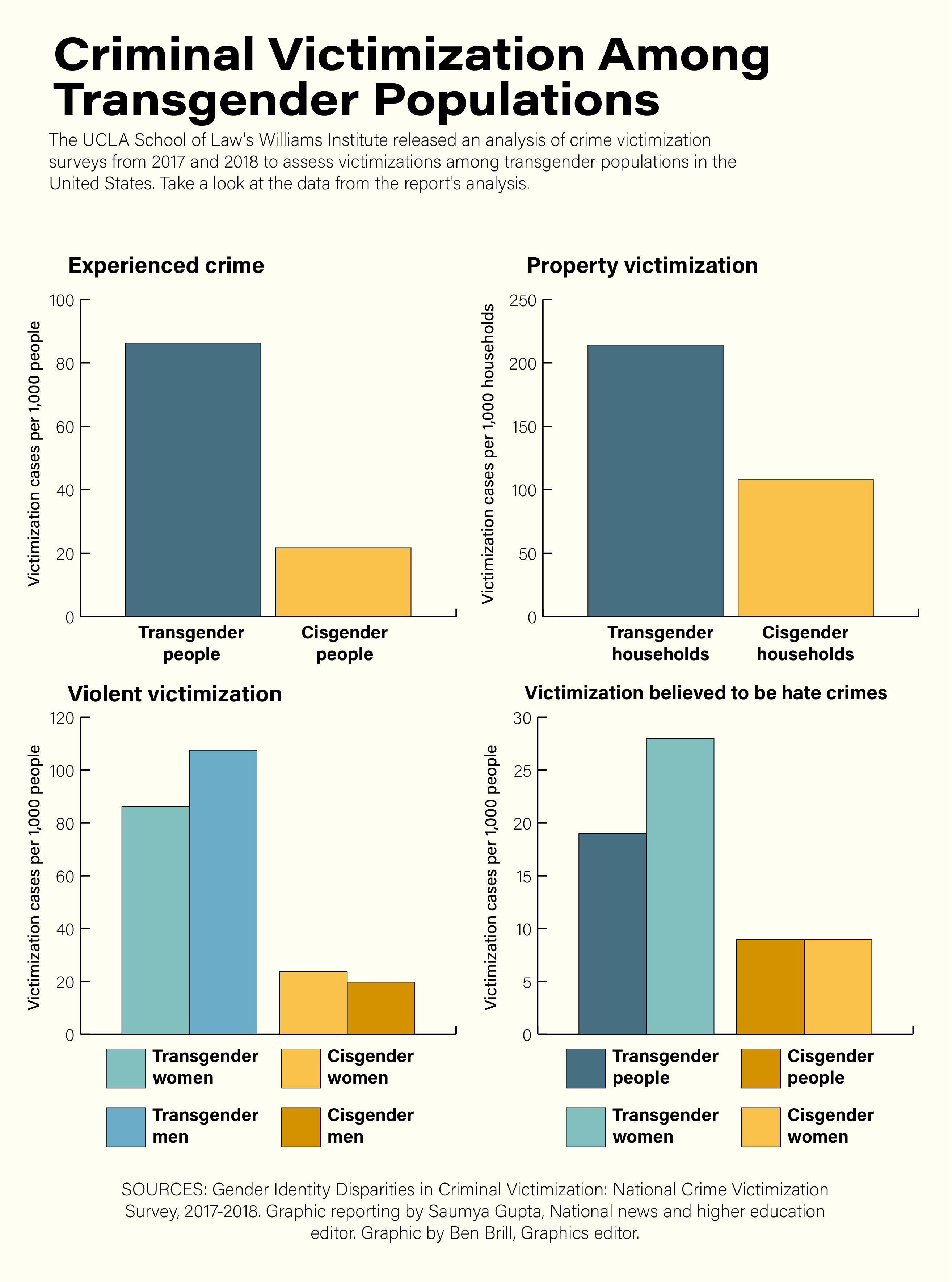 A UCLA study found that transgender people are more than four times as likely to be victims of violent crimes compared to people who are cisgender.
Researchers from the UCLA Williams Institute, American University and the Research Triangle Institute International gathered data from the National Crime Victimization Survey from 2017 and 2018 and concluded that transgender people experience 86.2 violent victimizations per 1,000 people, while cisgender people experience 21.7 violent victimizations per 1,000 people. The NCVS defined personal victimization as being physically attacked, threatened or sexually assaulted, and property victimization as experiencing theft or break-ins.
Some transgender UCLA students said the study's findings resonate with their experiences.
"When I go out in public and I present more feminine and I dress more feminine, I do feel a lot less safe," said Jackie Panaro, a recent UCLA graduate who is a nonbinary transgender woman. "I definitely notice that a lot more people stare at me and really give me dirty looks."
Panaro added that their transgender friends have been stalked back to their homes, and some are afraid of walking home alone because they are worried about becoming victims of violence.
Jody Herman, an author of the study and scholar of public policy at the Williams Institute, said the combination of anti-trans bias, anti-trans discrimination and greater socioeconomic vulnerability is one reason why transgender people experience more victimization than cisgender people.
The study also concluded that transgender households, or households with at least one transgender resident, were nearly twice as likely to be victims of property victimization compared to cisgender households.
Frances Guzman, a third-year English student who is nonbinary, said they were not surprised by the study's findings.
"I have been misgendered frequently – it even occurs with close friends of mine," Guzman said. "There's just been a lot of dismission. So like, 'Oh, like you're not trans, maybe just like a tomboy,' or 'Why are you changing your name, that's so weird,' or 'They/them pronouns don't exist.'"
Guzman also said the fear of heightened violence against transgender people, especially over dating apps, discourages people from openly expressing themselves as transgender upon first meeting others.
"There's a lot of misconceptions around being trans or nonbinary," Guzman said. "We don't want to harass anyone and we don't want to mess with anyone. We just want to live our own lives and be perceived as what we perceive ourselves."
Herman said she believes creating policies at the state and federal levels to enable transgender people's economic well-being, protect them from employment discrimination and create more stable housing may begin to help address the disproportionate victimization of transgender people.
Herman added that working with law enforcement and criminal justice systems to better address violent victimizations of transgender people could also be effective ways to reduce anti-trans violence.
"I don't think there's one particular policy that is going to fully address the problem," Herman added. "It has to be a comprehensive package of public policies."
To help reduce the victimizations that transgender people face on the individual level, cisgender people can use their privilege to help normalize pronouns and support their transgender friends, Guzman said: Allies can include their pronouns when introducing themselves, add them to their social media bios and their Zoom names and check up on their transgender friends.
Education on transgender issues and calling out transphobia when it arises among friends and family are also important, Panaro said.
"Cis people need to be ready to defend trans people, whether that be physically or verbally," Panaro said. "There just needs to be so much more solidarity from cis people towards trans people."