UCLA gymnastics looks to 2022 season following 3rd place NCAA regionals finish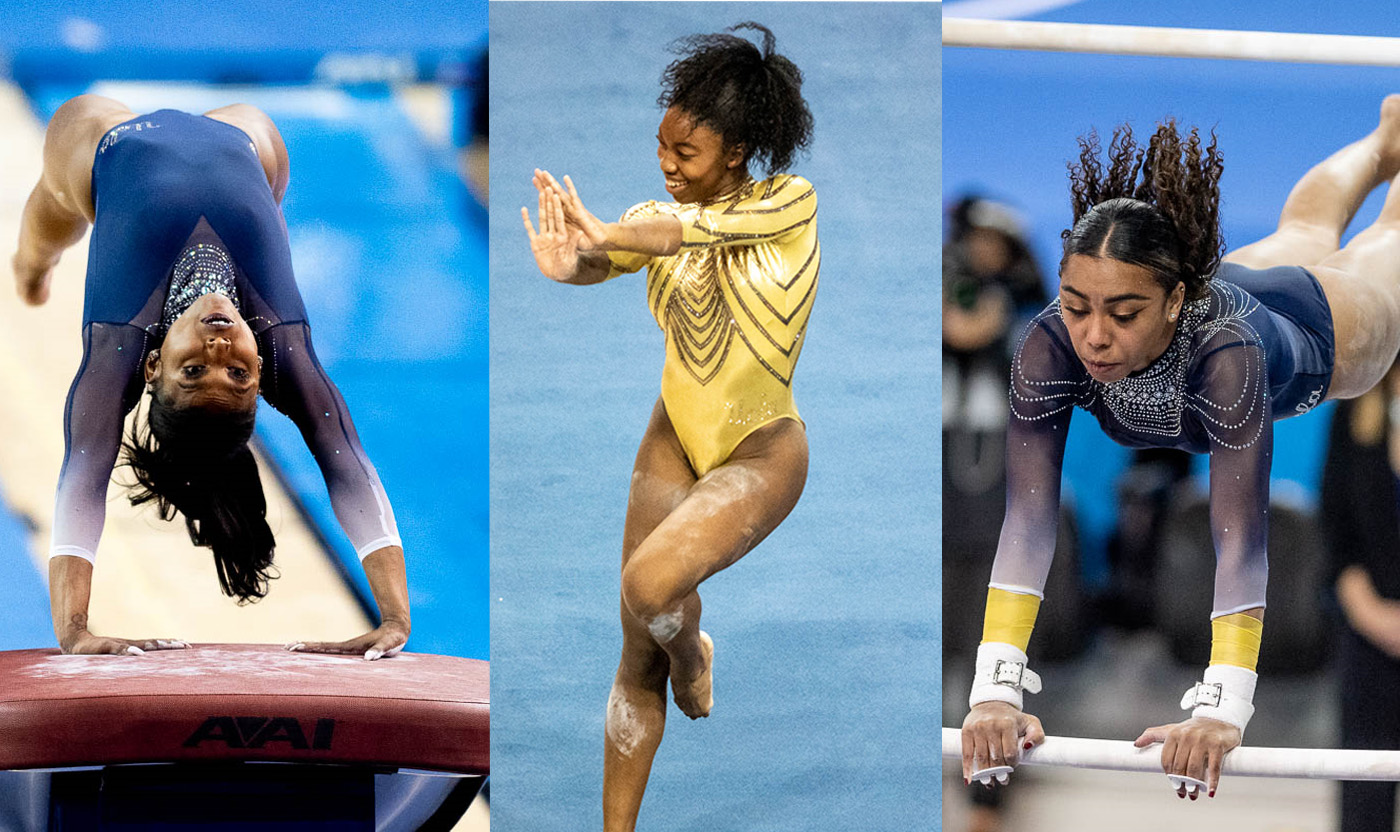 Three of UCLA gymnastics' student athletes, senior Nia Dennis (left), freshman Chae Campbell (middle) and junior Margzetta Frazier (right) will compete on vault, all events and bars, respectively. (Left to right: Lauren Man/Assistant Photo editor, Kanishka Mehra/Photo editor, Lauren Man/Assistant Photo editor)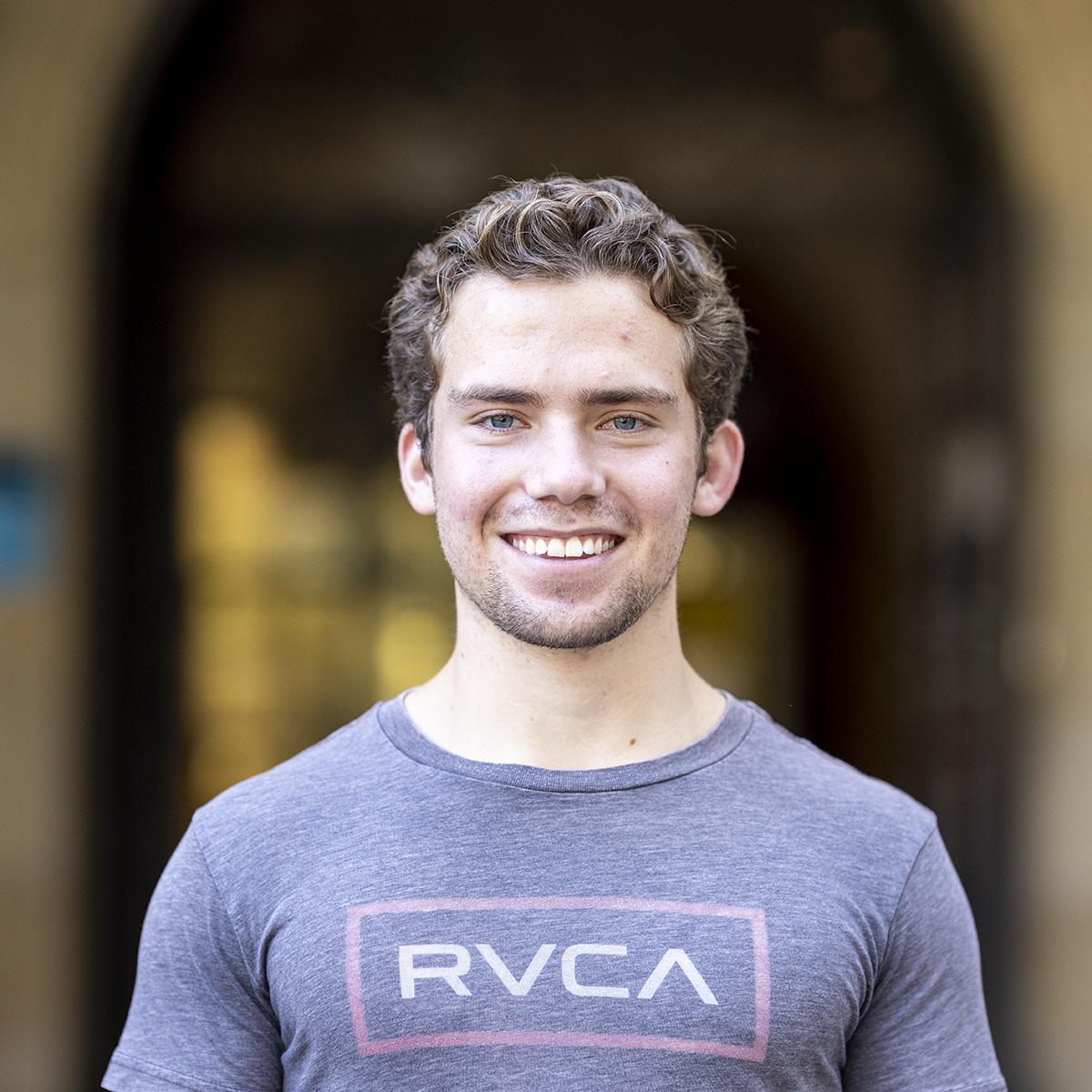 It took the Bruins all of five minutes to begin planning their revenge tour, according to coach Chris Waller.
No. 13 UCLA gymnastics (6-2, 4-2 Pac-12) saw its season come to a close last weekend after a third-place finish at the NCAA regional finals. Despite failing to advance as a team, the Bruins will send three individual competitors – freshman Chae Campbell, junior Margzetta Frazier and senior Nia Dennis – to the NCAA championships on April 16 in Fort Worth, Texas.
After posting a season-best 197.275 on the second day of back-to-back competitions, the second-year head coach said his team left its final competition of the season with no regrets.
"They gave as much as they possibly could," Waller said. "That last meet ended and they were emotionally and physically spent. And you just can't ask for more than that."
The season-high score in Saturday's regional finals marked the lowest season-high score by the team since 2009, when the Bruins eclipsed a score of 197 just once all season.
Dennis – set to compete on vault at the NCAA championships after scoring a 9.925 on the event in the regional semifinals – said she wishes the team could have found a way to earn a top-two finish and advance to nationals.
"(I was) definitely devastated for my teammates, for my girls," Dennis said. "We worked so hard this year. Day in and day out, we've overcome so much. This team has been through the most, the worst of the worst. And these women are so strong, so I just really wanted to see everything come together for them."
Following the departure of eight graduating seniors in 2020, UCLA began its season with just three of its seven expected freshmen after four incoming recruits deferred enrollment to train for the delayed Tokyo Olympics. When the Bruins returned to the gym after a six-month layoff because of the pandemic, they were derailed by a positive COVID-19 test within the program in December.
In the weeks leading up to its first competition of the season, UCLA lost sophomore Chloe Lashbrooke for the season because of a torn Achilles tendon, while junior Norah Flatley sustained an ankle sprain during her warmups for the season-opening meet and ultimately missed the entire regular season.
Waller commended his team's attitude through adversity.
"I think one of the things that warmed my heart was that the team went from not knowing if they were going to compete to having gratitude, to being hungry (and) to having, at the end of it, confidence and a fierce competitiveness throughout the last competition," Waller said.
But Frazier – who will compete on uneven bars at the NCAA championships – said this season has been about more than just gymnastics for the Bruins.
Frazier and Dennis have been at the forefront of a teamwide effort to address racial inequality and other injustices in American society. The former U.S. National Team members recently appeared on the ABC docuseries "Soul of a Nation" to discuss how they have challenged the norms of the white-dominated sport. Dennis' floor routine showcasing Black culture earned more than 11 million views on Twitter earlier this season.
The team dedicated one of its four home meets this season to its inaugural Black Excellence Meet while also hosting its second annual Pride Meet two weeks later.
"This team in general always has the main goal of making the world better," Frazier said. "I just feel like this team has really morphed into so much more than just athletes. And we take that on with every competition. I would say the gymnastics is just the icing on the cake – that is just our vehicle for the messages that we want to send."
Campbell said Dennis is like a big sister to her. The Pac-12 Freshman of the Year credited Dennis and Frazier for teaching her what it means to be a true Bruin.
"Nia (and) Margzetta, what they're doing as far as representing the culture and Black Lives Matter and all that stuff, we've really grown close because of (that)," Campbell said. "We really created a sisterhood."
Set to represent UCLA at the NCAA championships on all four events, Campbell has tied the highest all-around score by any freshman in the country this season. Despite being a senior, Dennis said she looks up to her freshman teammate.
"I look to her on my bad days when I'm struggling and going through it," Dennis said. "I look at her and I'm like, 'Wow, okay, I need to get like Chae.' She's seriously that good. Like her energy is contagious. And her vibe and her presence is just such a light."
While Campbell is part of a diminished freshman class, the Bruins are now set to add the No. 1-ranked recruiting class, per College Gym News. In 2021, the program will welcome U.S. National Team members Jordan Chiles, Emily Lee and Emma Malabuyo in addition to U.S. senior elite Alexis Jeffrey and Canadian World medalist Ana Padurariu. That ranking does not include fellow Canadian National Team member Brooklyn Moors, who took classes remotely in the fall and redshirted this season.
In addition to the multiple potential Olympians set to join the fold for the Bruins, Waller noted the current team has accrued a newfound sense of resilience and determination over the course of the last five months. Waller said resilience, coupled with the frustration of failing to qualify for nationals for the first time since 2006, will carry into next year's season.
"Sometimes we have to struggle a bit to find that next level, to really propel us to what we want to do in the future," Waller said. "I do think that us not qualifying, that's going to help us do that. I could guarantee that our returning student-athletes, every single one of them has a very, very strong opinion about where the team needs to go next year."
Settleman is currently the Sports editor on the football, men's basketball and gymnastics beats. He was previously an assistant editor on the gymnastics, women's soccer, women's golf, men's water polo and women's water polo beats and a contributor on the gymnastics and women's water polo beats.
Settleman is currently the Sports editor on the football, men's basketball and gymnastics beats. He was previously an assistant editor on the gymnastics, women's soccer, women's golf, men's water polo and women's water polo beats and a contributor on the gymnastics and women's water polo beats.