Student workers share thoughts on COVID-19 vaccine eligibility, logistics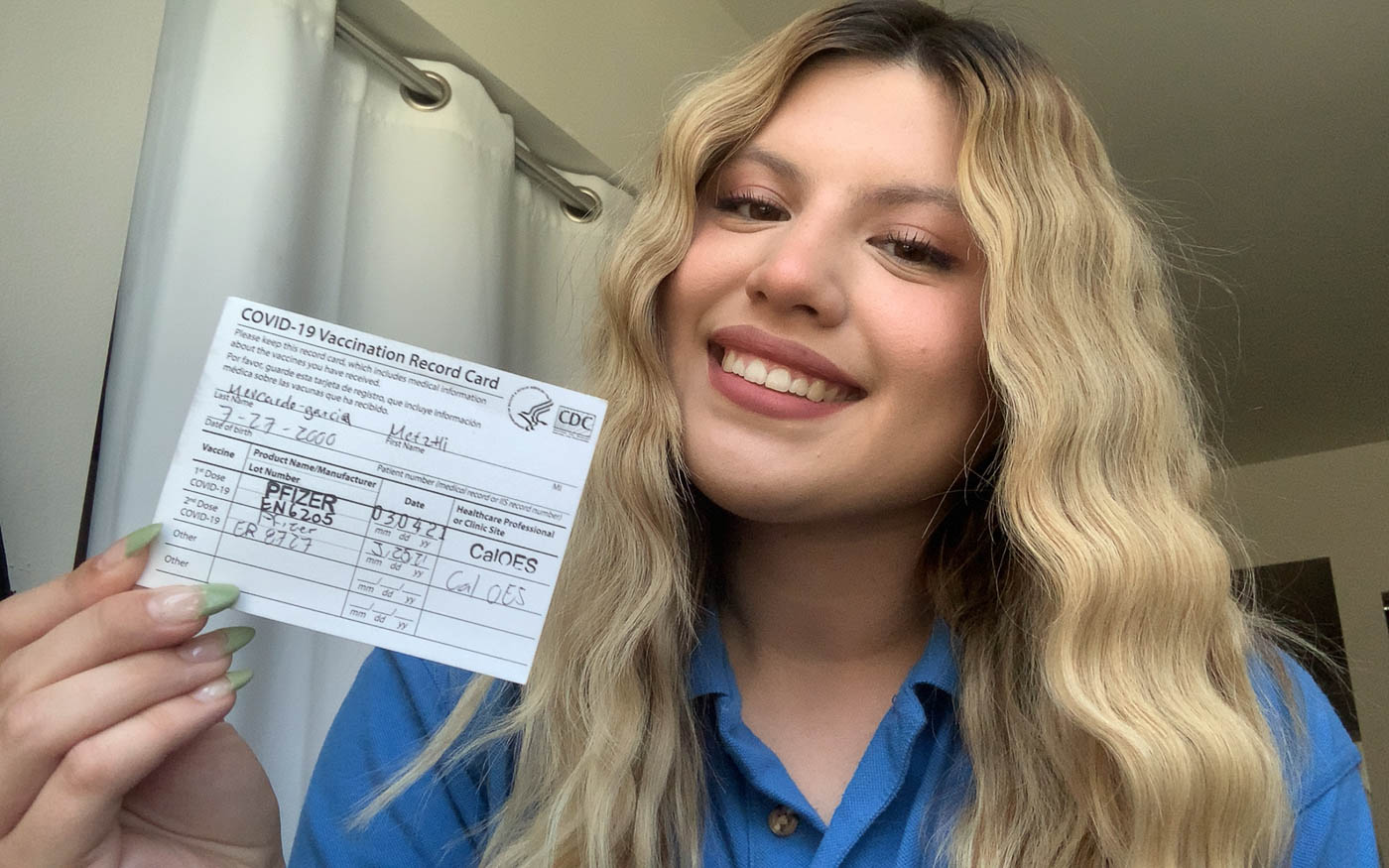 Metztli Mercado-Garcia, a third-year psychology student and student worker at UCLA, received her COVID-19 vaccine because of her student worker status but said the vaccine site was far away and hard to navigate. (Sakshi Joglekar/Daily Bruin staff)
This post was updated April 11 at 10:00 p.m.
Some student workers said they felt relieved to be some of the first students eligible to receive a COVID-19 vaccine but thought UCLA could have had better communication.
UCLA student employees became eligible to receive the COVID-19 vaccine March 1, when the Los Angeles County Department of Public Health moved to expand vaccine eligibility to the education sector.
Paul Zhamkochyan, a second-year history student and a worker at the UCLA Hill Top Shop, said he was not aware he was eligible for the COVID-19 vaccine. Zhamkochyan said his management did not inform him of his eligibility, even though his workplace requires that workers receive COVID-19 tests twice a week.
"Usually anything important like this is usually told to us through our managers or whoever's above us, so I'm surprised," Zhamkochyan said.
Zhamkochyan felt relieved knowing he was eligible for the vaccine.
Working for UCLA during the pandemic provided benefits, such as free weekly COVID-19 tests and eligibility for the vaccine, he added.
Andrea Ramirez, a fourth-year mechanical engineering student who works at the UCLA Store as a fulfillment representative, said UCLA notified her of her vaccine eligibility through an email and not through her work department.
Ramirez said she needed to get to the bottom of UCLA's long email to confirm information about student workers' eligibility.
Metztli Mercado-Garcia, a third-year psychology student who works at the UCLA Store at Lu Valle Commons, received her first dose of the COVID-19 vaccine at California State University, Los Angeles, which was the closest available vaccine site at the time.
Mercado-Garcia said the vaccine site in CSULA was difficult to reach because it was far from where she lived and because it also served Hollywood and Brentwood.
"It was organized, but … I could see it being so complicated for someone who has never been to (CSULA), never been on campus, doesn't know the area," Mercado-Garcia said.
Jazmine Vega, a fourth-year gender studies student who is also an employee at Los Angeles Pierce College, said she felt lucky that she was part of a prioritized population as a student.
Vega said she is hopeful that she can work at Pierce College in person after she and her co-workers receive COVID-19 vaccines.
"I want to know what it's like to actually interact with the students that I work with," Vega said.
Los Angeles County will expand vaccine eligibility to everyone 16 and older on April 15. LA County is currently in the orange tier of the state's reopening plan, with increased restaurant and retail capacities.
UCLA is planning to return to mostly in-person instruction in the fall but has yet to decide the amount of housing it will offer. Housing availability will be contingent on LA County guidelines, administrators said in a campuswide email April 2.
Mercado-Garcia said it is important for students to take part in getting vaccinated to feel relieved and work towards normalcy.
"I think that people will also get that experience of just being able to take a breath, feel relieved that you're starting the process, or you're one step closer to getting back to where we all want to be, which (is) normalcy."