The Quad: Course evaluations allow faculty to track effectiveness of remote learning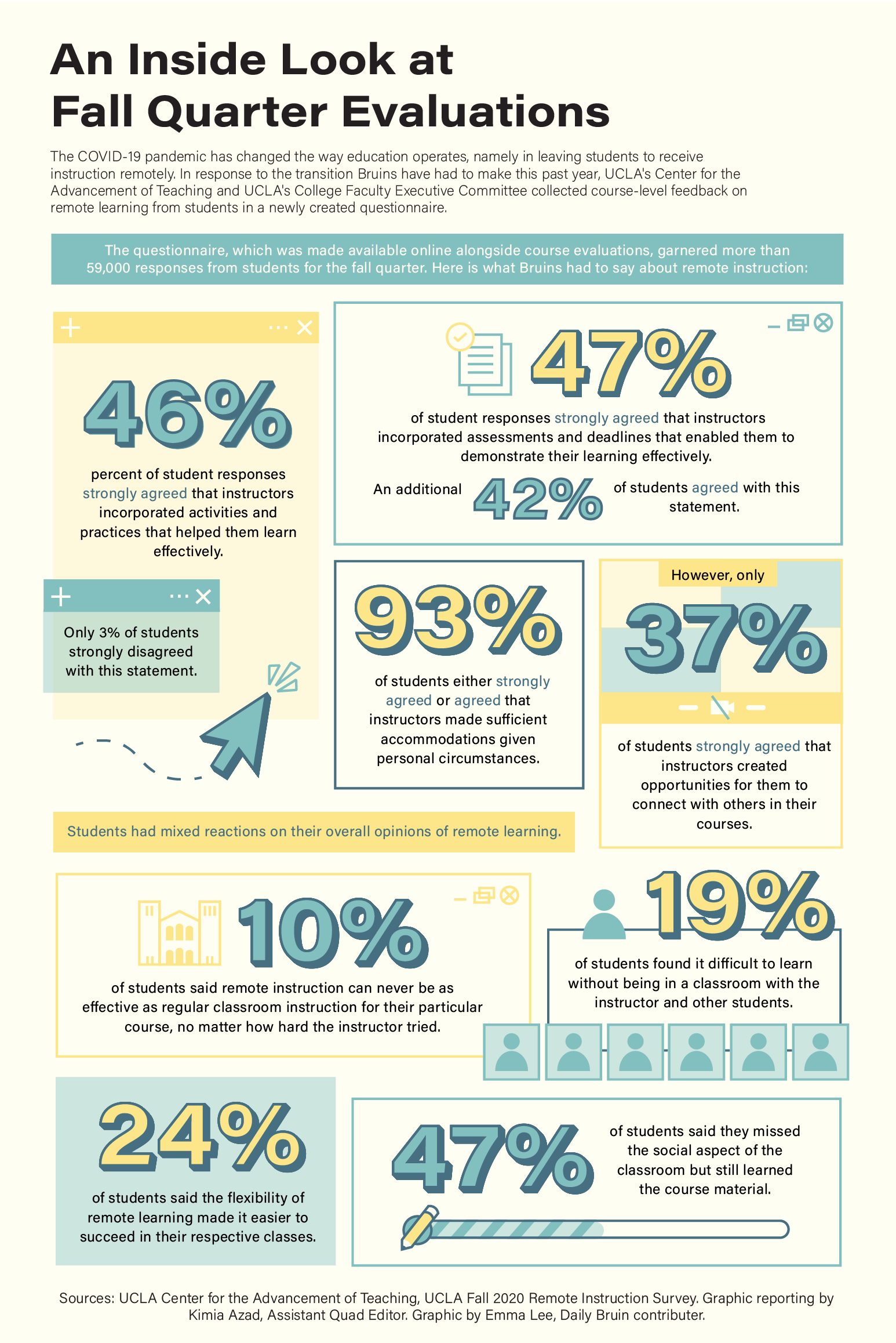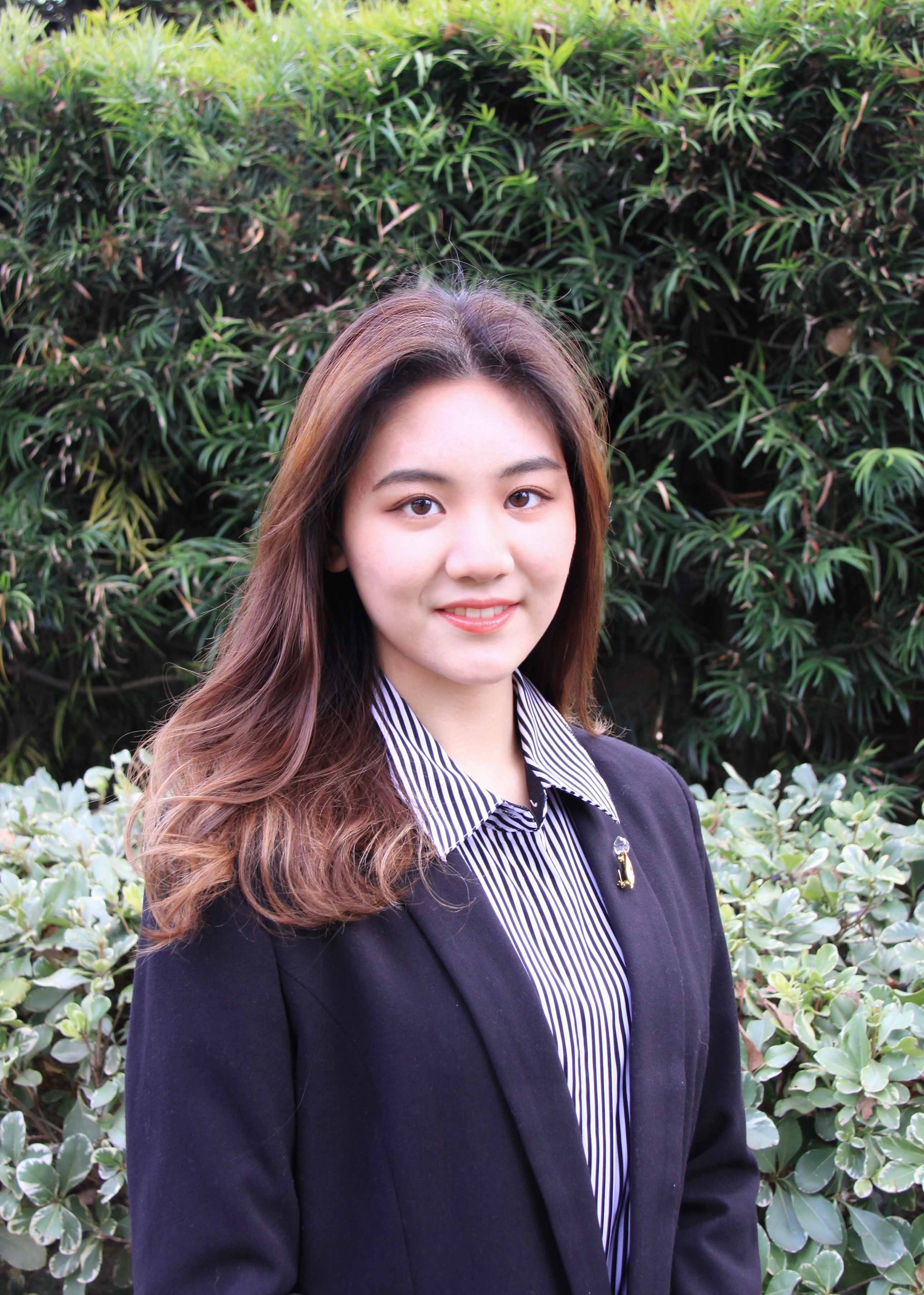 At the end of every quarter, Bruins are asked to complete course evaluations for their professors and teaching assistants, and while the extra task may be an inconvenience to some students, the feedback is often cherished by professors.
The need for course evaluations became even more important last spring when UCLA transitioned to remote learning, and communication between students and professors became difficult due to time zone differences, Wi-Fis instabilities and course policy changes.
In this way, end-of-quarter evaluations are an important method to streamline communication between students and instructors. Comparative literature professor Kathy Komar said she values these evaluations.
"I really think the evaluations are important because it's the one time you can really get student feedback, and sometimes it's hard to tell what's working and what isn't working, " Komar said.
Indeed, evaluations may provide valuable information and data for faculty to examine their course structures and make adjustments accordingly. Students can express their honest opinions anonymously, commenting on their experiences without worry of repercussions.
Among the questions asked of students in the course evaluation, there are ones that ask students to evaluate whether instructors incorporated effective assessment formats, weight distribution and flexible deadlines for students to demonstrate their learning effectively, as well as follow-ups asking students to explain their feedback.
"I actually have removed books, changed the order of things, provided different amounts of historical background," Komar said. "When you're online, students can Google a writer's biography faster than I can say it."
Similarly, art history professor Charlene Villaseñor Black said she was able to understand from her student feedback that flexibility is a necessary element of remote instruction.
"It was extremely important to be flexible with due dates, and I don't feel like anyone took advantage at all," Black said. "I really was so impressed, students rose to the occasion and did a fantastic job."
Having taught both graduate seminars and undergraduate courses in the past two quarters, Black said she felt a huge responsibility to make online learning as effective as she could for students.
On the other hand, Black also said course evaluations are not free from their faults.
"The course (evaluations) are controversial as you know because there is some evidence that they're affected by external factors such as what grade you're getting," Black said.
According to a research article from the Proceedings of the National Academy of Sciences of the United States of America, students may mistakenly connect the increased amount of effort associated with active learning to poorer learning results in general. This disconnection may disturb students' motivation and engagement with learning, leading them to misconceive that active learning is not effective.
Electrical and computer engineering professor Clarice Aiello said she worries about the validity behind these responses too.
"Students' evaluations are not everything. I think that there can be many more things that can be learned in class and as the things are going," Aiello said. "We're all humans, professors are biased, students are biased, so I think it might be a mistake to only consider student evaluations."
Instead of only using quarter-end evaluations, Aiello said she likes to receive more frequent feedback from students. Ranging from exit tickets and "mud cards" to office hours and meetings with TAs, Aiello focused on regular informal feedback from students that allowed her to make adjustments as the class went on.
"I think there's more value to getting feedback as things go because, after all, if you get feedback as things go you can act upon that during that quarter," Aiello said."I thought that the feedback that I got from the written mud cards was much more actionable upon."
With such a heavy emphasis on written feedback, Aiello said she paid close attention to the narrative portion of the evaluation. It allowed her to learn about how students were feeling and hear their voices.
In agreement, Komar also said the narrative portion, especially her additional question regarding novel or poem recommendations for this class, is what interests her the most on evaluation forms. She said she has collected a variety of great responses from this question alone.
While the numbers may not be as useful to some professors, there is some notable qualitative data on how UCLA is adjusting to remote instruction.
According to data collected by the UCLA Center for the Advancement of Teaching from the "Feedback on Remote Instruction Survey," students and professors are adjusting to remote instruction rather smoothly.
The data shows that 90% of respondents either agree or strongly agree that "The instructor(s) incorporated activities and practices that helped (them) to learn effectively," and 93% of respondents either agree or strongly agree that "The instructor(s) made sufficient accommodations given (their) personal circumstances."
Though these statements may not reflect each Bruin's most honest thoughts, they still highlight a positive trend in online learning.
"My impression is that students were very engaged," Black said. "In the graduate seminars and in the lecture courses, there were certain things I did over Zoom that now I want to continue doing because actually, they were super effective."