Women's golf competes in Silverado Showdown, last tournament of regular season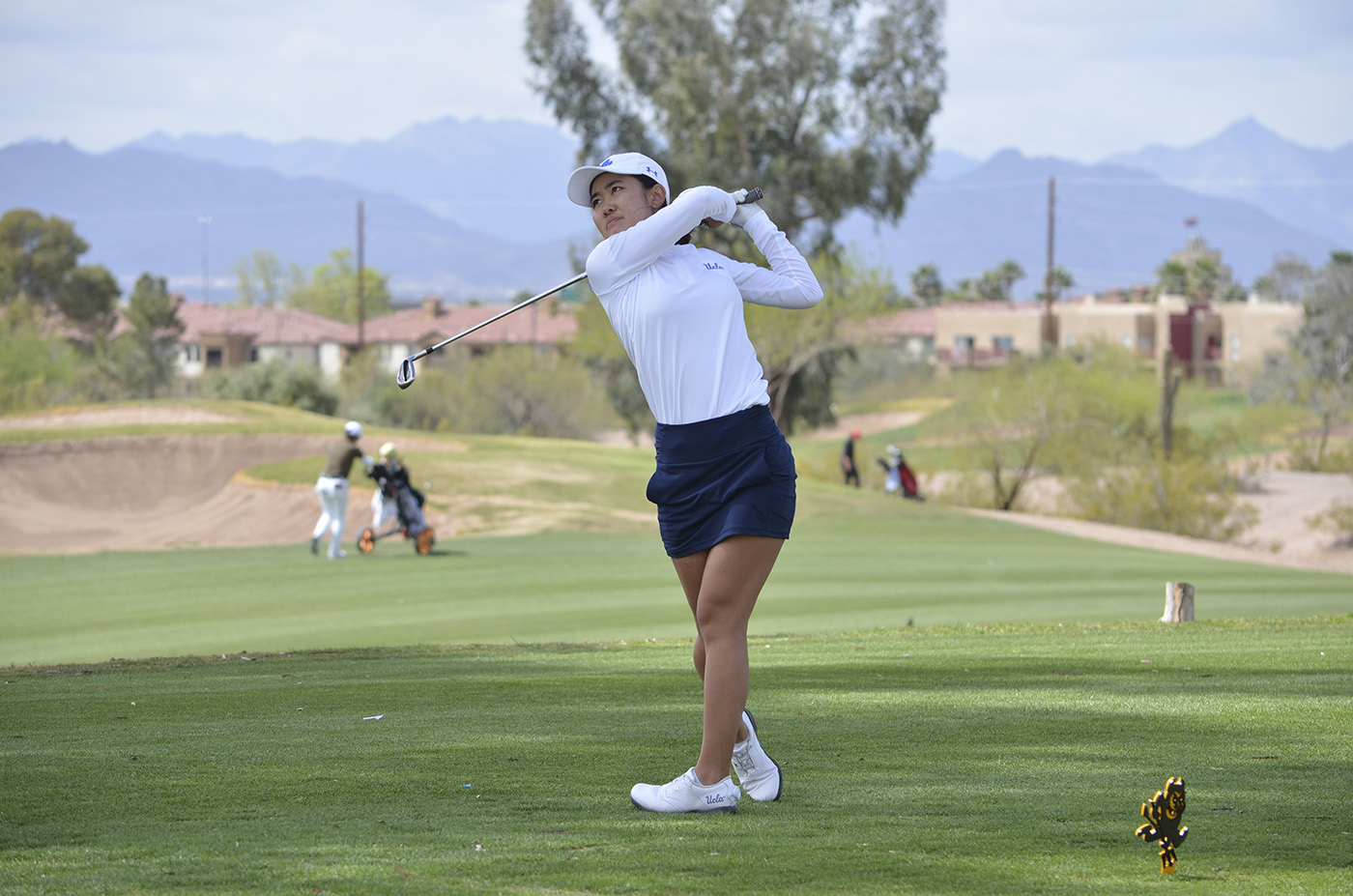 Coming off a 13-over 229 at the Ping/ASU Invitational in UCLA women's golf's last tournament, sophomore Yuki Yoshihara will again feature for the Bruins at the Silverado Showdown beginning Monday. (Courtesy of UCLA Athletics)
The clock is ticking for the Bruins.
UCLA women's golf's season is quickly coming to a close, and with only two weeks left in the regular season, the Bruins' next test is the Silverado Showdown in Napa, California.
Coach Carrie Forsyth said in order to see success at the Silverado Resort and beyond, all the golfers in the lineup need to perform well.
"We need our three, four, five players to play a little bit better scoring-wise," Forsyth said.
Currently, the team is composed of both scholarship players and partial scholarship players – otherwise known as walk-ons, who most often occupy the three, four and five roles in tournaments. According to Forsyth, scholarship players were recruited with a more robust resume of junior golf and competitive tournaments.
By contrast, walk-ons were recruited for their potential and ability to develop, adding depth to the roster where necessary. Forsyth emphasized her walk-ons are practicing hard to produce results.
"They have a lot to learn, so we're in the process now of really trying to work through that and help them learn, grow and transfer these practice skills to a competitive environment," Forsyth said. "That's just a time process and experience process."
While an emphasis on walk-on development is a priority for Forsyth, she also said the preparation and practice will look different for each golfer ahead of the Silverado Showdown.
When asked whether her entire team needs to dedicate more practice to technical and physical aspects of the game compared to mental components, Forsyth said the issues go hand in hand.
"I think they're making really big strides," Forsyth said. "But it's sort of a chicken and the egg (situation). Once you start to see these improvements in practice, that has to be translated into competition, and that's where the mental element comes in. … The girls are working on their mental game to try to be able to transfer that to the golf course when they're put under pressure."
Sophomore Yuki Yoshihara, who finished tied for 64th place after posting a 13-over 229 in the most recent Ping/ASU Invitational, said her mindset going into the Silverado Showdown is similar to her approach to every tournament.
"I think (before) every single tournament I have the same mindset going in, to really play my own game and have good intentions with what I'm going to do each shot," Yoshihara said.
Sophomore Annabel Wilson is coming off her best finish in collegiate golf after posting a 4-under 212 to secure a tie for second place.
She said she is going to apply lessons learned from the Ping/ASU Invitational and translate them to her approach to the Silverado Showdown. Wilson added because she was in contention during her final round, her emotions were running high.
She also said she hopes to approach the Silverado Showdown with a fresh mindset, characterizing it as a "slip of strategy," since the Silverado Resort demands different skills than Papago Golf Club, where the Ping/ASU Invitational was held.
"It's shorter, kind of different grass – a different climate," Wilson said. "So I think you just got to go into it with a fresh mindset … If I get nervous again next week, I just need to take my time and monitor my breathing so I can just play normally."
Yoshihara and Wilson will be starting in the Silverado Showdown, as will sophomores Emilie Paltrinieri and Emma Spitz, who both competed in the Augusta National Women's Amateur this past week. Rounding out the team lineup is junior Phoebe Yue along with junior Simar Singh, who will be competing independently.
"I know we've practiced hard, I know the girls are dedicated and I know that at some point, it's going to show," said Forsyth.
With the postseason looming, Forsyth said each tournament until the end of the season will be a factor. The Silverado Showdown is no exception.